The Maker of "Jack Daniel's" Pays One of the Safest Dividends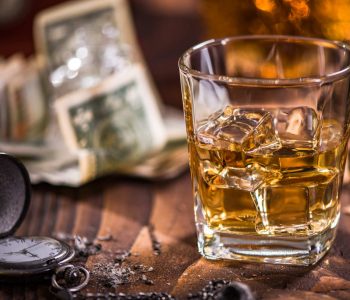 A Reliable Dividend Stock You Likely Haven't Considered
Today, we're looking at Brown-Forman Corporation (NYSE:BF.A, BF.B).
Over the past few months, a lot of investors have realized the importance of owning stocks that pay reliable dividends. I mean, for the most part of the last decade, the economy was booming, and companies did not have much of a problem returning cash to investors.
But then, we got hit by the coronavirus outbreak, which turned into a pandemic at the global level. As the economy entered an unprecedented slowdown, many companies simply could not maintain their previous dividend policies.
The good news is that, even though dividend cuts are not uncommon in this day and age, you can still find stocks that offer durable payouts. And there is one thing that these companies tend to have in common: they own well-known brands in defensive industries, such as "Colgate," "Oreo," and "Coca-Cola."
Of course, toothpaste, cookies, and soda are not the only recession-proof businesses. Alcoholic beverages, for instance, is another industry that has produced solid dividend payers, with Brown-Forman Corporation serving as a great example.
Founded by young pharmaceutical salesman George Garvin Brown in 1870, Brown-Forman Corporation has grown to become one of the largest American companies in the spirits and wine business. Many of its brands, such as "Jack Daniel's," "Woodford Reserve," and "Old Forester" whiskey, "Glendronach" and "Glenglassaugh" scotch, "Herradura" tequila, and "Finlandia" vodka, are well-known around the world.
Whether you like whiskey or not, it's hard to deny that no matter how bad the economy is doing, there is always demand for alcohol. And because the business is not cyclical, Brown-Forman Corporation can pay a very reliable dividend.
In fact, the company has been paying uninterrupted quarterly dividends for more than seven decades. (Source: "Dividend History," Brown-Forman Corporation, last accessed September 8, 2020.)
Better yet, Brown-Forman has raised its payout in each of the last 36 years. That makes the company an S&P 500 Dividend Aristocrat, which is a prestigious title awarded to S&P 500 companies with at least 25 years of annual dividend increases. Among the blue-chip names that make up the S&P 500 Index, only 65 are Dividend Aristocrats at the time of this writing.
Brown-Forman's dividend is quite safe, too, even after decades of payout increases. In the company's fiscal year 2020, which ended April 30, it generated diluted earnings of $1.72 per share while paying $0.6806 per share in cash dividends. So, the company had a payout ratio of just under 40%, leaving a wide margin of safety. (Source: "Brown-Forman Reports Fiscal 2020 Results," Brown-Forman Corporation, June 9, 2020.)
In the first quarter of Brown-Forman's fiscal year 2021, which ended July 31, 2020, its diluted earnings came in at $0.67 per share. Considering that the company paid a dividend of $0.1743 per share for the quarter, its profit once again covered the payout with ease. (Source: "Brown-Forman Reports Solid First Quarter Results amidst Continued Uncertainty," Brown-Forman Corporation, September 2, 2020.)
The balance sheet looked solid, too. At the end of July, Brown-Forman had a net cash position of $519.0 million and an $800.0-million undrawn credit facility. It had $2.3 billion in long-term debt, but the next maturity won't be until January 2023 and is only for $250.0 million.
It also helps that the company is rated A1 by Moody's and A- by Standard & Poor's. High credit ratings are not only a sign of strength, but can also be useful if the company needs to access the debt market. (Source: "First Quarter of Fiscal 2021 Earnings Call," Brown-Forman Corporation, last accessed September 8, 2020.)
Now, I should point out that even though Brown-Forman comes from an industry that's not cyclical, its business was still impacted by the COVID-19 pandemic.
In particular, the company's Travel Retail segment, which includes net sales of branded products to global duty-free customers, other travel retail customers, and the U.S. military, plunged 63% year-over-year in the most recent fiscal quarter. Given that very few people were traveling, the drop in Travel Retail shouldn't come as a surprise.
The impact on Brown-Forman's company-level financials, though, was much less severe. In the three months ended July 31, the company's reported net sales slipped just two percent year-over-year and its underlying net sales actually grew three percent. This was driven by Brown Forman's strong sales growth in the U.S. and developed international markets.
As is the case with most businesses, Brown-Forman faces uncertainty going forward and management has not provided quantitative guidance yet. However, the alcoholic beverage giant remains committed to returning cash to investors on a regular basis.
In the latest earnings release, the company said that it "maintains expectations to fully fund ongoing investments in the business and pay regular dividends." (Source: "Brown-Forman Reports Solid First Quarter Results amidst Continued Uncertainty," Brown-Forman Corporation, op. cit.)
Bottom Line on Brown-Forman Corporation
With BF.B shares trading at $78.95 apiece (BF.A shares are mostly owned by the Brown family and are not as liquid), the company offers an annual dividend yield of 0.9%. While the number is not exactly attractive to yield-hunters, the rock-solid dividends from Brown-Forman stock are still worth considering for income investors with a long horizon.