The Dividend Stock Defying COVID-19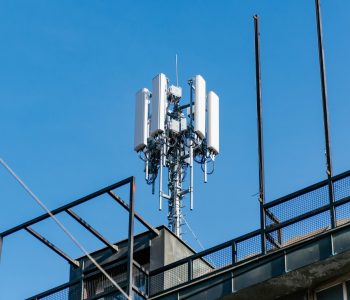 American Tower Corporation Still Thriving Despite Lockdown
Wall Street has fretted this summer over a pandemic, widespread protests, and the upcoming presidential election. But you wouldn't know it by reading through American Tower Corporation's (NYSE:AMT) recent financial results.
The partnership's first-quarter numbers blew analysts' expectations out of the water, beating the consensus forecast on both the top and bottom lines. American Tower executives also boosted the quarterly dividend 20% year-over-year to $1.08 apiece in the quarter, which has raised the forward yield on shares to 1.7%. (Source: "Dividend History," American Tower Corporation, last accessed August 4, 2020.)
Yet this could be just the beginning.
Admittedly, you can't call shares of this cell phone tower owner "cheap." Since I wrote about AMT stock in late 2019, its shares have posted a total return, including dividends, of 62.3%. At about 60-times trailing earnings, American Tower stock's valuation resembles that of some high-flying tech names.
But the company could be on the verge of its biggest growth spurt in decades. In the U.S., where American Tower has more than a quarter of its broadcasting sites, mobile data usage continues to increase by 30% to 40% per year. (Source: "Introduction to the Tower Industry and American Tower," American Tower Corporation, December 31, 2019.)
As customers push networks to capacity, carriers will need to install more equipment on more towers. All of which should translate into robust demand for telecom tower landlords like American Tower.
"…the average U.S. smartphone user consumed around nine gigabytes per month in 2019, which is up some 450% from just five years ago," said American Tower's President and Chief Executive Officer Tom Bartlett in a conference call in April. (Source: "American Tower Corporation (AMT) CEO Tom Bartlett on Q1 2020 Results – Earnings Call Transcript, Seeking Alpha, April 29, 2020.)
He added, "Incredibly, by 2025, that same user is projected to consume over 45 gigabytes per month. To account for the strain that this usage growth will create on mobile networks, we believe that our tenants will continue to invest significant amounts of capital into our infrastructure."
American Tower's real opportunity, however, could lie outside the United States.
Most emerging countries have just started building their fourth-generation (4G) wireless networks and getting smartphones into the hands of their citizens. Data usage in India, for instance, is growing by over 100% per year. Latin America's middle class now has over 200 million people, all of whom will likely soon be smartphone users. That gives American Tower a long growth runway in places like Brazil, Chile, and Mexico. (Source: American Tower Corporation, December 31, 2019, op. cit.)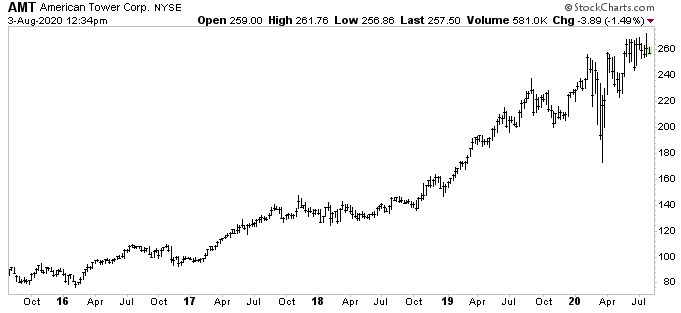 Chart courtesy of StockCharts.com
For AMT shareholders, booming mobile data demand should result in a growing stream of income.
Over the next five years, Wall Street projects that American Tower Corporation should be able to grow its earnings per share at a mid-teen annual clip. And given the company's conservative payout ratio, management should have no problem growing the distribution more or less in line with profits.
So it should come as no surprise that this dividend stock continues to defy COVID-19.