NVE Stock, a Tech Stock With High-Yield Dividends, Bounces Off Support Level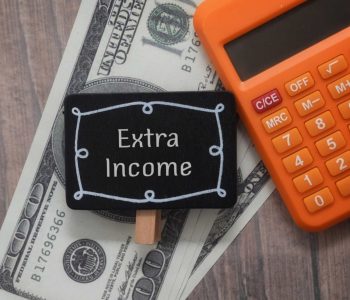 NVEC Stock Bullish on Strong Earnings & Revenue Growth
NVE Corp (NASDAQ:NVEC) is a great tech stock with reliable, high-yield dividends. For growth investors, the company recently reported significant revenue and earnings growth for the fourth quarter and fiscal year ended March 31.
NVE is a leader in the practical commercialization of spintronics, a nanotechnology that acquires, transmits, and stores data. The company produces spintronic products, including sensors and couplers. Its parts are primarily used for industrial, scientific, medical, and Industrial Internet of Things purposes. (Source: "About NVE / Company Information," NVE Corp, last accessed May 30, 2022.)
Its sensors detect the strength or gradient of magnetic fields and are often used to determine position or speed.
The company also makes magnetoresistive random-access memory (MRAM) products. MRAM combines the speed of static random-access memory (SRAM), the density of dynamic random-access memory (DRAM), and the nonvolatility of flash memory.
On May 4, NVE Corp announced a quarterly dividend of $1.00 per share, for a yield of 8.2%. NVE stock's dividends are nothing if not reliable. The company has maintained a quarterly payout of $1.00 since May 2015. (Source: "NVE Corporation Reports Fourth Quarter and Fiscal Year Results and Announces Quarterly Dividend," NVE Corp, May 4, 2022.)
This means income investors have been able to rely on NVEC stock to pad their portfolios during recessions, the COVID-19 pandemic, and other black swan events. At times when many companies either cut, paused, or suspended their dividends, NVE Corp held firm. Even during the 2022 stock market sell-off, which hammered tech stocks, NVE stock continued to reward investors with dividends.
There's a reason for that: NVE Corp continues to report fabulous financial results.
2022 Revenue Up 26% & Net Income Up 24% YOY
For the fourth quarter of fiscal 2022, ended March 31, NVE Corp announced that its revenue increased by 15% year-over-year to $6.7 million. The big gains were juiced by a 12% increase in product sales and a 104% increase in contract research and development revenue. (Source: Ibid.)
The company's net income for the fourth quarter of fiscal 2022 increased by 22% to $3.8 million, or $0.79 per diluted share, compared to $3.1 million, or $0.65 per share, in the same prior-year period.
In fiscal 2022, NVE Corp's total revenue increased by 26% to $27.0 million from $21.4 million in the prior fiscal year. The increase was due to a 26% year-over-year increase in product sales and a 36% increase in contract research and development revenue.
The company's net income in fiscal 2022 increased by 24% to $14.5 million, or $3.00 per diluted share, from $11.7 million, or $2.42 per share, in fiscal 2021. It ended the fiscal year with cash and cash equivalents of $10.4 million. It's essentially debt-free, too, with total debt to equity of $602,140.
Whereas most tech executives love to wax eloquent in their financial reports, NVE Corp's president and CEO, Daniel A. Baker, Ph.D., was a little more succinct: "We are pleased to report strong revenue and earnings growth for the fourth quarter and fiscal year despite industry supply-chain disruptions." (Source: Ibid.)
Since NVE Corp reported its full-year financial results in early May, NVEC stock has rallied by roughly 10%. Not only has the stock posted a double-digit gain since the start of May, it recently moved off of a $48.19 support level. As of this writing, NVE stock is:
Up by 6.4% over the last month
Down by 10.0% over the last three months
Down by 26.6% over the last six months
Down by 23.7% year-to-date
Down by 22.5% year-over-year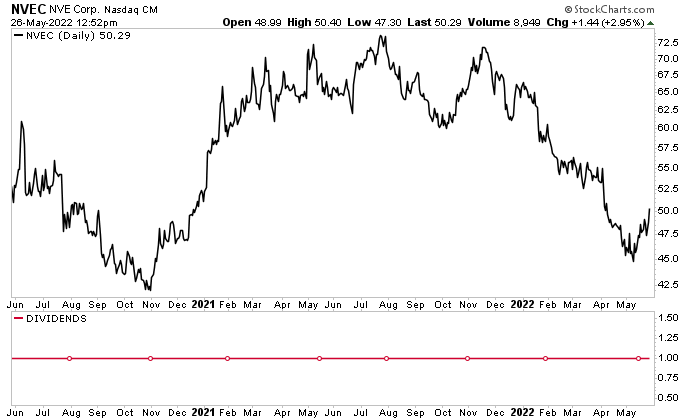 Chart courtesy of StockCharts.com
By all accounts, the future looks bright for NVEC stock. It has a resistance level of $70.09, which points to potential gains of 39.5%. Analysts are even more bullish, with a 12-month share-price target of $79.00, which implies a potential gain of 57.0%.
The Lowdown on NVE Corp
Despite NVE Corp reporting solid earnings and revenue growth throughout much of fiscal 2021, NVEC stock has trended significantly lower. To help weather the pandemic and supply chain headwinds, the company has continued to distribute high-yield quarterly dividends.
NVE stock has experienced a bit of a renaissance since the company reported wonderful fiscal fourth-quarter and full-year revenue and earnings growth in early May.
While NVE Corp's management didn't provide guidance, it did say in its fourth-quarter earnings call that the company has been seeing new sales opportunities because many of its competitors have longer lead times. Moreover, the company has invested in additional production and testing equipment and has expanded its production space. In response to increased costs, the company has increased its prices.
The stock market sell-off isn't over yet, but the near- and long-term outlooks for this high-yield dividend stock is robust.