NuStar Energy Stock: Undervalued 9.2%-Yielder Has 20%+ Upside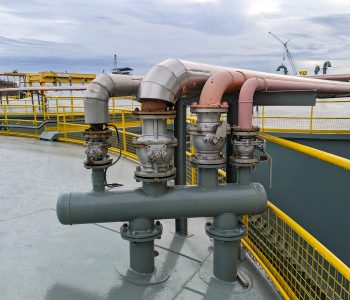 Investors Should Take a Look at NS Stock
The outlook for NuStar Energy L.P. (NYSE:NS) is getting more bullish.
Crude oil prices, after trading in a tight range near $70.00 per barrel for much of May and June, have been ticking upward in July. The price of oil has been nearing $80.00 per barrel, its highest level since mid-April. Oil prices have been climbing partly because of the expected rising demand from China and the production cuts from the Organization of the Petroleum Exporting Countries Plus (OPEC+).
The outlook for oil prices got an added boost after the International Monetary Fund (IMF) raised its 2023 global real gross domestic product (GDP) growth estimate to three percent, up by 0.2 percentage points from its April forecast. The global lender's estimate for 2024 is also three percent. (Source: "World Economic Outlook," International Monetary Fund, July 25, 2023.)
Moreover, the IMF expects that the Chinese economy's GDP will expand by 5.2% this year and 4.5% in 2024. Both estimates are higher than what Wall Street was forecasting. The IMF's economists also raised their outlook for India's growth to 6.1% this year. They raised their outlook for Europe to 1.8% growth in 2023 and 2.2% growth in 2024. Part of the upgraded estimate for Europe comes from the IMF's forecast that Russia's economy will expand by 1.5% in 2023.
The IMF says the improved economic outlook comes on the heels of solid first-quarter results.
There's reason to be optimistic about crude oil prices further out, too. While the global GDP growth forecast of three percent for 2023 and 2024 is encouraging, it's still below the 3.8% historical average for the 20 years before the COVID-19 pandemic.
On the front page of its web site, NuStar Energy states, "We are in the business of caring." However true that may be, investors might be more interested in the fact that the San Antonio, Texas-based company is one of the largest independent liquid terminal and pipeline operators in the U.S. (Source: "Company," NuStar Energy L.P., last accessed July 25, 2023.)
The partnership also has operations in Mexico.
NuStar Energy currently has about 9,500 miles of pipelines and 63 terminals that provide storage and handling services on a fee basis for crude oil, petroleum products, specialty chemicals, renewable fuels, and other liquids. The company's combined system has approximately 49 million barrels of storage capacity.
NuStar Energy L.P. Announced New Ammonia Delivery Agreement
In early May, NuStar Energy announced that its affiliates entered an agreement with OCI Global to transport ammonia through a new segment of NuStar's pipeline system. (Source: "OCI Global and NuStar Sign Agreement to Deliver Ammonia Into the Midwest," NuStar Energy L.P., May 3, 2023.)
NuStar will install a new 14-mile pipeline segment to connect OCI Global's nitrogen facility in Wever, Iowa to NuStar Energy's existing 2,000-mile ammonia pipeline, which originates in Louisiana and flows northbound to various points in the Midwest, including Iowa.
"We expect this healthy-return, low-capital project to meaningfully increase utilization of our system in 2024," said NuStar Energy L.P.'s chairman and CEO, Brad Barron. He also expects the new pipeline to "generate significant additional opportunities" over the coming years. (Source: Ibid.)
OCI Global's facility uses ammonia to make fertilizer and produce diesel exhaust fluid, which reduces emissions from diesel engines in cars, light-duty and heavy-duty trucks, farm equipment, and other heavy machinery.
Roughly 90% of the ammonia produced globally is used to support agricultural production, and more than half of the world's food production is dependent on this key chemical.
1st-Quarter Net Income, EBITDA, & DCF Growth
After reporting record net income and earnings before interest, taxes, depreciation, and amortization (EBITDA) for the fourth quarter of 2022, NuStar Energy reported high profits in the first quarter of 2023. (Source: "NuStar Energy L.P. Reports Strong First Quarter 2023 Earnings Results," NuStar Energy L.P., May 4, 2023.)
Its net income in the first quarter of this year was $106.0 million, or $0.61 per unit, up from $12.0 million, or a loss of $0.22 per unit, in the first quarter of 2022. Its adjusted net income in the first quarter of 2023 was $65.0 million, or $0.24 per unit, up by 14% from $57.0 million, or $0.19 per unit, in the first quarter of 2022.
In the first quarter of 2023, NuStar Energy L.P. generated adjusted EBITDA of $187.0 million, an eight percent increase over its first-quarter 2022 adjusted EBITDA of $173.0 million.
The partnership's adjusted distributable cash flow (DCF) advanced 11% in the first quarter of 2023 to $101.0 million, from $91.0 million in the first quarter of 2022. The adjusted distributable coverage ratio in the first quarter of 2023 was a strong 2.3 times.
Commenting on the results, Barron said, "I am pleased to report another strong quarter of financial results where net income, earnings per unit (EPU), earnings before interest, taxes, depreciation and amortization (EBITDA) and distributable cash flow (DCF) were all up quarter-over-quarter and once again demonstrated the stability and strength of NuStar's assets." (Source: Ibid.)
The superb results were fueled by high volumes in its crude oil and refined product pipelines. The company's pipeline segment reported operating income of $120.0 million and EBITDA of $163.0 million for the first quarter of 2023, compared to $96.0 million and $141.0 million, respectively, for the first quarter of 2022.
Throughput, which is the amount of product that moves through NuStar Energy L.P.'s Permian crude oil system, was up by six percent year-over-year in the first quarter, with volumes averaging 543,000 barrels per day. The company's throughput in the Corpus Cristi crude oil systems was up by eight percent year-over-year, with volumes averaging 369,000 barrels per day.
The partnership's fuel marketing segment generated $7.0 million in EBITDA in the first quarter of 2023, which was similar to its EBITDA in the first quarter of 2022.
For full-year 2023, NuStar Energy L.P. expects to report net income in the range of $257.0 to $295.0 million and adjusted EBITDA in the range of $700.0 to $760.0 million.
The company is on track to spend $130.0 to $150.0 million in strategic capital this year. This includes between $45.0 and $60.0 million to grow its Permian systems and $45.0 million to expand its West Coast renewable fuel network. NuStar expects to self-fund all of its cash requirements, including all of its growth capital spending and distributions.
NuStar Energy Units' Quarterly Dividend Maintained at $0.40/Share
Thanks to its reliable cash flow and excellent adjusted distributable coverage ratio, NuStar Energy L.P. was able to maintain its quarterly distribution at $0.40 per unit in May, for an inflation-thumping yield of 9.2%. For context, the U.S. inflation rate is currently 2.9%.
The company has held its distribution at $0.40 per unit since the second quarter of 2020. Not a big surprise, really; the COVID-19 pandemic shuttered the global economy, leading the demand for oil and gas to evaporate overnight.
It's important to note that, in early February 2020, just weeks before the stock market crashed, NuStar Energy L.P. reported "exceptional" fourth-quarter and full-year 2019 results. So, most investors were probably certain that the company's business would rebound. And it has: as mentioned earlier, the partnership reported record results for 2022 and provided strong guidance for 2023.
Even though NuStar Energy stock's distribution is well covered, industry headwinds are probably keeping NuStar Energy L.P.'s management from raising the company's payout back to its pre-pandemic level of $0.60 per share. Those headwinds will eventually pass.
Price of NS Units Up 30% Year-Over-Year
Meanwhile, the price of NuStar Energy units has rebounded by 407% from its March 2020 low of $3.40 per unit. NS stock still needs to climb by about 10% to get to its pre-pandemic level.
NS units certainly have the momentum to get there. As of this writing, NuStar Energy stock is up by:
13.5% over the last three months
14% year-to-date
30% year-over-year
Wall Street analysts expect NuStar Energy units to surpass their pre-pandemic level over the coming quarters, with a 12-month median estimate of $19.00 per unit and a high estimate of $21.00. This points to potential gains in the range of about 10% to 221%.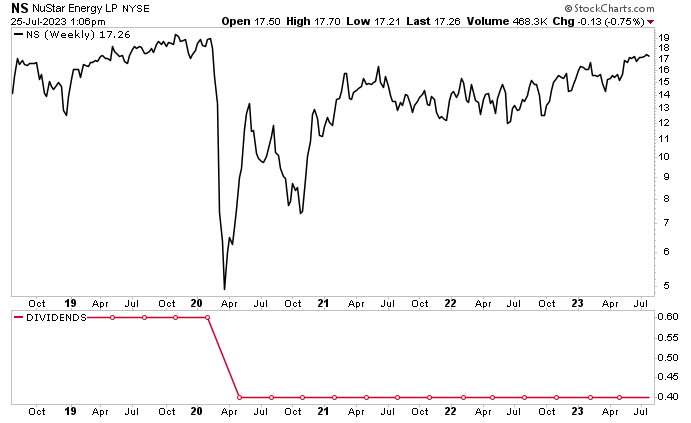 Chart courtesy of StockCharts.com
The Lowdown on NuStar Energy L.P.
With an enterprise value of about $6.0 billion, NuStar Energy is a great midstream oil and gas company with a solid balance sheet, massive U.S. business footprint, and growing infrastructure.
NuStar Energy L.P.'s record financial results, robust guidance, and strong industry tailwinds allow it to provide NS stockholders with reliable, ultra-high-yield dividends and long-term share-price gains.