Target Corporation: 216% Return from a Once-Beaten-Down Dividend Stock?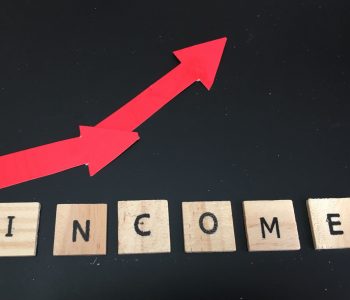 How an Out-of-Favor Dividend Stock Delivered Oversized Returns
"It may take a while for the company to execute its turnaround plan but, at the current valuation and dividend yield, TGT stock could be an opportunity."
That's what I wrote about Target Corporation (NYSE:TGT) in Income Investors back in June 2017. In that piece, I explained why TGT stock, which was a beaten-down ticker at the time, could be a worthy investment for dividend hunters.
I hope you were able to take advantage of that piece. When it was published, Target stock was trading around $55.00 per share. Today, it's trading at $158.82. Assuming automatic dividend reinvestment, the stock's total return since then is a whopping 216%!
What's really surprising is that, even this year, when many industries were deep in the doldrums due to the COVID-19 pandemic, the momentum in TGT stock kept going. Year-to-date, it's up more than 25%.
Who would have thought that Target Corporation—a department store chain that has been around for decades—would deliver market-beating stock returns in a pandemic that caused a lot of retailers to suffer?
The reality is, Target has actually put on solid operating performance during the pandemic-induced recession. In the second quarter of the company's fiscal year 2020, which ended August 1, its comparable sales grew 24.3%, the strongest growth that the retailer has ever reported. (Source: "Target Corporation Reports Second Quarter Earnings," Target Corporation, August 19, 2020.)
As you might expect, one of the main drivers behind the company's sales growth in the pandemic era was online sales. In the reporting quarter, Target's digital comparable sales skyrocketed 195%. But the physical locations have been doing well, too, as the company's comparable-store sales rose 10.9% during the quarter.
Simply put, Target was able to adapt to the new operating environment. Notably, its same-day services, which include "Order Pick Up," "Drive Up," and "Shipt," grew 273% for the quarter and were responsible for about six percentage points of the retailer's comparable sales growth.
With strong operating performance, the company was able to substantially improve its financials. In the second fiscal quarter, Target Corporation generated $23.0 billion of total revenue, marking a 24.7% increase year-over-year. Excluding special items, the company's adjusted earnings came in at $3.38 per share, representing an 85.7% increase from the $1.82 earned in the year-ago period.
Usually, when a stock has been soaring, expectations are quite high. But Target managed to beat both the top-and bottom-line estimates from Wall Street. On average, analysts were anticipating adjusted earnings of $1.63 per share on $20.1 billion of revenue for the reporting quarter.
Target Corporation (NYSE:TGT) Stock Chart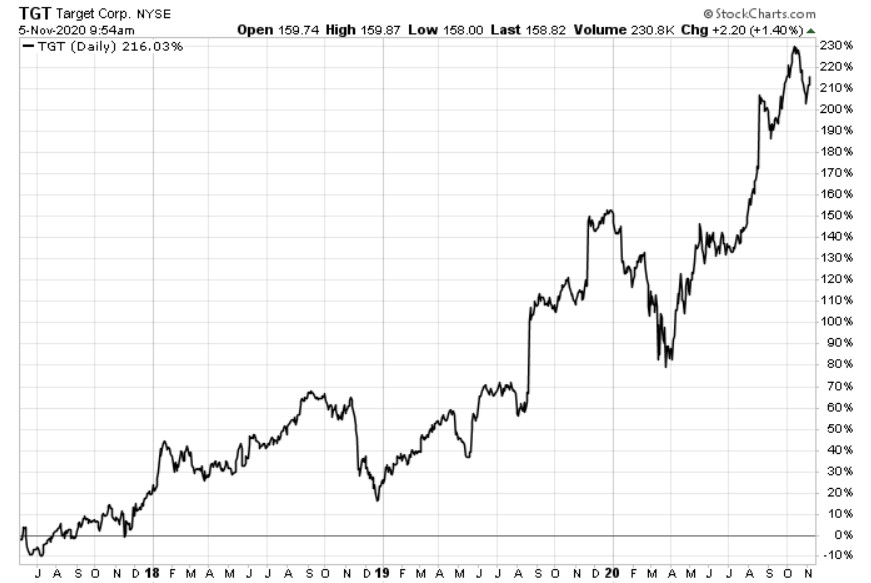 Chart courtesy of StockCharts.com
Target Corporation Is a Solid Dividend Growth Stock
One of the reasons I really liked TGT stock three years ago was that it had a solid track record of dividend growth and had room to continue that streak.
As it turned out, the company did not disappoint. On June 11, the retailer's board of directors declared a quarterly cash dividend of $0.68 per share, marking a three-percent increase from the prior payout. Looking back, you'll see that the company has increased its dividend for 49 consecutive years. (Source: "Dividend & Stock Split History," Target Corporation, last accessed November 12, 2020.)
The best part is, even after decades of continuous dividend hikes, Target stock is not really paying out all that much of its earnings. In particular, its adjusted earnings of $3.38 per share in the most recent quarter covered its $0.68-per-share quarterly dividend nearly five times. That means, even if the momentum in the retailer's business slows down, chances are the company will still be able to afford the dividend.
Of course, any discussion of a brick-and-mortar retailer these days would not be complete without mentioning competition from online vendors. Notably, Amazon.com, Inc.'s (NASDAQ:AMZN) business has also been firing on all cylinders during the pandemic.
However, as mentioned earlier, sales through digital channels have also served as a catalyst for Target. In fact, the company has gained record numbers of digital customers, and engagement has been extremely strong.
In the company's latest earnings conference call, John Mulligan, chief operating officer, said, "Specifically among our new digital guests in the first quarter, we've seen nearly double the rate of repeat purchases within seven days compared with a year ago. And the rate of repeat purchases in the intervening 90 days has been fully doubled what we measured a year ago. Given that we've added 10 million new digital guests in the first half of the year, we feel good about our prospects for building on their elevated level of engagement over time." (Source: "Target Corporation (TGT) CEO Brian Cornell on Q2 2020 Results – Earnings Call Transcript," Seeking Alpha, August 19, 2020.)
Bottom Line on Target Corporation
Ultimately, because TGT stock has shot through the roof, it's no longer yielding as high as before. But at 1.7%, Target Corporation's annual dividend yield is about the same as that of the average S&P 500 company. (Source: "S&P 500 Dividend Yield," multpl.com, last accessed November 12, 2020.)
Given the growth in the retailer's business, Target stock investors can look forward to more dividend hikes in the years ahead.