5.1%-Yielding NNN REIT Stock's Dividend Poised to Rise for 34th Straight Year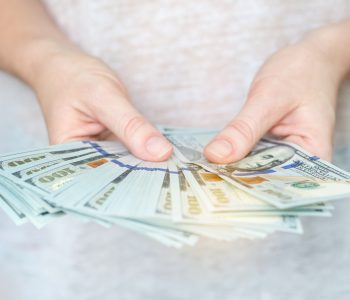 NNN Stock Perfect for Income & Growth?
If you're looking for a stock that provides consistent dividend growth and tremendous capital appreciation—from a company that has been taking advantage of the post-COVID-19 economic recovery—look no further than NNN REIT Inc (NYSE:NNN), formerly called National Retail Properties, Inc.
The real estate investment trust (REIT) currently pays quarterly dividends of $0.55 per share, for a yield of 5.1% (as of this writing). Best of all, the company has increased its dividends for 33 consecutive years—the third-longest track record of all REIT stocks.
NNN REIT Inc generally raises its quarterly dividend in July, so we'll find out soon if this will be the 34th consecutive year in which the company hikes its dividend. There's every reason to believe it will. The company's first-quarter core funds from operations (CFFO) were $0.80 per share, which is more than enough to cover NNN REIT stock's quarterly dividend.
As for its share price, NNN stock is up by 7.5% year-over-year.
More gains are expected, with Wall Street analysts providing a 12-month share-price target in the range of $47.50 to $54.00. This points to potential gains in the range of approximately 10% to 25%. The high end of that projection would put NNN REIT stock above its pre-pandemic record level of about $50.00 per share.
With dividends reinvested, NNN stockholders have enjoyed a 30-year average annual total return of 11.1%.
Aside from its dividends and share-price appreciation, what's the big deal about NNN REIT Inc?
The company acquires, invests in, and develops high-quality properties that are leased to retailers under long-term (15 to 20 years) triple-net leases (hence the "NNN" in its name).
With a triple-net lease, the tenant is responsible for all expenses, including taxes, insurance, maintenance, utilities, and—of course—rent. In essence, NNN REIT Inc banks its rental income and has no obligation to spend money on its properties.
The company's diverse real estate portfolio is made up of 3,449 properties in 49 states. It leases its properties to more than 30 tenants in 37 lines of trade. The portfolio's aggregate gross leasable area is approximately 35.3 million square feet, which is equal to about 613 football fields. (Source: "Our Portfolio," NNN REIT Inc, last accessed June 13, 2023.)
The top 10 lines of trade in NNN REIT's tenant base are as follows:
Convenience Stores: 16.3% of the portfolio
Automotive Services: 14.4%
Restaurants, Full Service: 9.0%
Restaurants, Limited Service: 8.9%
Family Entertainment: 5.8%
Health and Fitness: 4.8%
Theaters: 4.3%
Recreational Vehicle Dealers, Parts, and Accessories: 3.1%
Equipment Rental: 3.1%
Automotive Parts: 2.6%
Five of NNN REIT Inc's biggest tenants are 7-Eleven, Dave & Buster's Entertainment Inc (NASDAQ:PLAY), Mister Car Wash Inc (NYSE:MCW), Sunoco LP (NYSE:SUN), and Walgreens Boots Alliance Inc (NASDAQ:WBA).
Despite concerns about the retail sector during the COVID-19 pandemic, the company's occupancy rate was excellent. In fact, from 2003 to the third quarter of 2021, the occupancy rate never fell below 96.4%. Over the same time frame, the REIT industry's average occupancy rate never rose above 93.7%.
The company's current occupancy rate is 99.4%, with a weighted average remaining lease term of 10.3 years and built-in rent escalators.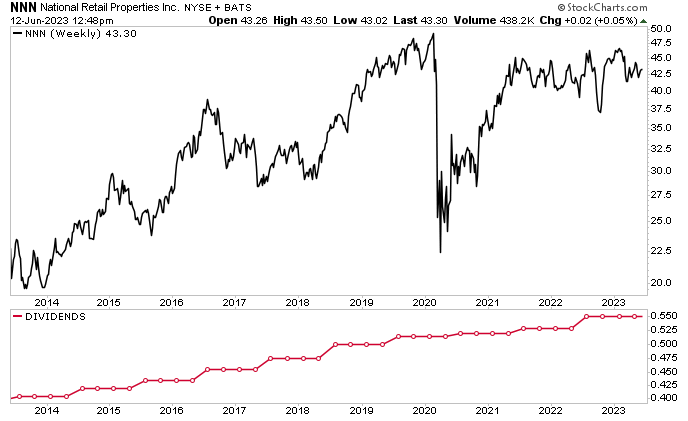 Chart courtesy of StockCharts.com
NNN REIT Inc's Financials Improved in First Quarter

Thanks to its diverse real estate portfolio, NNN REIT is able to generate a high amount of earnings.
For the first quarter of 2023, the company announced that its revenue increased by 7.2% year-over-year to $204.1 million. Its net income was up by 10.8% year-over-year at $90.1 million, or $0.50 per share. (Source: "First Quarter Operating Results Announced by NNN REIT, Inc." NNN REIT Inc, May 2, 2023.)
The REIT's funds from operations (FFO) climbed in the first quarter by 10.6% year-over-year to $145.5 million, or $0.80 per share. Its core FFO went up by 7.9% year-over-year to $145.9 million, while its core FFO earnings went up by 3.9% year-over-year to $0.80 per share. Its adjusted FFO advanced 6.8% year-over-year to $148.1 million, or $0.82 per share.
During the quarter, the company made $156.2 million in property investments, including acquisitions of 43 properties with an aggregate gross leasable area of approximately 275,000 square feet. It also sold six properties for $11.9 million, generating $6.3 million of gains on sales.
Steve Horn, the company's CEO, commented: "NNN had a solid start to 2023 with just over $155 million in property acquisitions with an initial cap rate of seven percent and a 19 year weighted average lease term." (Source: Ibid.)
He added, "The 3.9 percent Core FFO growth over the prior year results coupled with wider investment cap rates on acquisitions and steady balance sheet management, allows NNN to strive to provide long-term shareholder value as we progress in 2023."
The Lowdown on NNN REIT Stock
When it comes to a REIT, location is important, but even more important is the quality of its tenants.
That's what makes NNN REIT Inc stand out. The company has a high-quality, broadly diverse real estate portfolio (that avoids enclosed malls and strip malls); a strong acquisition strategy; continued high occupancy and rent collection figures; and reliable cash flow.
All this helps NNN stock provide safe, growing, high-yield dividends and share-price gains to investors.