Nike Inc (NYSE:NKE): Prepare for Another Dividend Increase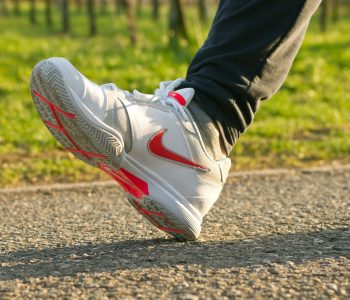 iStock/cMaxBaumann
Will Nike Stock Raise Its Dividend Soon?
With a 1.3% yield, Nike Inc (NYSE:NKE) may not look like an attractive dividend stock. However, the company deserves income investors' attention for a very simple reason: the ability to grow its payout.
Consider this: in 2007, Nike was paying quarterly dividends of $0.045 per share. Today, the amount stands at $0.18 per share for an increase of a whopping 300%.
As a matter of fact, the company has raised its quarterly dividend rate every year since 2004. Even the Great Recession, which some consider to be the biggest downturn since the Great Depression, did not stop the sportswear giant from raising its payout. (Source: "Dividends," Nike Inc, last accessed November 10, 2017.)
The power of growing dividends is an often overlooked aspect of dividend investing. While a high dividend yield would certainly be nice, buying a quality low-yield stock that can grow its payout consistently can also result in big returns. For instance, Nike stock was yielding 1.1% in November 2007—not a high yield by any means. But thanks to its dividend increases, investors who purchased NKE shares back then can now collect a yield on cost of 4.5%. Adding in stock price appreciation, those investors would have earned a total return of over 300%.
Nike Inc Stock Chart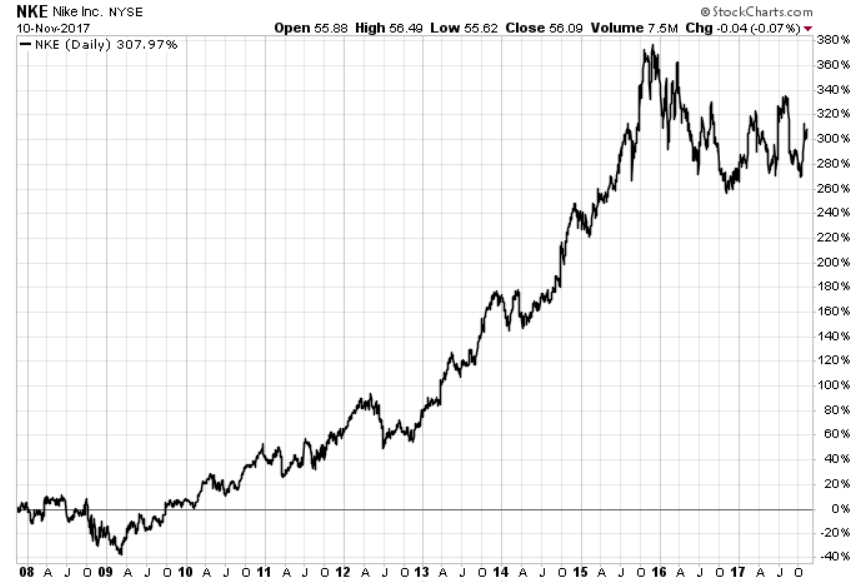 Source: StockCharts.com
While past performance does not guarantee future results, Nike's dividend increase track record could very well continue. In fact, the company may have good news for investors in the coming weeks.
Also Read:
Income Investors: The No. 1 Reason to Own Nike Stock
You see, despite being a five-decade-old company, Nike still manages to grow its business. In the company's fiscal year 2017, which ended May 31, 2017, Nike generated $34.4 billion in revenue, representing a six-percent increase year-over-year. Excluding impacts from foreign exchange translation, revenue would have increased eight percent. (Source: "Nike, Inc. Reports Fiscal 2017 Fourth Quarter and Full Year Results," Nike Inc, June 29, 2017.)
Bottom line growth turned out to be even better. For Nike's fiscal year 2017, diluted earnings came in at $2.51 per share, up 16% from the year-ago period.
Considering that the company declared total dividends of $0.70 during the fiscal year, it had a payout ratio of just 27.9%. This not only reassures investors that Nike's dividend is safe but also means there's plenty of room if the company wants to further increase its payout.
And it gets even better. Last month, during Nike's annual Investor Day, management updated the company's financial outlook. Over the next five years, Nike expects to generate high single-digit revenue growth, expanding margins, and mid-teens growth in earnings per share. (Source: "Nike, Inc. Is Accelerating A Consumer-Led Transformation To Ignite Its Next Phase Of Long-Term Growth," Nike Inc, October 25, 2017.)
If the company can achieve these targets, especially mid-teens growth in earnings per share, there's no reason why it can't grow its dividends accordingly. Nike usually reviews its dividend policy sometime in November. Given its rock-solid business, improving earnings, and low payout ratio, I expect the company to announce a double-digit increase to its quarterly dividend rate in the next week or two.