Nike Inc: Old Income Stock Turning Into New Growth Play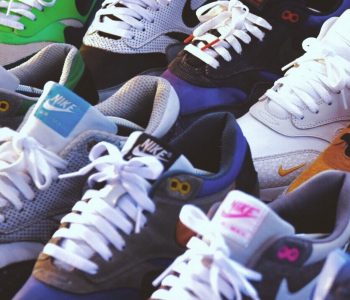 NKE Stock Providing More Than Just Dividends
Nike Inc (NYSE:NKE) was never a particularly attractive ticker for income investors. It doesn't come from a recession-proof industry, and its yield was never quite high enough.
But the company's dividend has grown at a commendable pace—a pace that, in fact, was faster than most other large-cap dividend stocks. And that's why I featured Nike stock in my Income for Life advisory back in January 2016.
The company did not disappoint, as it continued to mail out bigger dividend checks to shareholders every year. At the same time, Nike's business was growing, and the market rewarded it with a higher share price. Assuming automatic dividend reinvestment, the total return from NKE stock since I wrote about it in January 2016 is more than 170%.
Nike Inc (NYSE:NKE) Stock Chart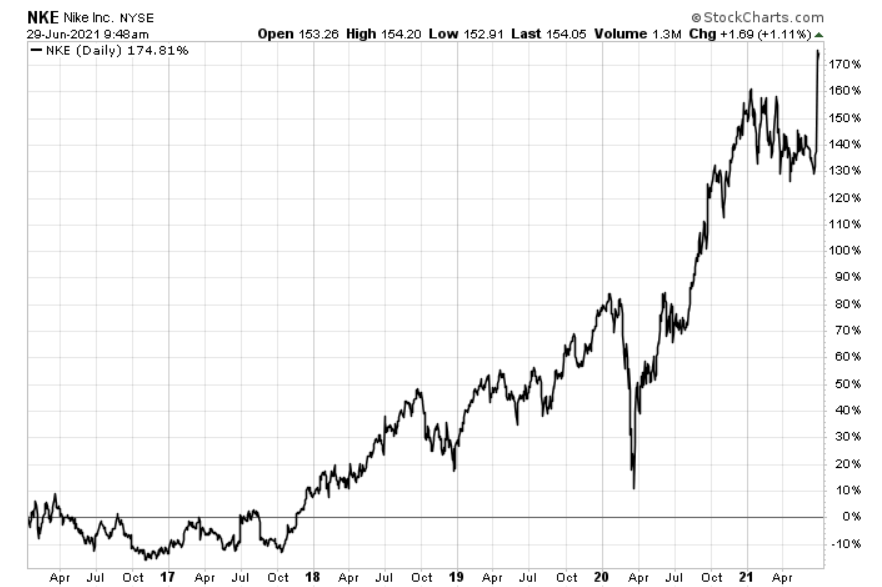 Chart courtesy of StockCharts.com
Nike is the world's leading sportswear company. Headquartered in Beaverton, OR, it designs, markets, and distributes athletic apparel, footwear, equipment, and accessories for a wide range of sports and fitness activities. The company also owns the "Converse" brand.
Nike belongs to the consumer discretionary sector, which, as mentioned earlier, means the business isn't recession-proof. Yet, you wouldn't know that by looking at its dividend history.
For instance, in 2008, when the economy was deep in the doldrums and numerous companies were slashing their dividends, Nike stock announced an 8.6% dividend increase. (Source: "Stock Information," Nike Inc, last accessed June 30, 2021.)
In 2020, when the economy was severely impacted by the COVID-19 pandemic—and malls and shopping centers that sold Nike products had to shut down for months—the company announced a 12.2% dividend increase.
Those were two extraordinary years in which NKE stock rewarded investors with bigger cash payouts. So it shouldn't come as a surprise that, in the more ordinary years, Nike Inc was also hiking its dividends. In fact, from 2008 to today, Nike stock's quarterly dividend rate went from $0.058 per share to $0.275 per share, marking a total increase of 374%.
For a decades-old consumer discretionary company (Nike has been around since 1964), that track record is truly impressive.
Of course, with an annual yield of 0.7%, NKE stock isn't that attractive to income seekers. But keep in mind that it was never quite a high yielder to begin with, and over the years, investors have collected more than just dividends.
In other words, Nike stock has become a growth stock.
Fourth-Quarter Earnings Report
Just take a look at the company's latest earnings report and you'll see why NKE stock now appeals to growth investors. In the fourth quarter of Nike's fiscal year 2021, which ended May 31, the company generated $12.3 billion of revenue, representing a whopping 96% increase year-over-year. (Source: "Nike, Inc. Reports Fiscal 2021 Fourth Quarter and Full Year Results," Nike Inc, June 24, 2021.)
The company generated net income of $1.5 billion (diluted earnings of $0.93 per share) for the quarter, compared to a net loss of $790.0 million (net loss of $0.51 per share) for the year-ago period.
Both Nike's top- and bottom-line numbers smashed Wall Street's expectations. On average, analysts were projecting earnings of $0.51 per share on $11.0 billion of revenue.
Growth was across the board, as revenue for the Nike brand surged by 88% year-over-year on a constant-currency basis to $11.8 billion in the fourth fiscal quarter. This was driven by triple-digit growth in its wholesale business and double-digit growth in its direct-to-consumer business. Revenue from the Converse brand also rose, by 85% on a constant-currency basis to $596.0 million.
One thing particularly worth noting is Nike's membership model. There are now more than 300 million Nike members around the world. In the reporting quarter, online purchases by these members hit a new record of $3.0 billion. (Source: "Unofficial Transcript – Q4FY21 Nike, Inc," Nike Inc, June 24, 2021.)
In its fourth fiscal quarter, the company also resumed its stock buyback activity. That's another way Nike returns cash to investors. The company repurchased about $650.0 million worth of its own shares in the quarter.
For fiscal 2022, management expects Nike's revenue to grow by a low double-digit percentage and surpass the $50.0-billion mark. Wall Street was expecting an annual revenue guidance of $48.5 billion.
Bottom Line on Nike Inc
At the end of the day, the fact that Nike Inc outperformed expectations on so many levels means Nike stock is quite a bit more expensive than before.
But given the potential of the company's more direct, member-centric business model, I'd say NKE stock's growth story is far from over.