NGL Energy Partners LP: Time to Lock In This 13.7% Yield?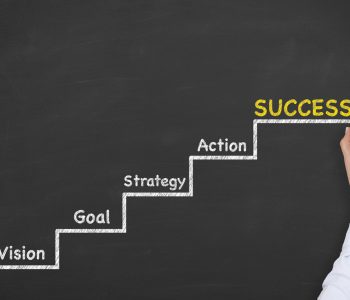 iStock.com/phototechno
Is This Payout Safe?
Executives at NGL Energy Partners LP (NYSE:NGL) will be happy to put the past few years behind them.
After expanding the company quickly for over a decade, an energy patch slowdown hammered its profits. That made it difficult for the business to service its growing debt load.
Then a warmer-than-expected winter clipped NGL's cash flows even further. Management responded to their compounding problems by slashing costs, selling off assets, and cutting their distribution. That news disappointed investors, sending the partnership's unit price plunging.
The worst, however, may be over. Over the past few months, NGL executives have pared down the company's debt load while raising their profit guidance for the upcoming year.
And with a 13.7% yield, NGL stock has caught the attention of income investors.
So, can this exceptionally high yield possibly be safe? Let's take a look.
NGL has taken a number of steps to stabilize its business. Earlier this year, the partnership sold off its propane business for a tidy $900.0 million. The well-timed sale provided management with plenty of funds to deleverage the company's balance sheet, saving tens of millions of dollars on interest expenses each year.
Executives will now refocus their efforts on the partnership's crude oil logistics and booming water transportation businesses. These divisions enjoy fat margins, in addition to fast-growing revenues. Jettisoning non-core operations like propane will also result in more predictable cash flows.
The situation should put the company's distribution on a much firmer footing.
In fiscal-year 2018, NGL Energy Partners generated $180.0 million in distributable cash flow. That didn't quite match the $225.0 million paid out to unitholders.
That situation should change in the coming years, though. Looking ahead at 2019, executives see their turnaround efforts boosting the partnership's distributable cash flow to more than $300.0 million. If management can hit their target 1.3× coverage ratio, that would leave the payout on a firm foundation.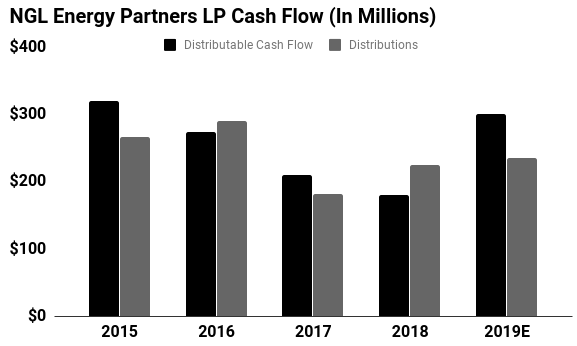 (Source: "Investor Presentation August 2018," NGL Energy Partners LP, last accessed September 17, 2018.)

Of course, investors have good reason to be skeptical. NGL has done a poor job of meeting expectations in the past. Therefore, it's hard for investors to have much confidence in the company's forecasts this time around.
Any deterioration in market conditions could slow down any turnaround. While the company locks customers into long-term contracts, any slowdown in the oil patch would eventually hurt profits.
In other words, this big payout comes with some risk. Anytime you see a yield this high, you know it's not a sure thing. But if management can pull off a turnaround, prospective NGL stock investors could lock in a sizable distribution.