NextEra Energy Inc: A Top Dividend Stock for 2020 and Beyond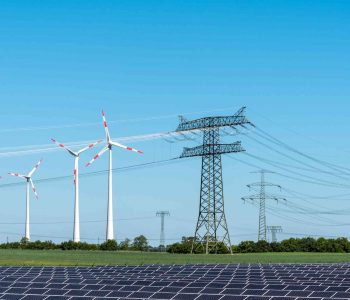 Income Investors: Here's Why NextEra Energy Inc Needs to Be on Your Watchlist
It's another quarter on the books. And it's another round of record profits from NextEra Energy Inc (NYSE:NEE).
Longtime readers know I only cover top dividend stocks with long histories of rewarding shareholders. NEE stock ranks as one of my favorites.
Over the past two decades, the utility has built a sprawling empire of green energy assets across the country. Today, it ranks as the largest producer of wind and solar power in the world. And that has started to attract the attention of some of the smartest investors on Wall Street. (Source: "About NextEra Energy," NextEra Energy Inc, last accessed July 30, 2020.)
It's not difficult to see why. The plunging cost to bring projects online has turned renewable energy into a lucrative business. Income hunters might want to take note.
Admittedly, building a wind farm or a solar plant is a big headache. But once you have a new facility up and running, it doesn't require much in the way of maintenance or labor. Ongoing costs come in at just a fraction of sales, freeing up lots of money to pay shareholders.
The projects make money whenever the wind blows or the sun shines. Sure, that means your income stream depends somewhat on the weather, but over time, the fluctuations tend to even out.
And these facilities will do their job for the next 50 years. Through wars, recessions, and pandemics, solar and wind projects continue to produce power for customers. And by extension, they continue to pay dividends to shareholders.
All of those positive attributes have attracted the interest of pension funds, insurance companies, and private equity. And they're not investing for the mushy "feel-good" factor, either.
Today, a typical green energy project pays a return between four and six percent per year. By comparison, the yield on a 10-year Treasury now comes out to only around 0.58% thanks to the plunge in interest rates. So investing in a new wind farm or solar plant amounts to a financial no-brainer.
But here's what sets NextEra Energy Inc apart.
The Florida-based company has quietly built its clean energy empire, not through taking on boatloads of debt or by flouting its greenness, but by relentlessly focusing on the numbers. CEO James Robo embodies the persona of an accountant, not your typical "woke" activist. He scrutinizes every new project for rosy financial estimates and only invests in opportunities that provide a solid return for shareholders.
Furthermore, management doesn't start construction on a new site until it has signed customers up to long-term contracts. This has allowed NextEra Energy Inc. to avoid the financial problems that torpedoed rivals like SunEdison Inc.
All of which has created an impressive income stream for shareholders. Since 2015, NextEra has boosted its payout at a 10% compounded annual clip. Today, NextEra stock pays a quarterly distribution of $1.40 apiece, which comes out to an annual yield of two percent.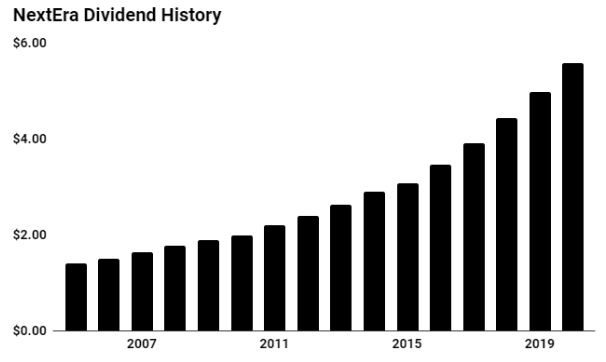 (Source: "Dividend History," NextEra Energy Inc., last accessed July 30, 2020.)
That payout should keep growing, too.
Through 2022, NextEra Energy plans to spend between $50.0 billion and $55.0 billion on new clean energy projects, while still eschewing heavy debt loads. Analysts expect that those new investments will allow the company to grow its earnings per share at a low-teen annual clip. (Source: "About NextEra Energy," NextEra Energy Inc, op. cit.)
And as management rolls over old contracts, they often demand price increases. That likely means more in the way of large, growing cash payouts from this top dividend stock.