NextEra Energy Inc: A Boring Dividend Stock With Exciting Returns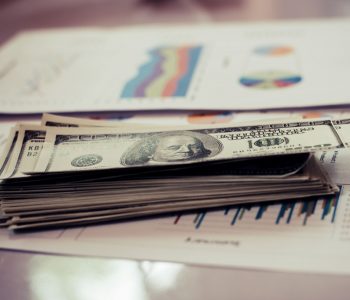 Looking for Reliable Dividends? Read This
If you're looking for reliable dividends, few sectors are worth checking out more than utilities. Known for its durable, recurring business model, the utilities sector has produced plenty of safe and rising income plays over the decades.
And sometimes investors get more than just dividend checks.
NextEra Energy Inc (NYSE:NEE), for instance, is an electric utility holding company headquartered in Juno Beach, FL. I featured the company in my paid advisory Income for Life back in April 2018. Since then, including automatic dividend reinvestment, NEE stock has delivered a total return of more than 100%.
NextEra Energy is the parent company of Florida Power & Light Company, which is the largest rate-regulated electric utility in the U.S. as measured by retail electricity produced and sold. Florida Power & Light serves more than 5.6 million customer accounts across Florida. (Source: "February/March 2021 Investor Presentation," NextEra Energy Inc, last accessed February 23, 2021.)
The electric utility business is certainly a good one to be in for a dividend play, but the reason for the rise in NextEra Energy stock likely had something to do with the company's clean energy endeavors. You see, NextEra Energy Inc also owns NextEra Energy Resources, LLC, which, along with its affiliates, is the world's largest generator of renewable energy from wind and solar. It's also a world leader in battery storage.
Of course, if you've been following the stock market, you'd know that, after a massive bull run for the past year or so, clean energy stocks are now experiencing a pullback.
NEE stock was affected by this downward move, too. Since reaching a high of $86.87 per share on January 25, NextEra Energy stock has fallen by about 13.5% to $75.10. This could be a result of some profit-taking, or perhaps sentiment has started to change toward the sector.
But here's the thing: from a dividend investor's perspective, NEE is still an attractive ticker.
NextEra Energy Inc (NYSE:NEE) Stock Chart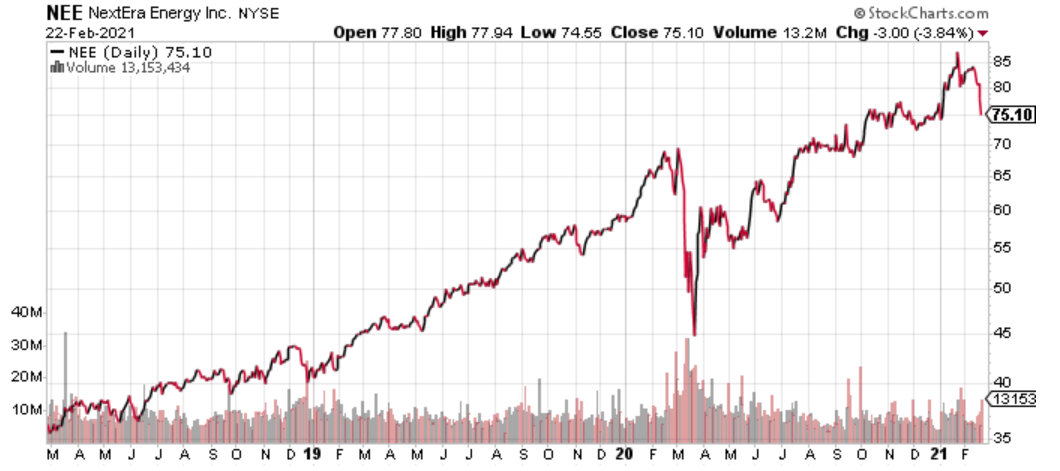 Chart courtesy of StockCharts.com
You see, even though NEE stock's most recent price action may not seem as bullish as before, the underlying financials remain solid.
In 2020, NextEra Energy generated adjusted net income of $4.6 billion ($2.31 per share), compared to $4.1 billion ($2.09 per share) in 2019. On a per-share basis, that's a bottom-line improvement of 10.5%. (Source: "NextEra Energy Reports Fourth-Quarter and Full-Year 2020 Financial Results," NextEra Energy Inc, January 26, 2021.)
And if you look further back, you'll see that, from 2005 to 2020, NextEra Energy's adjusted earnings per share increased at a compound annual growth rate (CAGR) of 8.7%. (Source: "February/March 2021 Investor Presentation," NextEra Energy Inc, op. cit.)
When a company with a durable business model generates consistently rising profits, it will have the ability to pay increasing dividends. And that's exactly what NextEra Energy has been doing. Over the past 15 years, NextEra Energy stock's dividend per share grew at a CAGR of 9.6%.
Based on the growth rates, it seems that NextEra Energy Inc's dividends were rising at a faster pace than its profits, which can raise some concerns about the safety of the payout. However, note that NEE stock's dividend safety has not been compromised. In 2020, NextEra Energy stock paid $1.40 per share in total dividends. As mentioned earlier, the company earned an adjusted profit of $2.31 per share for the year, so the amount easily covered its payout.
Another concern is whether that track record will continue. It may sound cliché, but in these extraordinary times, past performance simply does not guarantee future results.
While no one can predict a company's financials with certainty, the utilities sector has a more durable business model than most. Moreover, NextEra Energy Inc's management team has issued a very strong guidance. In particular, they expect the company's adjusted earnings per share (EPS) to be in the range of $2.40 to $2.54 for 2021, which, at the midpoint, would mark a 6.9% increase from the 2020 EPS. From that point, management expects the company's adjusted earnings per share to grow by another six to eight percent annually in 2022 and 2023.
The best part is that the NEE stock dividends are also projected to increase at a decent clip. In the company's latest earnings conference call, the chief financial officer, Rebecca Kujawa, said, "We also continue to expect to grow our dividends per share at a roughly 10% per year rate through at least 2022 off of a 2020 base. As always, our expectations assume normal weather and operating conditions." (Source: "NextEra Energy, Inc. (NEE) CEO Jim Robo on Q4 2020 Results – Earnings Call Transcript," Seeking Alpha, January 26, 2021.)
Bottom Line on NextEra Energy Inc
At its current share price, NextEra stock offers an annual dividend yield of 2.1%, which may not seem like much.
However, because the company is on track to deliver consistent and sizable dividend increases, investors who use the current pullback to get into NEE stock will likely earn a higher yield on cost in the years to come.