NextEra Energy Inc Displaces Exxon as Nation's Largest Energy Company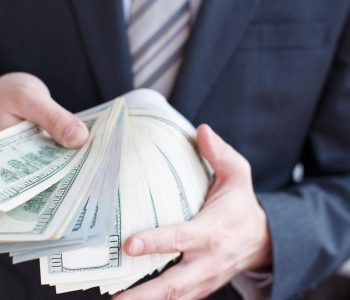 NextEra Energy Inc Has Quietly Overtaken Big Oil
Move over Exxon Mobil Corporation (NYSE:XOM), there's a new king of the energy sector: NextEra Energy Inc (NYSE:NEE).
For decades, the Texas-based Exxon long reigned over the industry as its most valuable company. But in early October, solar and wind rival NextEra overthrew the oil giant as the nation's most valuable energy producer. For analysts in the business, the quiet coup signals big changes coming to the energy patch. (Source: "How NextEra Overtook ExxonMobil As The Largest U.S. Energy Company," Forbes, October 3, 2020).
Few foresaw Exxon Mobil Corporation's decline. Just 12 years ago, it ranked as the largest company by market capitalization in the country. At that time, management had just reported the company's largest quarterly profit of any U.S. corporation ($11.8 billion). Since then, however, Exxon shares have lost a stunning 45% of their value after the COVID-19 pandemic crushed demand for fossil fuels. And last August, salesforce.com, inc. (NYSE:CRM) replaced the company in the Dow Jones Industrial Average Index, marking another milestone in Exxon's decline.
The core of the problem: Exxon Mobil Corporation made a huge wager on fossil fuels at what now seems to be the worst possible time. In 2018, the company announced plans to invest $280.0 billion over the next decade on finding, developing, and exploiting new sources of oil and gas. But so far, at least, that wager has amounted to nothing more than a money pit. Analysts project that the energy giant's losses could top $1.0 billion in full-year 2020. And Wall Street increasingly sees Exxon executives as out of touch with the new realities of the energy business.
Meanwhile, NextEra Energy Inc has taken a different approach. Over the past decade, management has plowed the stable cash flows from the company's Florida utility (which accounts for about 70% of its revenue) to finance the expansion of its renewable energy business (30% of revenue). Since then, NextEra has quietly emerged as the largest producer of wind and solar power in the world.
And these deals have turned out to be quite profitable. Thanks to government subsidies, NextEra has managed to boost its earnings per share at a double-digit compounded annual clip over the past decade—a jaw-dropping growth rate in the mature utilities industry.
Yet these investments have become profitable with or without government support. The cost of renewable technologies continues to plunge, becoming competitive with fossil fuels in some parts of the country. And even as the Donald Trump administration slashed subsidies for clean power, NextEra Energy Inc doubled the size of its renewable energy portfolio over the past four years. Analysts expect the business to continue gaining market share over the next decade, regardless of which political party is in power.
And investors, it seems, have embraced NextEra's strategy. Since late-2014, the company's shares have posted a total return, including dividends, of 261%. NEE stock now trades at a record 30-times forward earnings, signaling widespread optimism on Wall Street for the future of clean energy.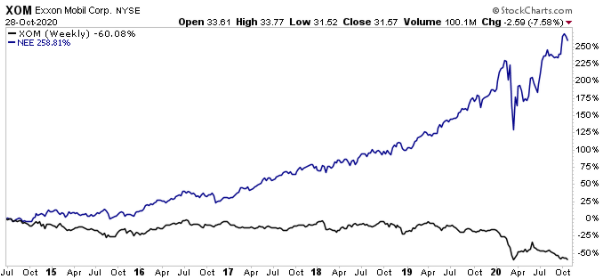 Chart courtesy of StockCharts.com
Wall Street has good reason to be optimistic about NextEra Energy Inc. More than a dozen U.S. states have announced plans to move completely to clean power grids. President-elect Joe Biden has even proposed transitioning the U.S. to a green electrical system within 15 years. If those plans come to fruition, it would represent a huge boost for clean energy producers like NextEra, and a major blow to big oil. (Source: "How Biden's $1.7 Trillion Climate Plan Would Change America After Trump's Big Oil Presidency," CNBC, October 1, 2020.)
But fossil fuels will likely continue to struggle even if government officials don't embrace clean energy. In October, for instance, the cost of a new utility-scale solar project fell to a record low $30.00 per megawatt hour in the U.S. The International Energy Agency called it "the cheapest electricity in history," and it will likely encourage utilities to shift even more investment dollars into renewable power. (Source: "Solar Power = "Cheapest Electricity In History," CleanTechnica, October 26, 2020.)
In other words, Exxon Mobil Corporation's long reign as king of the energy industry could be permanently over.