AT&T Inc.: This Is the Next Big Thing for AT&T Stock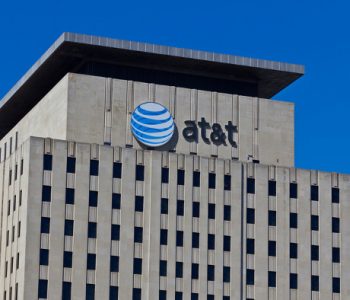 Why AT&T Stock's Winning Streak Could Continue
Mega-cap companies aren't known for producing capital gains, but if you invested in AT&T Inc. (NYSE:T) stock 12 months ago, you'd have enjoyed a return of 17.1%. You would have also collected quite a bit of dividends, because AT&T stock currently has an annual dividend yield of 4.91%.
But no company is perfect. While AT&T runs an established and profitable business, there have been concerns about what the company could do next to continue its growth.
On that front, there is good news. AT&T's name doesn't usually come up when people talk about the hottest fields in tech, but that doesn't mean the company is not involved in them. As a matter of fact, AT&T stock could benefit from two up-and-coming industries: cloud computing and the "Internet of Things."
When you mention those two areas, you might first think of companies like Amazon.com, Inc. (NASDAQ:AMZN) and Microsoft Corporation (NASDAQ:MSFT). But keep in mind that for all the devices to work together, there is a critical step: a network connection.
Consumers are familiar with AT&T's wireless and broadband Internet services, but did you know that AT&T can also play an important role in helping enterprises move to the cloud?
For instance, AT&T offers something called "NetBond" to companies that want to move their mission-critical applications to the cloud. NetBond provides a high-speed, highly secure network connection from anywhere on any device connected to a client's virtual private network (VPN), giving them the performance, security, and control of a private cloud with the flexibility and scalability of the public cloud.
According to AT&T Chief Executive Officer Randall Stephenson, NetBond connections have increased by fourfold just this year, while traffic over those connections was up eight times its prior amount. (Source: "AT&T's (T) CEO Randall Stephenson Presents at Goldman Sachs Communacopia Conference (Transcript)," MSN, September 21, 2016.)
The idea is that if businesses want to move mission-critical applications to the cloud, they need network connections with low latency and high security.
"So quality of service commitments are critical in these environments that require virtual private networking," said Stephenson. "So all of the managed network services that people have been saying are going to be commoditized out it's actually going the opposite direction."
It will not just be cloud computing that requires fast and secure connections. In the Internet of Things era, many devices—such as connected cars and health-monitoring devices—will also need them.
"You can't have a lot of latency on connected cars autonomous cars," Stephenson said. "Latency is just it's a really bad thing. So managed network service and security continue to be in play." (Source: Ibid.)
Of course, while the future of cloud computing and the Internet of Things looks quite promising for AT&T, it's hard to gauge just how much these things can add to the company's bottom line. Moreover, income investors are not known for betting on "the next big thing." For AT&T stock to be a good pick, it needs to be able to generate shareholder value in the near-term.
Fortunately, AT&T's core business is still going strong. In the second quarter, the company's wireless segment added 2.1 million new subscribers in North America. In the U.S., AT&T's postpaid churn was 0.97% for the quarter, marking its second-lowest level ever. (Source: "AT&T Reports Second-Quarter Results," AT&T Inc., July 21, 2016.)
At the same time, the company's acquisition of DirecTV has started producing results. DirecTV had 342,000 net subscriber adds in the U.S. in the second quarter. Further, more than 80% of AT&T's domestic video business is now on its DirecTV platform. For the quarter, AT&T's total revenue increased by more than 22% year-over-year to $40.5 billion. The company attributes a large part of the revenue growth to its DirecTV acquisition.
The Bottom Line on T Stock
AT&T stock is a "dividend aristocrat." The company has been increasing its payout every single year for the past 32 years. With its core business still going strong and the potential in cloud computing and the Internet of Things, T stock's track record of dividend hikes could continue well into the future.