Companies Offering Auto Rebate Checks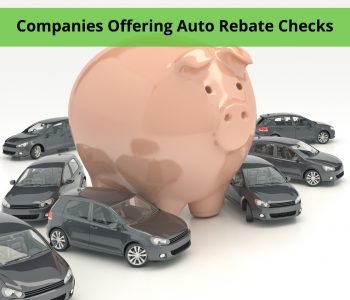 Auto Rebate Check Programs
We know that America's automotive industry is booming. What's lessor known is that thousands of Americans have started collecting what we call "Auto Rebate Checks."
Consider Anthony, an engineering graduate, who says he gets an average of $1,800 in Auto Rebate Checks every month. And then there's James, an ex-officer of the U.S. Navy, who went bigger and collects an average of $3,572 every month.
These are just a few examples of regular Americans who have signed up for what we call Auto Rebate Checks, or ARCs for short. It doesn't matter what you do. Teachers, students, authors, writers, employees and others are collecting from ARCs and so can you. In some cases, the funds people are getting from Auto Rebate Checks have been substantial enough to become a second source of income.
Note that this is not about some dealership's cash rebate when you buy a new car. I'm talking about the Auto Rebate Check program through which automobile companies return millions of dollars annually to the American people. No vehicle purchase required.
Auto Rebate Checks can be a regular and consistent source of income. Think about it, with ARCs, you could pay off your mortgage faster, travel, take care of your loved ones, or put your grandchildren through college. For Americans dreaming about retirement, Auto Rebate Checks could make that dream arrive a lot quicker.
Here's the best part. The amount of money the car companies are paying out via Auto Rebate Checks just keeps getting bigger and bigger.
Companies Offering ARCs
The simple reality is, U.S. car sales are at record highs. And Americans are paying more for cars than ever before.
Thanks to lower gasoline prices, there is demand again for bigger, more expensive cars. Ford Motor Company (NYSE: F) sold 780,354 units of its popular "F-Series" pickup trucks last year. According to automotive data provider Kelley Blue book, those larger vehicles accounted for more than half of U.S. sales last year, pushing the average transaction price to $34,428.
For General Motors Company (NYSE: GM), last year was the best year since 2007 for its largest brand, Chevrolet. GM deliveries totaled 3.1 million vehicles.
And it's not just the American automakers that are enjoying boom-time sales. While Detroit automakers reported their best sales since the mid-2000s, several foreign manufacturers also posted all-time high record sales for their cars in the U.S.
Overall, Americans spent about $570 billion on new vehicles last year, making now a great time to enroll in Auto Rebate Checks.
Start Collecting Auto Rebate Checks
As I said, you don't need to buy a car from the company you are registering with to get your Auto Rebate Checks. All you have to do to get in on the Auto Rebate Check boom is fill out a simple one-page application.
And unlike most retirement ideas, you don't need to have a lot of money to start collecting ARCs. In fact, one of the companies offering secret ARCs allows investors to start with as little as $12.00.
Though some have invested a lot more than $12.00, it all depends on how big you want to go with your Auto Rebate Check program.
It goes without saying that the more you invest initially, the bigger your Auto Rebate Checks could be and the faster you'll get to that worry-free millionaire retirement.
We have put together a research report titled Auto Rebate Checks: The Secret Millionaire Retirement Plan for readers of our Income for Life newsletter. In this report, you will find out how to register for ARCs, which companies offer the most lucrative ARCs, and how to get started with only $12.00.
To learn more about these Auto Rebate Checks, I urge you to
watch this free video when you click here now
Related Stories