What Are Auto Rebate Checks?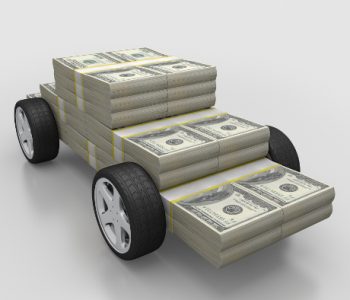 Investing in Auto Rebate Checks Could Generate Big Returns
In a world where everyone is seeking for yield, there are limited choices for retirement investors. The average Social Security benefit for a retired worker is a measly $1,341 a month, which is hardly enough to cover property taxes, groceries, and medical expenses. A study by the U.S. Census Bureau shows that about 15% of retirement-age workers are still in the workforce. Under this environment, it might be a good idea for income investors to consider what we call "Auto Rebate Checks," or "ARCs."
"Auto Rebate Checks" are seldom advertised by the companies that pay them. But since the first "ARCs" were issued, millions of dollars have been paid out.
As the name suggests, "Auto Rebate Checks" come from the automotive industry, which has been booming. In 2015, auto sales in the U.S. rose to a record high 17.47 million vehicles, surpassing the previous record set 15 years ago.
Some people thought that had to be the peak for U.S. auto sales, but they were wrong. In 2016, auto sales in the U.S. climbed even higher to $17.55 million vehicles. (Source: "U.S. December auto sales surprisingly strong, 2016 sets new high," Reuters, January 5, 2017.)
Data from J.D. Power suggested that discounts were higher in December 2016 compared to the year-ago period, but that did not hurt automaker's profits. For instance, General Motors Company (NYSE: GM) said that the average selling price actually rose in December to $36,386. This was in part due to strong sales of large sport utility vehicles (SUVs) such as the Chevrolet Tahoe.
The prosperity in U.S. auto sales could be continuing. Earlier this year, the three largest sellers in the U.S. car market—GM, Ford Motor Company (NYSE: F), and Toyota Motor Corp, all predicted that 2017's car sales would be near last year's record levels.
This is great news for investors who are collecting checks from auto rebate retirement plans. And that's because automotive companies are under contractual obligations to make payments to those that have signed up for "ARCs". With growing auto sales, there is a good chance that these "Auto Rebate Checks" would grow as well.
What Are Auto Rebate Checks?
So, what are the secret "Auto Rebate Checks?"
"Auto Rebate Checks" are investment vehicles that allow regular Americans to benefit from the booming auto industry. They are available to any American over the age of 18, regardless of income or employment status.
What's the initial set-up cost to earn an auto rebate income? Well, it takes as little as $12.00 to sign up for one of the "Auto Rebate Check" plans. You can always add more to the plan depending on your investment goals. Intuitively, the more you invest initially, the bigger your "Auto Rebate Checks" could be and the faster you'll be able to reach your investment goals.
Auto Rebate Checks as Investment
After months of research, I have completed a report called Auto Rebate Checks: The Secret Millionaire Retirement Plan.
In the report, I will show you:
How to start collecting your first "Auto Rebate Check" by the end of next month
Which automobile companies offer the most lucrative "ARCs"
Why even an investment novice could join and succeed at "ARCs"
How to get started with only $12.00
Why it's possible to enroll in more than one "ARC" plan at a time
The tax benefits of "ARCs"
The automobile companies that have been paying out "ARCs" for the longest time
Where to get the simple forms you need to get your first "ARC" plan going
How to make sure your "ARC" continues to pay your estate and heirs after you are gone
To know how you could start collecting your "Auto Rebate Checks"
Click here to watch this free video now.
Related Stories