NewLake Capital Stock: 10.7%-Yielding Pot Stock's Dividend Hiked 11.4%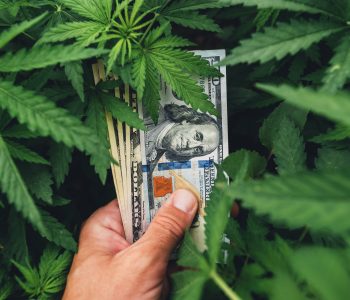 NLCP Stock Rewards Investors With Dividend Increases & Share Buybacks
The outlook for NewLake Capital Partners Inc (OTCMKTS:NLCP), a real estate investment trust (REIT) that focuses on providing capital to state-licensed marijuana operations, is bright.
Why?
In the U.S., recreational cannabis is currently legal in 23 states plus Washington, D.C., Guam, and the Northern Mariana Islands. Including medical marijuana and partial legalization, you can legally purchase cannabis and cannabis-related products in 47 U.S. states.
Marijuana, however, remains illegal at the federal level. While the vast majority of Americans support ending the federal ban on pot, legalization at the national level could be years away.
Because cannabis is illegal at the federal level, it's tough for marijuana companies to access traditional banking services. Most banks won't touch pot companies because of the risks associated with federal laws and concerns about money laundering. This is why marijuana dispensaries in the U.S. don't accept credit cards.
If marijuana is rescheduled under the Controlled Substances Act, it might be easier for the Secure and Fair Enforcement Banking Act of 2021 (SAFE Banking Act) to become law. This federal act would remove the risk to financial institutions in states where recreational cannabis is legal. But even if the SAFE Banking Act gets passed, some cannabis companies will need to access capital outside of traditional banking channels.
On that note, NewLake Capital provides capital to cannabis operators through sale-leaseback transactions, third-party purchases, and funding for built-to-suit projects. (Source: "Company Information," NewLake Capital Partners Inc, last accessed July 26, 2023.)
The company's geographically diverse real estate portfolio consists of 32 properties in 12 states, covering 1.7 million square feet. It has properties in Arizona, Arkansas, California, Connecticut, Florida, Illinois, Massachusetts, Missouri, Nevada, North Dakota, Ohio and Pennsylvania.
The REIT's portfolio consists of 92% cultivation facilities and eight percent retail facilities. Currently, the properties are 100% leased out.
The company's properties are leased to single tenants on a long-term, triple-net basis. This means the tenants are responsible for the ongoing expenses of the properties, in addition to the rent (which includes rent escalators of two to three percent).
NewLake Capital Partners Inc's sale-leaseback model allows it to enter 15–20-year leases with top tenants in the marijuana industry. The average weighted lease term is currently 14.6 years, with a 12.1% weighted average yield.
Four of its tenants are Ayr Wellness Inc (CNSX:AYR.A, OTCMKTS:AYRWF), Columbia Care Inc (CNSX:CCHW, OTCMKTS:CCHWF), Curaleaf Holdings Inc (CNSX:CURA, OTCMKTS:CURLF), and Trulieve Cannabis Corp (CNSX:TRUL, OTCMKTS:TCNNF).
NewLake Capital stock provides investors with a stable and growing cash flow.
In June, the NewLake Capital Partners Inc's board declared a second-quarter 2023 cash dividend of $0.39, for a yield of 10.7%. This represents an 11.4% increase over the $0.35 per share it paid in the same period last year. NLCP stock's high-yield dividend is more than safe: its adjusted funds from operations (AFFO) payout ratio is just 86%.
Furthermore, in November 2022, the board approved a $10.0-million share repurchase program, of which $9.4 million was remaining as of March 31, 2023. (Source: "NewLake Capital Partners Reports First Quarter 2023 Financial Results," NewLake Capital Partners Inc, May 10, 2023.)
1st-Quarter Revenues Up 12%
For the first quarter ended March 31, 2023, NewLake Capital announced that its total revenues increased by 12.3% year-over-year to $11.4 million but slipped by 6.8% quarter-over-quarter. (Source: Ibid.)
The rare decrease was mainly the result of one tenant failing to pay its contractual rent in the first quarter. NewLake Capital Partners Inc held a security deposit from that tenant of approximately three months' worth of rent, and in the first quarter, it applied $315,000 (25%) of the security deposit toward the outstanding rent.
The REIT's first-quarter 2023 net income rallied by 16% to $5.9 million, or $0.27 per share, over its first-quarter 2022 net income of $5.1 million, or $0.24 per share. Its funds from operations (FFO) went up by 21.1% year-over-year to $9.5 million, while its AFFO increased by 19.6% year-over-year to $9.9 million.
Commenting on the results, Anthony Coniglio, NewLake Capital Partners Inc's president and CEO, said, "For the first quarter we delivered results in-line with our revenue guidance and maintained our quarterly dividend of $0.39 per share of common stock, resulting in a conservative AFFO payout ratio of 86%." (Source: Ibid.)
During the first quarter, NewLake Capital Partners Inc also did the following:
Repurchased 49,307 of its own shares at an average price of $12.63 per share
Acquired a parcel of land adjacent to its cultivation facility in Missouri for $350,000, with plans to expand that facility
Committed $16.2 million to improving its facility in Missouri
Funded $1.4 million worth of improvements to three properties
 NewLake Capital Stock Has 27% Upside Potential
NewLake Capital Partners Inc isn't all that well known yet in marijuana investing circles, but that might be because NCLP stock only went public in the second half of 2021. In hindsight, that wasn't the best timing; 2022 wasn't kind to cannabis stocks, nor to the broader stock market. That includes NewLake Capital stock, which ended 2022 down by 39.5%.
This year started out well for the company, but industry and economic headwinds have been a hurdle for NCLP stock. As of this writing, it's trading down by 13% year-to-date and 11.5% year-over-year. On the plus side, NewLake Capital stock is up by 4.6% over the last month and nine percent over the last three months.
This is despite the fact that NewLake Capital Partners Inc continues to report solid financial results, a rock-solid balance sheet, industry-leading rent collection statistics, the strongest pipeline in its history, a conservative AFFO payout ratio, and rising, high-yield dividends.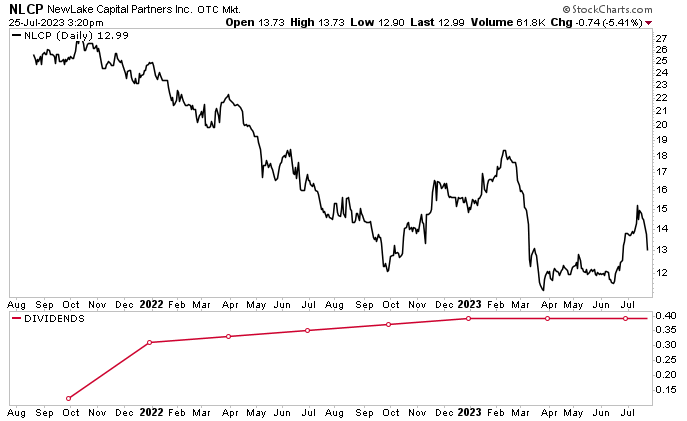 Chart courtesy of StockCharts.com
The outlook for NCLP stock is pretty solid, though, with Wall Street analysts providing a 12-month share-price target of $16.50. This points to potential upside of 27%.
The Lowdown on NewLake Capital Partners Inc
NewLake Capital is an excellent, overlooked alternative banker serving the cannabis industry. While NewLake Capital stock has had a rough ride since it went public in August 2021, the company has been throwing up the kind of numbers that should make investors sit up and take notice.
Since 2019, NewLake Capital Partners Inc's revenues have soared from $1.0 million to a projected $46.0 million in 2023 and its AFFO have grown from zero to $40.0 million. Its dividend growth per share has climbed by 25% from $0.31 in the fourth quarter of 2021 to $0.39 in the second quarter of 2023.
Going forward, the high demand for real estate and capital in the U.S. marijuana sector should allow NewLake Capital to meaningfully grow its AFFO, high-yield dividends, and share price.