NewLake Capital Partners Inc: 8.4%-Yielder Hikes Payout For 7 Straight Quarters
NLCP Stock Up 15.8% in 2023
With federal marijuana legalization lumbering along at a glacial pace, few people seem to be talking about pot stocks. The world's largest cannabis exchange-traded fund (ETF), ETFMG Alternative Harvest ETF (NYSEARCA:MJ), is down by 54% year-over-year. Meanwhile, AdvisorShares Pure US Cannabis ETF (NYSEARCA:MSOS) is down by 70%.
It's not all doom and gloom, though. One under-the-radar marijuana stock that has been crushing the broader market is NewLake Capital Partners Inc (OTCMKTS:NLCP). Moreover, NewLake Capital stock pays growing, high-yield dividends, and the company recently initiated a $10.0-million share repurchase program.
NewLake Capital is a real estate investment trust (REIT) focused on providing capital to state-licensed cannabis operators through sale-leaseback transactions, third-party purchases, and funding for built-to-suit projects. The REIT leases out its properties on a single-tenant, long-term, triple-net basis, which means the tenants are responsible for the ongoing expenses of the properties. The leases include rent escalators of two to three percent. (Source: "Leading Provider of Real Estate Capital to U.S. Cannabis Operators," NewLake Capital Partners Inc, November 10, 2022.)
NewLake Capital Partners Inc's portfolio consists of 32 properties covering 1.7 million square feet in 12 states: Arizona, Arkansas, California, Connecticut, Florida, Illinois, Massachusetts, Missouri, Nevada, North Dakota, Ohio, and Pennsylvania. The REIT's portfolio consists of 92% cultivation and eight percent retail properties.
The properties are 100% leased, and thanks to the company's astute underwriting skills, it has collected 100% of its rent due—with no abatements or deferrals—since its founding in 2019. The average weighted lease term is 14.9 years, with a 12.2% weighted average year.
Five of its tenants are Ayr Wellness Inc (CNSX:AYR.A, OTCMKTS:AYRWF), Columbia Care Inc (CNSX:CCHW, OTCMKTS:CCHWF), Cresco Labs Inc (CNSX:CL, OTCMKTS:CRLBF), Curaleaf Holdings Inc (CNSX:CURA, OTCMKTS:CURLF), and Trulieve Cannabis Corp (CNSX:TRUL, OTCMKTS:TCNNF).
NewLake Capital Partners Inc only went public in late 2021, which wasn't the best timing. 2022 wasn't kind to cannabis stocks; NLCP stock ended the year down by 39.5%.
This was despite the REIT reporting solid financial results—including high adjusted funds from operations (AFFO) growth and a rock-solid balance sheet—and having the strongest pipeline in its history.
While NewLake Capital stock had a tough 2022 in terms of share price, it's been doing much better in 2023. As of this writing, NLCP stock is up by:
Seven percent over the last month
5.8% over the last three months
21.0% over the last six months
15.8% year-to-date
Those are big gains, but that could be just the beginning. Analysts expect NewLake Capital stock to rise by as much as 54% over the coming quarters to $28.50 per share. That's far better than the predictions for the S&P 500; analysts say the index could tumble by as much as 30%. (Source: "Look for Stocks to Lose 30% From Here, says Strategist David Rosenberg. and Don't Even Think About Turning Bullish Until 2024," MarketWatch, February 11, 2023.)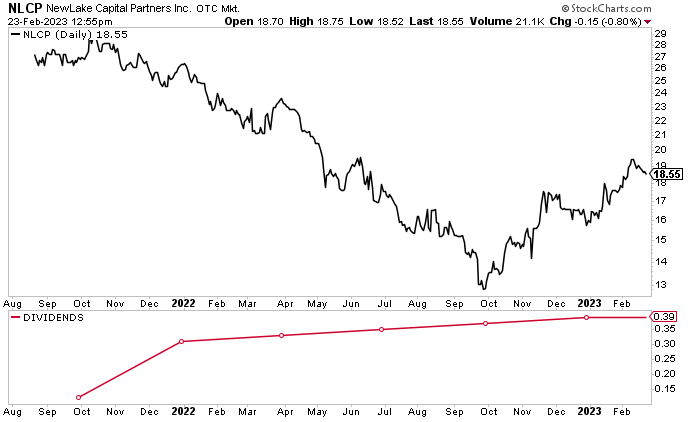 Chart courtesy of StockCharts.com
Thanks to NewLake Capital Partners Inc's continued strong financial results, including significant year-over-year AFFO growth, NLCP stock has been able to provide reliably growing high-yield dividends.
In December 2022, the company declared a fourth-quarter cash dividend of $0.39 per share (which was subsequently paid in January 2023), for a current yield of 8.4%. This was NewLake Capital stock's seventh consecutive quarterly dividend increase. It also represents a 5.4% increase over NLCP stock's third-quarter 2022 dividend and a 25.8% increase over its fourth-quarter 2021 dividend.
NewLake Capital Partners Inc Reports Another Strong Quarter
For the third quarter ended September 30, 2022, NewLake Capital announced that its revenue jumped by 50% year-over-year and 15% sequentially to $12.1 million. Its net income went up by 140% year-over-year and 71% sequentially to $6.5 million, or $0.30 per share. (Source: "NewLake Capital Partners Reports Third Quarter 2022 Financial Results," NewLake Capital Partners Inc, November 9, 2022.)
The company's third-quarter 2022 funds from operations (FFO) were $10.3 million, or $0.43 per share, compared to $5.2 million, or $0.27 per share, in the same prior-year period. Its AFFO were $10.6 million, or $0.49 per share, versus $6.0 million, or $0.31 per share, in the third quarter of 2021.
NewLake Capital Partners Inc ended the third quarter of 2022 with $45.0 million in cash, of which $4.8 million were committed to funding tenant improvements.
In the third quarter, the REIT increased its credit facility from $30.0 to $90.0 million, a move that will allow it to continue investing in high-quality assets.
Anthony Coniglio, NewLake Capital Partners Inc's president and CEO, commented, "We are very pleased with our third quarter results and the strength of our business." (Source: Ibid.)
He added, "While our pipeline of quality cannabis properties remains robust, we can no longer ignore the compelling investment opportunity with our stock trading at such a discount. We have initiated a stock repurchase program demonstrating our strong conviction in the quality of our portfolio and the long-term value of our company."
NewLake's board authorized a $10.0-million share repurchase program that will run through December 31, 2023. (Source: "NewLake Capital Partners Announces $10 Million Share Repurchase Program and Formation of Independent ESG Committee of the Board," NewLake Capital Partners Inc, November 10, 2022.)
"While there continues to be attractive investment opportunities across the cannabis real estate sector, we think there is also compelling value in our stock," said Coniglio. "The authorization of a $10 million share repurchase program underscores our confidence in the quality of our portfolio, robust pipeline and growth opportunity of the cannabis industry for many years to come." (Source: Ibid.)
The Lowdown on NewLake Capital Stock
NewLake Capital Partners Inc is an excellent, overlooked "alternative bank" serving the cannabis industry. While 2022 was tough on NLCP stock, investors have been waking up to its true potential.
The company has a solid balance sheet, a tremendous property portfolio, and a growing foothold in a high-growth industry. Going forward, the strong demand for real estate capital should allow it to meaningfully grow its AFFO and dividends.
All that bodes well for NewLake Capital stockholders.