Income Investors: This High-Yield Stock Now Pays 12.9%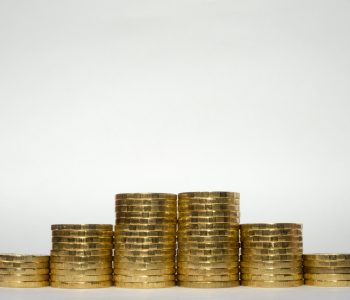 iStock.com/Madhourse
Can You Trust This High-Yield Stock's 12.9% Dividend?
Most high-yield stocks should have a warning label that reads, "DANGER: This Could Be Hazardous to Your Wealth."
In fact, I sometimes describe these stocks as the "cigarettes" of the dividend investing world. High-yield stocks often represent troubled businesses, but their high yields are so addictive.
Once in a while, however, I stumble upon a great company in this category, a rare business that offers both a high yield and a reasonable degree of safety. And today's stock, which sports an impressive 12.9% yield, could make a healthy addition to any income portfolio.
New Residential Investment Corp (NYSE:NRZ) is a real estate investment trust (REIT). The partnership invests in pools of residential mortgages, collecting a steady stream of monthly interest income. Management supplements these profits further through mortgage service agreements, providing the administrative duties of a mortgage loan in exchange for ongoing fees.
But can such a high payout possibly be sustainable? Savvy readers will want to check the financials before pulling the trigger on any high-yield stock. Let's dig into the numbers to find out.
Firm Financials From New Residential Investment Corp 
New Residential has developed a short but impressive track record. The company has never cut its distribution since going public in 2013. Management has boosted the distribution regularly over that period, hiking the payout 43% over the past six years.
That bodes well for unitholders. You'd be surprised how well you can predict a company's future decisions by its previous results. Steady, ongoing distribution hikes suggest a deep commitment on the part of management to investors.
This partnership stands on a firm financial foundation, too. Last year, New Residential Investment Corp paid out $185.0 million in distributions. Over the same period, the business generated $208.0 million in core earnings—a reliable measure of business performance in the mortgage industry.
That comes out to a payout ratio of 88%. Generally I like to see companies to pay 90% or less of their cash flow in dividends. So New Residential's current distribution sits well within my comfort zone.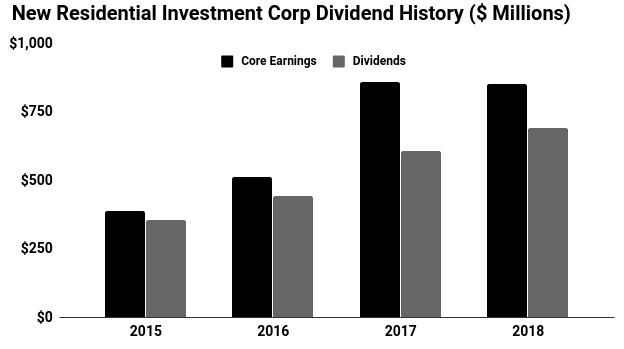 (Source: "Historic Prices," New Residential Investment Corp, last accessed July 16, 2019.)

The Bottom Line on NRZ Stock
Interest rates present the biggest risk for mortgage REITs—or more specifically, the difference between short- and long-term interest rates.
These firms earn their profits by borrowing money cheap on short-term notes, then investing the proceeds in higher-yielding, long-term loans. And as we've seen with other players in this business, those margins can evaporate as the spread between these two markets declines.
New Residential Investment Corp, however, spotted this problem well in advance. Over the past few years, management has diversified its portfolio into call rights and, as mentioned above, mortgage service agreements. These investments perform well regardless of which direction interest rates go, ensuring a steady stream of cash flow.
In other words, this high-yield stock looks safe for now.