New Residential Investment Corp: A Safe 11.3% Yield?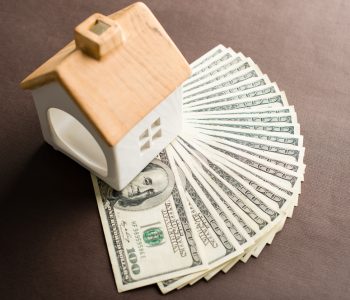 iStock.com/fudfoto
Can You Trust This Payout?
I skip over most high-yield stocks that cross my desk.
In most cases, a double-digit payout suggests that something has gone seriously wrong with the business. But once in a while, you find a great dividend hiding in the muck.
Case in point today: New Residential Investment Corp (NYSE:NRZ). Like many mortgage real estate investment trusts (mREITs), this business pays out an oversized yield to investors. At 11.3%, it's easy to understand why so many income hunters would give the stock a look.
But can such a high distribution possibly be safe? Actually, yes. Let's dig into the financials.
New Residential Investment Corp: Financials
Core earnings are the most important metric when it comes to mREITs.
This figure measures the profits that mREITs earn from borrowing money at cheap short-term rates and lending it out in higher longer-term loans. The statistic also removes a number of one-time items.
And this key metric is headed in the right direction for New Residential Investment Corp. The company's core earnings have grown each year since 2013—more than sixfold. This reflects management's smart lending operations and savvy acquisition strategy.
This year, the firm's core earnings are expected to head higher still. During the first three quarters of fiscal 2018, core earnings increased by another three percent.
Following the trust's recent acquisition of Shellpoint Partners LLC, analysts project that core earnings will continue growing at a mid-single-digit clip.
Shellpoint management has passed most of those profits onto shareholders.
Since the company went public, its executives have boosted the distribution every single year. While not the longest track record in the world, that suggests a commitment to shareholders.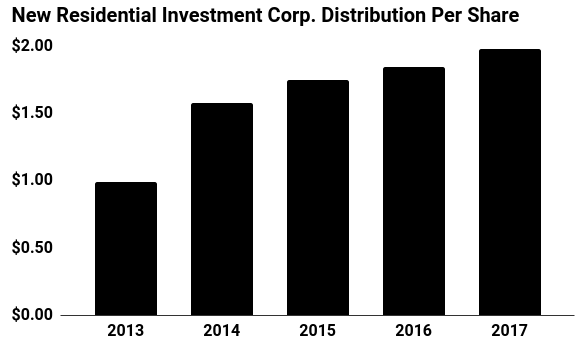 (Source: "Investor Relations," New Residential Investment Corp, last accessed July 16, 2018.) 
Today, the payout sits on a solid foundation. Last year, the trust paid out $609.0 million in distributions while generating $861.0 million in core earnings. That leaves management with a lot of financial wiggle room.
The only thing that could upset my rosy outlook here? Interest rates.
As I mentioned earlier, New Residential's profit comes from the difference between short-term and long-term yields. If short-term interest rates spike, they could eat into earnings.
That said, management has done a good job hedging these risks. In combination with a strong balance sheet and a modest payout ratio, the business should continue cranking out distributions.
In other words, this looks like one of the few double-digit yields an investor can count on.