New Mountain Finance Corp.: Earn a 9.6% Yield By Dec. 28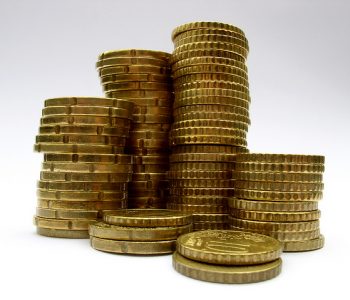 reynermedia/Flickr
Where to Find 7%+ Yields
If you like big dividends, few sectors pay out higher yields than business development companies (BDCs).
You don't need an MBA to understand these operations. BDCs lend money to private companies, collecting interest payments from borrowers and paying out the profits to unitholders.
I consider this area a "sweet spot" of the U.S. economy. Mid-sized firms represent profitable businesses, but often get ignored by big banks. As a result, they have to pay higher interest rates on financing, resulting in hefty profits for BDCs.
Case in point: New Mountain Finance Corp. (NYSE:NMFC). Last month, management declared a $0.34 distribution to be paid out on December 28. Based on the current share price, that comes out to an annualized yield of 9.6%.
Of course, oversized payouts tend to raise eyebrows. So, can you call this distribution safe? Let's dig into the numbers.
New Mountain has a long history of making savvy loans.
We've seen few non-performing debts as well. Since going public in 2011, only four of the lender's 213 portfolio companies have defaulted.
Also Read:
The Top 10 High-Dividend Stocks With Growing Payouts
Losses could tick up in a recession. That said, management has focused their lending on non-cyclical industries, like education, car washes, and pet clinics. From a safety perspective, that gives me confidence that the distribution won't get slashed in the next downturn.
On top of all that, New Mountain has senior status on most of these loans.
First and second lein debt account for 80% of the company's loan book. Borrowers have pledged specific assets on these deals in many cases, such as land, buildings, and equipment.
In other words, New Mountain gets paid first if anything goes wrong. For this reason, the business has managed to deliver steady, ongoing distributions. Over the firm's history, management has never cut the payout.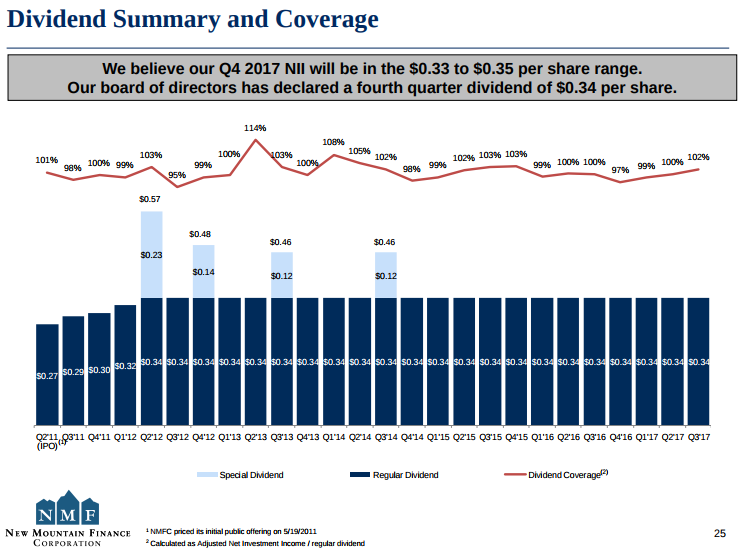 Source: "Q3 2017 Earnings Presentation," New Mountain Finance Corp., November 8, 2017.
BDC investors need to take a deep dive into loan books. In many cases, executives can juice returns in the short run by making riskier deals. In the case of New Mountain, however, there doesn't seem to be any surprises hiding in the details.
The payout ratio, though, could cause problems.
Through the first nine months of 2017, New Mountain generated $1.02 in net investment income. At the same time, management has paid out $1.02 in distributions.
Generally, I like to see companies pay out 75% or less of their profits as dividends. That helps me sleep at night, knowing the distribution as some wiggle room to survive a bad year or two. New Mountain's payout could come under pressure in the event defaults rise or interest rates drop.
So yes, this income stream comes with the dreaded "R" word: risk. You can't put this name in the same category of dividend payers like Johnson & Johnson (NYSE:JNJ), Procter & Gamble Co (NYSE:PG), or The Coca-Cola Co (NYSE:KO). But considering the yield on this thing has neared double digits, New Mountain's payout looks reasonably safe for now.