National Health Investors Inc: Overlooked Dividend Stock With 6.5% Yield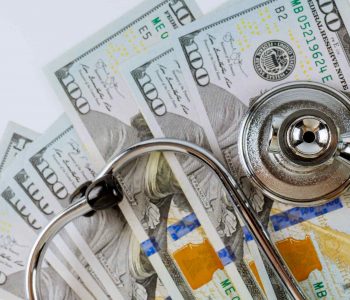 National Health Investors Stock Dividend Rises 5% During Pandemic
The outbreak of COVID-19 wreaked havoc on the global economy and sent the stock market crashing. While the coronavirus pandemic has impacted every corner of the population, some have been hit harder than others. In the U.S., the pandemic has had an outsized impact on the senior population. While only 16% of the American population is over the age of 65, 80% of the COVID-19 deaths in the U.S. have been in people 65 years of age and older.
These kinds of statistics might explain why investors got spooked and health-care real estate investment trusts (REITs) like National Health Investors Inc (NYSE:NHI) saw their share prices get hammered in 2020.
Investors weren't particularly picky about which REITs they pushed over a cliff. Every health-care REIT was treated the same, whether they deserved it or not. Some of the companies handled the outbreak better than others.
And thanks to the rollout of COVID-19 vaccines, it appears that the health-care sector is turning a corner—and so is National Health Investors.
The REIT invests in senior independent residences, assisted living centers, memory-care facilities, and medical office buildings. Since 2009, it has announced $3.7 billion in investments and has formed 26 new relationships. (Source: "December 2020 Investor Presentation," National Health Investors Inc, last accessed February 24, 2021.)
The company has 36 operating partners that manage 242 properties (162 senior housing residences, 75 skilled nursing facilities, three hospitals, and two medical offices) across 34 states. The top 10 states that National Health Investors operates in are South Carolina, Florida, Texas, Tennessee, Washington, Illinois, California, Arizona, Oregon, and Michigan.
The company relies on triple net leases, in which the tenant is responsible for paying the taxes, utilities, insurance premiums, repairs, and other charges related to the properties.
This has provided National Health Investors Inc with a reliable revenue stream. Between 2016 and 2020, its revenue has grown from $248.0 to $321.0 million, representing a four-year compound annual growth rate (CAGR) of 6.6%. Over the same time frame, its adjusted earnings before interest, taxes, depreciation, and amortization (EBITDA) have climbed from $254.0 to $308.0 million, with a CAGR of 4.9%.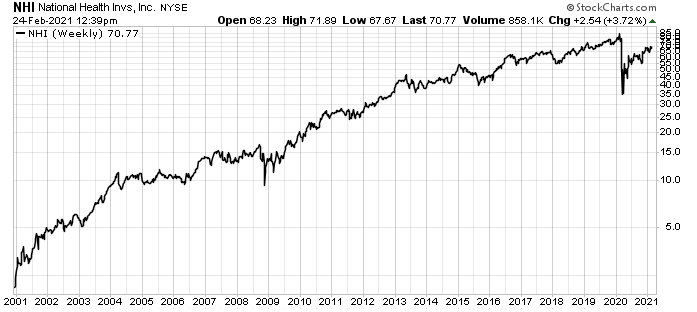 Chart courtesy of StockCharts.com
During the stock market crash in 2020, NHI stock fell by 61%. While National Health Investors stock has rebounded, climbing approximately 100% since then, it still needs to advance another 30% to get to its record pre-pandemic levels.
If history is any indicator, that will happen sooner rather than later. Correlation is not causation, but National Health Investors Inc has an amazing track record of providing investors with long-term capital appreciation. Between 2001 and 2020, NHI stock soared by 2,734%, at a CAGR of 19.4%.
Solid Q4 Results
Investors turned their backs on National Health Investors stock in 2020, but the company had a pretty solid year in terms of its financials. In the fourth quarter, its net income per diluted share slipped 12.6% to $0.83, but its full-year earnings per share (EPS) increased 12.8% to $4.14. (Source: "NHI Announces Fourth Quarter 2020 Results," National Health Investors Inc, February 22, 2021.)
The company's normalized adjusted funds from operations (AFFO) per share in the fourth quarter were unchanged at $1.30, but its full-year normalized AFFO increased 3.7%% to $5.29.
As of January 31, 2020, the REIT had $520.0 million in availability under a $550.0-million revolver and $37.2 million in unrestricted cash and cash equivalents. It also has approximately $465.0 million available under the at-the-market (ATM) program.
"Our monthly collections remained strong throughout 2020 and thus far into 2021," said Eric Mendelsohn, president and CEO. "But the pandemic has obviously placed a considerable burden on the senior housing and skilled nursing industries, which clouds our visibility in the months ahead and will make 2021 a more challenging year." (Source: Ibid.)
While National Health Investors Inc's road to recovery is uncertain, management said the rollout of COVID-19 vaccines to its facilities has had a positive impact, with a declining number of infected buildings and active resident cases. As of February 9, it had 244 confirmed active resident cases (0.2% of total capacity) in its skilled nursing and senior housing portfolio.
For much of 2020, National Health Investors' occupancy rates were down. And the company had offered rent deferrals to some of its tenants. Looking ahead, the company said it expects its occupancy rates to rise again in 2021.
Moreover, the REIT collected 93.9% of its rent due for the fourth quarter and 99.4% in February 2021.
All of which has provided National Health Investors Inc with strong cash flow.
National Health Investors Increases Dividend for 19 Consecutive Years
To keep its status as a REIT, National Health Investors needs to distribute at least 90% of its taxable income to its shareholders.
The company has said it's targeting annual dividend growth of at least five percent and a sustainable AFFO payout ratio. Despite the unprecedented challenges created by the pandemic, National Health Investors increased its fourth-quarter dividend by five percent year-over-year and maintained its fiscal discipline with an AFFO payout ratio below 85%.
Last December, the REIT announced a fourth-quarter dividend of $1.1025 per share, giving it a yield of 6.5%. This represents the 19th consecutive year that National Health Investors increased its dividend.
| | | |
| --- | --- | --- |
| Year | Annual Dividend | Year-Over-Year Increase |
| 2020 | $4.41 | 5.0% |
| 2019 | $4.20 | 5.0% |
| 2018 | $4.00 | 5.2% |
| 2017 | $3.80 | 5.5% |
| 2016 | $3.60 | 5.8% |
| 2015 | $3.40 | 10.3% |
| 2014 | $3.08 | N/A |
(Source: "Dividends to Common Stockholders," National Health Investors Inc, last accessed February 24, 2021.)
The Lowdown on National Health Investors
After years of strong growth, National Health Investors Inc's bottom line took a hit in 2020 on the heels of the coronavirus. But then, so did the rest of the world. The company isn't out of the woods yet; management expects 2021 to be another difficult year.
That said, thanks to its strong balance sheet, growing portfolio, improving occupancy rates, and the rollout of COVID-19 vaccines, National Health Investors is well positioned to weather the storm and provide investors with long-term growth. In the meantime, it's nice to know that the REIT has the liquidity to raise its dividend even during the worst financial crisis since the Great Depression and worst health crisis in 100 years.