National CineMedia, Inc.: Shares of 8%-Yielder Could Double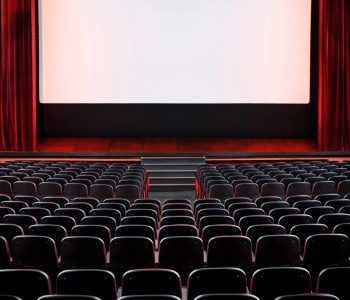 Wall Street Bullish on National CineMedia Stock
Few industries seem to have escaped the effects of COVID-19. The restaurant and airline industries were hit particularly hard. So too was the entertainment and tourism industry. One sector that hasn't yet recovered but is expected to bounce back in 2022 is the movie theater industry.
While most investors in that sector seem to be fixated on meme stocks like AMC Entertainment Holdings Inc (NYSE:AMC)—a company that suspended its dividends—there are other less-obvious options, including National CineMedia, Inc. (NASDAQ:NCMI), an ultra-high-yield dividend stock.
National CineMedia operates the largest cinema advertising network in the U.S. The company describes itself as follows: "We're the creators of Noovie, a fully integrated suite of products designed to innovate the moviegoing experience in ways that help brands tap into the excitement, emotion, and magic of the movies." (Source: "NCM," National CineMedia, Inc., last accessed March 31, 2022.)
The company also sells advertising on its "Lobby Entertainment Network" (LEN), a series of screens in movie theater lobbies, as well as other forms of advertising and promotions in theater lobbies. (Source: "Investor Presentation," National CineMedia, Inc., February 28, 2022.)
National CineMedia also sells online and mobile advertising through its "Noovie Audience Accelerator" and its suite of "Noovie" branded digital properties, including "Noovie.com," "Noovie Trivia," and "Noovie Arcade."
The company's pre-show is presented exclusively in 190 designated market areas (all of the top 50) on 21,100 screens in over 1,700 theaters. Their pre-shows appear in leading national and regional theater circuits, including AMC Entertainment, Cinemark Holdings, Inc. (NYSE:CNK), and Regal Cinemas.
Those exclusive agreements are locked in long-term, too. Approximately 17 years remain on the agreements with AMC, Cinemark, and Regal (the three largest U.S. movie theater circuits). The company just needs advertisers to step back in.
National CineMedia stock is still down significantly from its pre-pandemic levels. In fact, NCMI stock still needs to climb by about 220% to get to where it was in February 2020. But there is reason to be bullish on National CineMedia, Inc. As mentioned earlier, the economy is recovering and North Americans are heading back to movie theaters.
Of the analysts providing a 12-month forecast for National CineMedia stock, their average target is $4.50 and their high estimate is $6.00. This points to potential gains of 78% and 137%, respectively. Even the low estimate of $3.50 suggests a potential gain of 38%.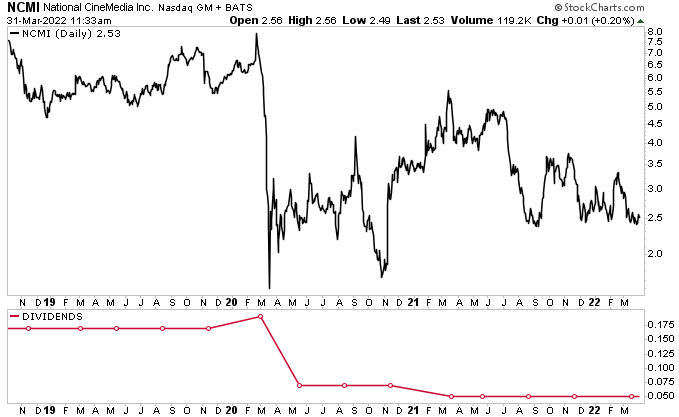 Chart courtesy of StockCharts.com
2022 North American Movie Ticket Receipts to Double from 2020
After two abysmal years, it looks like movie theaters will experience a renaissance in 2022. In 2019, 651 million Americans went to the movies. That number plunged to just 138 million in 2020 and slightly more than that in 2021. (Source: "What the Future Looks Like for Movie Theaters in 2022, According to Top Industry Execs," Business Insider, December 23, 2021.)
When it comes to Americans returning to movie theaters, it's more of a marathon than a sprint. Industry experts are projecting North American box office receipts to come in around $4.4 billion in 2022, nearly double the amount from 2020 but still down by 61% from 2019. That said, businesses will still need to advertise regardless.
And with a 70% market share in the top 10 designated market areas, National CineMedia, Inc. has reported consistent growth in historic media advertising spending, with a nine-percent compound annual growth rate (CAGR) from 2017 through 2021.
The company has taken aggressive measures to ensure it can emerge from the pandemic on a strong footing. In 2022, the company expects to see a 13% growth in its media advertising. Of course, that double-digit growth will be up from the low level of advertising spending during the COVID-19 pandemic.
Given the lower revenue level and uncertainties during the pandemic, the company successfully managed its liquidity position through various cost-control measures, including significantly reducing its payroll expenses through a combination of temporary furloughs, permanent layoffs, and salary reductions. In total, its headcount was slashed by 35% from its pre-pandemic level.
NCMI Stock Maintains Dividend at $0.05 Per Quarter
Due to the reduced cash flow resulting from theater closures, National CineMedia reduced its quarterly dividends. Management cut National CineMedia stock's quarterly dividend in early 2020 from $0.19 per share to $0.07 per share. The company cut it again in April 2021 to $0.05 per share. (Source: "Dividend History," National CineMedia, Inc., last accessed March 31, 2022.)
Last November, the company announced that it was keeping its quarterly dividend at $0.05 per share, for a yield of eight percent. With theaters reopening, National CineMedia, Inc. began ramping up its business during the second quarter of 2021. That said, it will take some time for the company to get to its pre-pandemic financial levels. That means a hike in National CineMedia stock's dividend seems unlikely anytime soon.
Furthermore, management has said, despite the economic uncertainty, the company intends to pay regular quarterly dividends for the foreseeable future, consistent with its intentions to substantially distribute its free cash flow to NCMI stockholders.
National CineMedia, Inc. Swings to Operating Income & Net Income Profitability
For the fourth quarter of 2021, National CineMedia announced that its total revenue jumped by 304% year-over-year and 100% sequentially to $63.5 million. (Source: "National CineMedia, Inc. Reports Results for Fiscal Fourth Quarter and Full Year 2021," National CineMedia, Inc., March 3, 2022.)
The company's operating income was $8.0 million in the fourth quarter of 2021, compared to an operating loss of $20.8 million in the fourth quarter of 2020.
National CineMedia, Inc.'s adjusted operating income before depreciation and amortization (OIBDA) increased to $18.4 million, up from a loss of $9.9 million in the fourth quarter of 2020.
The company also swung to profitability in the fourth quarter of 2021, with net income of $8.6 million, or $0.11 per diluted share, compared to a net loss of $35.2 million, or $0.45 per diluted share, in the fourth quarter of 2020.
In fiscal 2021, National CineMedia, Inc.'s total revenue increased by 26.8% to $114.6 million. The company's operating loss in the year increased to $68.6 million, from $61.0 million in 2020. Its adjusted OIBDA in 2021 decreased by 27.3% to a loss of $24.7 million, from a loss of $19.4 million in 2020.
Commenting on National CineMedia, Inc.'s 2021 operating results, Tom Lesinski, the company's CEO, said, "NCM finished the year strongly by strengthening our liquidity position and generating positive adjusted OIBDA in the fourth quarter for the first time in the last six quarters." (Source: Ibid.)
He added, "For the first time since the start of the pandemic, we are starting the year with meaningful upfront bookings, a very strong high-quality film slate for the year and growing consumer demand to return to the theaters as COVID-19 infection levels decrease and mask mandates loosen."
The Lowdown on National CineMedia, Inc.
As the largest operator of cinema advertising in the U.S, National CineMedia, Inc. took a big hit during the pandemic. But with the economy reopening and people heading back to the movies, things are looking up for NCMI stock.
In the fourth quarter, the company achieved positive adjusted OIBDA for the first time since Q1 2020. It also recently bolstered its liquidity position with a new $50.0-million revolving credit facility, which resulted in a rating upgrade from S&P Global Ratings.
National CineMedia, Inc.'s management is "very optimistic about 2022." Investors should be, too. And as they wait for the recovery in National CineMedia stock's price, they can take solace in its ultra-high-yield dividends.