MSFT Stock Earnings: Will Microsoft Corporation Increase Its Dividend?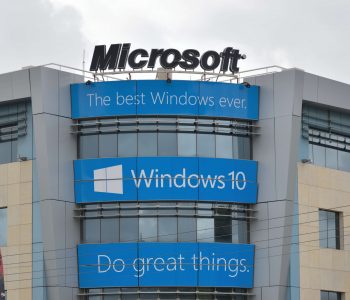 iStock.com/Lazaros Papandreou
Microsoft Is a Top Dividend Growth Stock
Despite being in the volatile tech sector, Microsoft Corporation (NASDAQ:MSFT) has been rather resilient in the last market sell-off. In the past 12 months, MSFT stock has climbed a solid 15%, substantially outperforming the Nasdaq Composite, which returned negative five percent during this period.
And now, the company is reporting earnings again. Let's see what the latest MSFT stock news could mean for income investors.
As is the case with most well-known companies, investors will pay close attention to Microsoft's top and bottom numbers in earnings season.
On average, Wall Street analysts expect Microsoft to earn a profit of $1.09 per share in the December quarter, which would represent a 13.5% increase from the same period last year. Top-line growth is projected to be equally impressive, as analysts expect the company to generate $32.5 billion in revenue for the quarter, which would mark a 12.4% improvement year-over-year. (Source: "Microsoft Corporation (MSFT)," Yahoo! Finance, last accessed January 22, 2019.)
Stats on MSFT Stock
| | |
| --- | --- |
| Earnings Per Share Estimate | $1.09 |
| Change From Year-Ago Earnings Per Share | 13.5% |
| Revenue Estimate | $32.5 Billion |
| Change From Year-Ago Revenue | 12.4% |
| Earnings Beaten in Past Four Quarters | 4 |
Source: Ibid.
In other words, the expectations are quite high, which partially explains why Microsoft was such a hot stock over the last several years. It's not every day that you see a legacy tech company (Microsoft has been around for more than four decades) with double-digit growth potential in both revenue and earnings.
If the company manages to beat both top- and bottom-line expectations, it could give investors a reason to continue liking MSFT stock. Note that in the past 12 months, Microsoft has beaten Wall Street's earnings-per-share estimates in all four quarters.
Other than the headlines numbers, MSFT stock's short-term action could also depend on specific segment results. In recent quarters, one highlight of Microsoft's earnings reports was growth in Intelligent Cloud. The segment delivered 24% revenue growth in the September quarter, driven by a 76% revenue increase from "Microsoft Azure," a cloud computing service for building, testing, deploying, and managing applications and services through the company's data centers. (Source: "Microsoft Cloud Strength Powers Record First Quarter Results," Microsoft Corporation, October 24, 2018.)
Cloud computing is one of the hottest industries in tech right now. If Microsoft Azure continues to pull off high double-digit growth rates, it could bring more investor attention to MSFT stock.
Will MSFT Stock Increase Its Dividend?
Of course, here at Income Investors, we care not only about a company's stock price performance, but also about its ability to pay an increasing dividend.
On that front, first note that Microsoft is one of the best dividend growth stocks in today's market. The company only started paying regular quarterly dividends in 2004, so it doesn't have a long enough track record to make it a "Dividend Aristocrat."
Still, since Microsoft established its regular dividend policy, the company has raised its payout every single year, by a total of 475%. (Source: "Dividends and Stock History," Microsoft Corporation, last accessed January 22, 2019.)
And despite those continuous dividend hikes, Microsoft actually maintained a rather conservative payout ratio. In the company's fiscal year 2018, which ended June 30, 2018, it generated adjusted earnings of $3.88 per share while declaring total dividends of $1.68 per share. (Source: "Microsoft Cloud Drives Record Fourth Quarter Results," Microsoft Corporation, July 19, 2018.)
That translates to a payout ratio of 43.3%. By paying out less than half of its profits, Microsoft stock has left a wide margin of safety.
At the same time, a low payout ratio also gives management plenty of room for future dividend increases. Adding in the fact that Microsoft's revenue and profits are still growing, the company should have no problem raising its dividend in 2019.
Microsoft's board of directors last raised their dividend in September 2018. It was a 9.5% increase to the company's quarterly dividend rate to $0.46 per share. (Source: "Microsoft announces quarterly dividend increase," Microsoft Corporation, September 18, 2018.)
Trading at $105.64 apiece, Microsoft stock offers an annual yield of 1.74%.
Microsoft Corporation is scheduled to report December quarter earnings on Wednesday, January 30 after market close. Given that Microsoft's management usually reviews the company's dividend policy once a year, they likely won't make any change to the dividend rate at this earnings report. Shareholders will likely have to wait till September 2019 for the next MSFT stock dividend increase.