Earn a 7.1% Yield From the House That Always Wins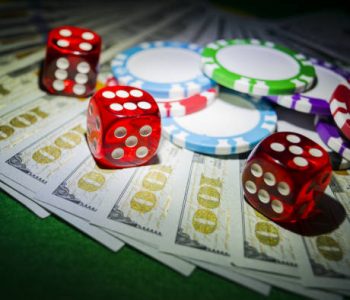 iStock.com/bigtunaonline
Gaming and Leisure Properties Inc: A Dividend Stock Worth Considering
It didn't take me long after just one visit to Las Vegas to realize that no one but the house ever wins.
And as investors, you will want to be on the winning side, which is why Gaming and Leisure Properties Inc (NASDAQ:GLPI) deserves your attention.
GPLI stock does not actually operate any casinos. Instead, it is a real estate investment trust (REIT) that specializes in owning casino properties. The company's portfolio consists of 38 gaming and related facilities diversified across 14 states.
Now, you are probably wondering why I'm talking about a real estate company rather than a casino operator. Well, the answer lies in the stability of the landlord business model and hence, the stability in its dividends.
You see, Gaming and Leisure Properties Inc rents its properties to casino operators through triple net lease agreements. That is, the operators are responsible for paying the maintenance costs, property taxes, and insurance premiums on the leased facilities.
This way, GLPI can keep more of its rental income and distribute it to shareholders through dividends.
The company's REIT structure should also be a reassuring sign. In the U.S., REITs are required by law to pay out most of their profits to shareholders in the form of regular dividends. In exchange, they pay little to no income tax at the corporate level.
GLPI Stock: Collect a Handsome Dividend Yield of 7.1%
To see how much cash Gaming and Leisure Properties Inc has returned to shareholders, all you need to do is take a look at its dividend history. GLPI stock went public in October 2013 and made its first quarterly dividend payment of $0.52 per share in March 2014. Since then, the company has raised its payout at least once every year. (Source: "Dividend History," Gaming and Leisure Properties Inc, last accessed August 20, 2018.)
Today, GLPI stock's quarterly dividend rate stands at $0.63 per share, representing a 21% increase in just over four years.
Trading at around $35.46 apiece, the company has an annual dividend yield of 7.1%.
If you were to invest in actual casino operators, chances are you wouldn't find this kind of steadily increasing dividend stream. For instance, both Penn National Gaming, Inc (NASDAQ:PENN) and Pinnacle Entertainment Inc (NASDAQ:PNK) are well-known casino operators that also happens to be GLPI's operating tenants. However, neither company has a regular dividend policy in place.
In my opinion, casino REITs represent the most income investor-friendly way to capitalize on the gaming industry.
And as it turns out, GLPI is one of the best in the business due to the high quality of its real estate portfolio.
Gaming and Leisure Properties Inc: High–Quality Real Estate Portfolio
Right now, 12 of the company's properties are the top revenue-producing facilities in leading regional gaming markets. Moreover, five of these 12 properties have no competitor within a 60-minute drive. On top of those, Gaming and Leisure Properties Inc has another six properties that are the second-highest revenue-producing properties in their respective markets. (Source: "Investor Presentation February 2018," Gaming and Leisure Properties Inc, last accessed August 17, 2018.)
In 2017, nine of the company's 38 properties generated more than $200.0 million of gaming revenue each.
Also, as I mentioned earlier, the company's portfolio is well diversified. No single property represents more than 6.5% of GLPI's total revenue. Therefore, even if business slows down at one of the markets or casinos, there's still a good chance that the company could generate enough money to cover its dividends.
A Growing Business
The best part is, despite being in the slow-changing real estate industry, Gaming and Leisure Properties Inc has been growing its business.
In the second quarter of 2018, the company generated total revenues of $254.2 million, marking a 4.4% increase year-over-year. Adjusted funds from operations (AFFO), a critical measure of a REIT's performance, edged up one percent from a year ago to $169.2 million. (Source: "Gaming and Leisure Properties, Inc. Announces Second Quarter 2018 Results," Gaming and Leisure Properties Inc, August 1, 2018.)
One of the reasons behind the company's growing business is its lease structure. When GLPI signs a master lease, the contract involves a fixed building rent component as well as a two-percent annual rent escalator. So as time goes by, the company would automatically earn a higher rental income.
At the same time, the company has its own development pipeline. GLPI's portfolio consists of more than 500 acres of undeveloped land. It could partner with gaming operators for new gaming developments and unlock the value of those real estate assets.
In the near term, the company could benefit from several pending transactions. The merger between Penn National Gaming and Pinnacle Entertainment—two major tenants of GLPI—are expected to be completed in the fourth quarter of 2018. GLPI also expects to close the acquisition of Tropicana Entertainment Inc's (OTCMKTS:TPCA) six casino properties by the end of the year.
These transactions are expected to boost the company's annual rent by around $156.0 million.
There will likely also be some good news for income investors down the road. In the latest earnings release, management said that the transactions would increase the company's dividend by approximately eight percent to 10%. (Source: Ibid.)
With a dividend hike on the horizon, Gaming and Leisure Properties Inc's 7.1% yield looks like an opportunity.