MSFT Stock: Why Income Investors Will Love Microsoft Corporation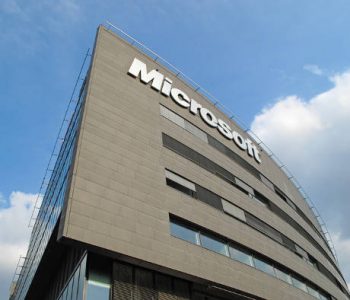 This Is the Next Big Thing for Microsoft Stock
 Microsoft Corporation (NASDAQ:MSFT) stock doesn't sound as exciting as the trending names in the Internet sector, but if you are an income investor, Microsoft stock could still be a great fit for your portfolio. The reason behind that is simple: recurring revenue.
You see, despite building a successful hardware device segment with the "Microsoft Surface" lineup of two-in-one tablets, the Redmond, Washington-based tech giant is still a software and services company. And that's a great recipe for a dividend pick; software and services don't have to follow the same update cycle as hardware products, and a lot of the revenue could be recurring.
Indeed, that's exactly what Microsoft is doing these days. If you want to get the latest version of the company's "Office" productivity suite, you don't pay a one-time fee; instead, you subscribe to "Office 365."
And that's just the start. The real catalyst to fuel MSFT stock and its dividend growth lies in the cloud.
You see, Microsoft is one of the top two players in cloud computing business today, the other being Amazon.com, Inc. (NASDAQ:AMZN). What these two companies have done is make infrastructure as a service (IaaS) affordable to small- and medium-sized businesses (SMBs). And that, my dear reader, could boost the sales of software as a service (SaaS) products.
In the past, manySMBs couldn't really afford to buy the infrastructure needed to support SaaS products. Now, they can rent the computing recourses from Amazon or Microsoft and subscribe to SaaS products.
The fact that SMBs can now afford SaaS products is a huge catalyst for Microsoft stock. In fact, Microsoft's SaaS segment is already booming. Data from Synergy Research Group showed that in the second quarter of 2016, Microsoft had the top revenue share in the SaaS market. The company was first in collaboration tools, second in customer relationship management (CRM), and third in other enterprise SaaS products. (Source: "SaaS Growth Driven by ERP & Collaboration; Microsoft now the Overall Leader," Synergy Research Group, September 1, 2016.)
One of the advantages Microsoft has in the cloud computing business is its existing relationship with enterprise customers. Last year, the company said that Office 365 was in four out of five Fortune 500 companies. (Source: "Microsoft Earnings Conference Call," Microsoft Corporation, July 21, 2015.)
The latest sign of strength for Microsoft's cloud segment is a big customer win for its "Dynamics CRM" software. On Monday, September 12, Microsoft announced that it had signed a six-year agreement with HP Inc. (NYSE:HPQ) for its Dynamics CRM software. (Source: "Microsoft Dynamics CRM Online selected by HP to transform sales and partner engagement," Microsoft Corporation, September 12, 2016.)
This is a huge achievement for Microsoft because HP was a prominent customer of Microsoft's biggest competitor in the CRM business, Salesforce.com, Inc. (NYSE:CRM).
But this customer win for Microsoft shouldn't come as that much of a surprise. In HP's personal computing business, it has been partnering with Microsoft for its "Windows" operating system for years.
Also Read:
MSFT Stock Dividend 2017: Microsoft Yield, Dates, Splits, Prediction, and Everything You Need to Know
7 Companies Set to Pay a Special Dividend in 2017
Still, Scott Guthrie, Microsoft's executive vice president of the Cloud and Enterprise Group, called the HP deal a, "Salesforce takeout." (Source: "A day after stealing HP away from Salesforce, Microsoft's cloud chief calls it a 'takeout,'" Business Insider, September 12, 2016.)
"HP is a very large Salesforce shop — or they were until yesterday…It was a Salesforce takeout," said Guthrie. "HP Inc. is planning a massive migration and a big bet on Dynamics. It's one of the more public (wins) we've had."
The Bottom Line on Microsoft Stock
Don't forget, Microsoft is buying professional social network LinkedIn Corp (NYSE:LNKD). LinkedIn's database consists of millions of professional profiles and their networks. This acquisition would not only benefit Microsoft's CRM software sales, but also boost the business of its entire SaaS and IaaS lineup.
What this means is huge growth potential for the four-decade-old tech giant. MSFT stock currently has a dividend yield of 2.55%. Moreover, the stock has more than doubled in the past five years. With a booming cloud segment, the best could be yet to come.