MSC Industrial Direct Co Inc Hikes Dividend 21%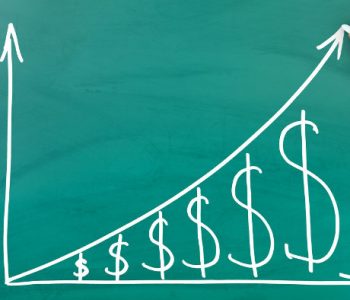 iStock.com/ndreyPopov
MSC Industrial Direct Co Inc Hikes Dividend
Today's chart highlights one of the first winners from President Trump's tax cuts…MSC Industrial Direct Co Inc (NYSE:MSM).
Regular readers know the hopes of a big tax cut from Washington got us pretty excited. Any tax relief, we predicted, would help corporate profits and boost the economy. Better still, much of that money would get passed on to investors in the form of share buybacks, dividends hikes, and special distributions.
And with the tax cuts now in the bag, some companies have already started rewarding shareholders. On Wednesday, industrial supplier MSC increased its quarterly dividend to $0.58 per share. For investors, the move represents a 21% increase from the previous payout.
"MSC expects the "Tax Cuts and Jobs Act" to have a beneficial impact on future earnings," the company wrote in a press release.
"Given the company's strong balance sheet, cash flow generation profile, and commitment to enhancing total shareholder returns, management and the Board believe that this dividend increase represents an appropriate use of capital." (Source: "MSC Declares 21% Increase In Regular Quarterly Dividend," PR Newswire, January 3, 2018.)
Tax cut hopes have also sent MSM's share price soaring. Over the past five months, the company's stock price has rallied from $70.00 per share to $100.00 per share. Following the run, the stock sits within striking range of a new all-time high.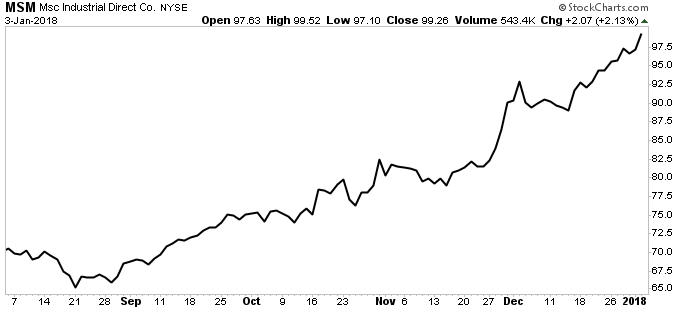 Chart courtesy of StockCharts.com
This could be just the beginning.
Trump's tax plan will cut the corporate tax rate from 35% to 21%. It will also lower the "repatriation tax" on overseas cash and exempt companies from paying taxes on profits earned abroad.
For U.S.-based companies, this law could send earnings soaring for a huge number of businesses across a number of industries. In other words, expect more dividend increases just like we saw from MSC.