MPLX LP: Safe 9.1%-Yielder Raises Its Payout Again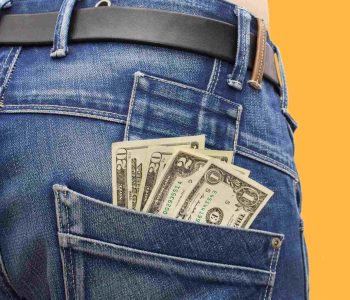 MPLX LP Reports Exceptional Q3 Results & Returns Cash to Investors
The trade-off with high-dividend stocks is that the higher the dividend, the riskier the asset. If a stock's juicy dividend is known to be safe, most income-starved investors will rush in, which will send the share price higher, which will result in the dividend yield going down.
That hasn't happened to MPLX LP (NYSE:MPLX), though. Not only has the company's share price been climbing, but so has its distribution.
The partnership's enviable network of midstream energy infrastructure assets includes pipelines, refineries, terminals, storage facilities (above and below ground), and river shipping.
As you can see in the chart below, MPLX stock has ripped significantly higher since bottoming in March 2020. As of this writing, this high-yield dividend stock is up by:
61% year-to-date
71% year-over-year
470% since March 2020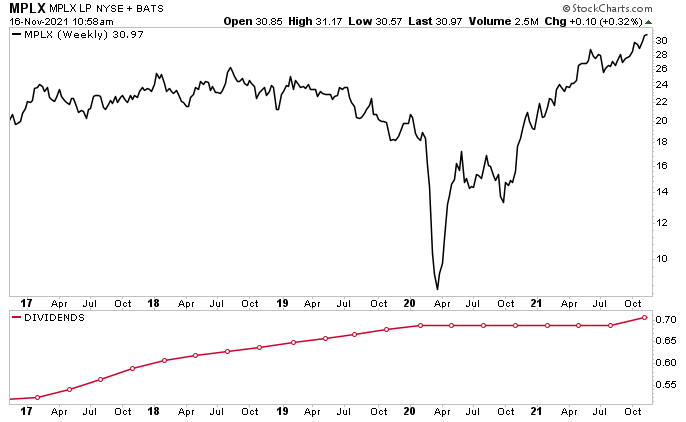 Chart courtesy of StockCharts.com
MPLX has a long history of raising its dividend virtually every quarter (see the red line in the above chart). In 2020, however, MPLX stock's payout was maintained at $0.6875 per quarter, or $2.75 on an annual basis. (Source: "Distribution," MPLX LP, last accessed November 17, 2021.)
On the one hand, the company didn't raise its distribution in 2020. On the other hand, it didn't cut it either. Moreover, the $2.75 payout was still higher than the $2.69 it paid in 2019.
So, even during the worst economic crisis in 100 years, buy-and-hold investors were able to rely on MPLX stock to give them a stable, growing quarterly paycheck. In fact, MPLX LP has raised its dividend each year since the company went public in 2013.
| | |
| --- | --- |
| Year | Payout Per Unit |
| 2020 | $2.75 |
| 2019 | $2.69 |
| 2018 | $2.53 |
| 2017 | $2.29 |
| 2016 | $2.05 |
| 2015 | $1.82 |
| 2014 | $1.41 |
| 2013 | $1.16 |
| 2012 | $0.17 |
(Source: Ibid.)
MPLX LP Raises Distribution Amount & Pays Special Dividend
On November 2, MPLX declared a quarterly cash distribution of $1.28 per unit, for a yield of 9.1%. (Source: "MPLX LP Announces Quarterly Distribution for Third Quarter of $1.28 per Common Unit, Including an Increase to the Base Distribution Amount and a Special Distribution Amount," MPLX LP, November 2, 2021.)
This included a base distribution of $0.705, a 2.6% increase over the second-quarter 2021 distribution of $0.6875. The company also paid a special dividend of $0.575 per common unit.
MPLX stock's stable and growing distributions and rising share price are a result of the company's strong financial results.
For the third quarter ended September 30, MPLX announced that its net income attributable to the partnership increased by 20.6% year-over-year to $802.0 million. (Source: "MPLX LP Reports Third-Quarter 2021 Financial Results," MPLX LP, November 2, 2021.)
The company's adjusted earnings before interest, taxes, depreciation, and amortization (EBITDA) were $1.38 billion, up by four percent from the $1.33 billion in the same prior-year period.
During the third quarter of 2021, MPLX generated $1.1 billion in net cash. It also returned $1.3 billion to shareholders through dividends. So far in 2021, the partnership has announced a total of $2.8 billion in distributions and has completed $465.0 million in unit repurchases.
The Lowdown on MPLX Stock
When it comes to inflation-trouncing dividends, MPLX stock is one of the better oil and gas stocks.
MPLX LP has a large and growing portfolio of midstream energy infrastructure and logistics assets. It also has a history of reporting excellent financial results. On top of that, the partnership's healthy business performance and lower capital spending have produced exceptional cash flow, allowing the company to resume its quarterly dividend hikes, pay a special dividend, and continue buying back its own shares.