Movado Stock: 5.5%-Yielder Reports Record Sales & Income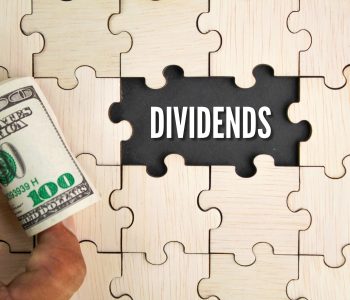 Investors Should Move Their Eyes Toward MOV Stock
Movado Group Inc (NASDAQ:MOV) is a great company that operates in the consumer cyclical industry. While many investors might shy away from consumer cyclical stocks because they fear that inflation, an increase in household debt, and an upcoming recession will seriously cut into sales, there's one area that seems to be doing well: luxury goods.
In 2019, the worldwide luxury goods market was worth $316.6 billion. In 2020, during the COVID-19 pandemic, it was still worth $257.3 billion. By 2027, the luxury goods market is projected to hit $352.8 billion, expanding at a compound annual growth rate (CAGR) of 4.6%. (Source: "Luxury Goods Market Size to Reach US$ 352.84 Billion by 2027 | CAGR of 4.6%," GlobeNewswire, March 1, 2023.)
Globally, there are 62.5 million millionaires; that's up by 11.4% from 2020. In the U.S. alone, there are about 22 million millionaires, and 1,700 people become millionaires each and every day. (Source: "33 Incredible Millionaire Statistics [2023]: 8.8% of US Adults Are Millionaires," Zippia, Inc., February 24, 2023.
Movado Group Inc is an American luxury watchmaker that's best known for its "Museum Watch." The New Jersey-based company also designs and sells jewelry.
It owns watch brands such as "Concord," "Ebel," "Movado," "MVMT," and "Olivia Burton." It also licenses brands such as "Calvin Klein," "Coach," "Hugo Boss," "Lacoste," and "Tommy Hilfiger."
There are many well-known companies in the luxury goods segment, but most of them don't provide dividends. Moreover, many luxury goods companies trade on European stock exchanges and have costly share prices.
Then there's Movado Group Inc, which—as of this writing—trades on the Nasdaq at $25.01 per share, has a dividend yield of 5.5%, and has a trailing P/E ratio of 6.4%.
Record Sales & Operating Income in Fiscal 2023
Despite macroeconomic headwinds that have been negatively affecting most Americans, Movado did fairly well in its fiscal year 2023, which ended January 31, 2023.
Movado Group Inc announced that its fiscal 2023 net sales increased by 2.7% year-over-year (seven percent on a constant-dollar basis) to $751.9 million. Its gross profit was $433.9 million, or 57.7% of its sales, compared to $419.1 million, or 57.2% of its net sales, in fiscal 2022. (Source: "Movado Group, Inc. Announces Fourth Quarter and Fiscal Year 2023 Results," Movado Group Inc, March 23, 2023.)
The company's operating income in fiscal 2023 was $120.4 million, compared to $117.5 million in fiscal 2022. Its adjusted operating income in fiscal 2023 was $123.2 million, compared to $119.7 million in fiscal 2022.
Movado Group Inc's fiscal 2023 net income was $94.5 million, or $4.12 per share, compared to $91.6 million, or $3.87 per share, in fiscal 2022. The company's adjusted net income inched up in fiscal 2023 to $96.8 million, or $4.22 per share, from $93.4 million, or $3.94 per share, in the same prior-year period.
More impressively, the company ended fiscal 2023 with $251.6 million in cash and zero debt.
Efraim Grinberg, Movado Group Inc's chairman and CEO, noted, "We managed our business well throughout the year, driving Movado Group to a record year for net sales and operating income with expansion in gross profit margin, as compared to fiscal 2022." (Source: Ibid.)
He continued, "We achieved this while generating fourth quarter results that, as expected, moderated from the fourth quarter of the prior year. These results follow a record performance in fiscal 2022 and reflect the power of our global portfolio of brands and the disciplined execution of our strategy by our organization."
Outlook for Fiscal 2024
For its fiscal 2024, Movado Group Inc expects to report:
Net sales in the range of $725.0 to $750.0 million
Gross profit of approximately 56%
Operating income in the range of $80.0 to $85.0 million
Earnings per share in the range of $2.70 to $2.90
Management has warned that its results in the first half of its fiscal 2024 will be a little rough, with its sales projected to decline in the range of nine percent to 12% as the company moves on from its record first-half results of fiscal 2023.
Movado Group Inc Declared Special Dividend of $1/Share
Movado generating reliable cash flow and not having any debt to contend with is a win-win scenario for yield hogs.
In March, management declared a quarterly dividend of $0.35 per share, which—as mentioned earlier—translates to a current yield of 5.5%. For context, U.S. inflation is currently at five percent. At the same time, Movado Group Inc declared a special dividend of $1.00 per share.
Like with any stock, Movado stock's dividend comes at the discretion of the company's board of directors. And sometimes, companies have to cut or even suspend their dividends. Movado Group Inc has suspended its dividends twice: first in 2009, due to the 2008/2009 financial crisis, and second in 2020, due to the COVID-19 pandemic.
Thanks to strong financial results, the company reinstated its regular dividend in April 2021. Now, MOV stock's quarterly dividend is 75% above its previous level of $0.20 per share.
| | | |
| --- | --- | --- |
| Declaration Date | Payment Date |  Dividend/Share |
| 3/23/2023 | 4/19/2023 | $1.00 |
| 3/23/2023 | 4/19/2023 | $0.35 |
| 8/25/2022 | 9/21/2022 | $0.35 |
| 5/26/2022 | 6/22/2022 | $0.35 |
| 3/24/2022 | 4/20/2022 | $0.35 |
| 8/26/2021 | 9/22/2021 | $0.20 |
| 5/27/2021 | 6/23/2021 | $0.20 |
| 3/25/2021 | 4/21/2021 | $0.20 |
| 1/11/2021 | 2/5/2021 | $0.10 |
| 11/26/2019 | 12/20/2019 | $0.20 |
(Source: "Dividend History," Movado Group, Inc., last accessed May 8, 2023.)
Recent Share-Price Performance
In terms of share price, Movado stock has done exceptionally well coming out of the pandemic, rising by more than 450% from its March 2020 low.
Since early 2022, MOV stock has, for the most part, traded in a tight range, but its long-term outlook is solid. Analysts have provided a 12-month share-price target for Movado Group Inc of $35.00, which points to potential gains of approximately 25%.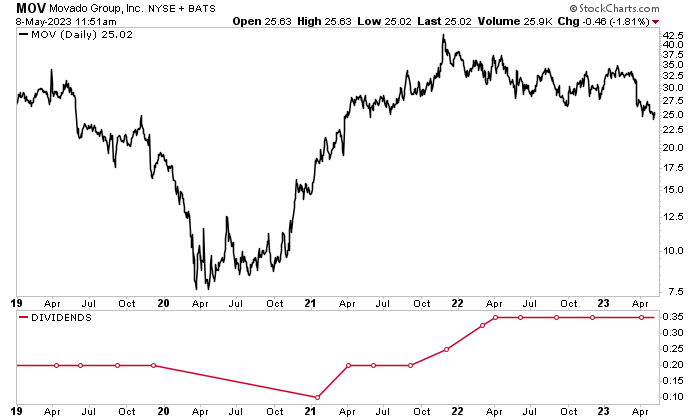 Chart courtesy of StockCharts.com
The Lowdown on Movado Stock
Movado Group Inc is an excellent luxury company that recently reported record results and continues to have a solid balance sheet. This gives it the financial strength to navigate through this period of economic uncertainty and pay growing quarterly dividends and occasional special dividends.
Looking forward, management said it continues to maintain a disciplined approach to managing the company's expenses and inventory levels while making strategic marketing investments in its biggest brands. That's good news for MOV stockholders.