The Most Overlooked Warren Buffett Dividend Stock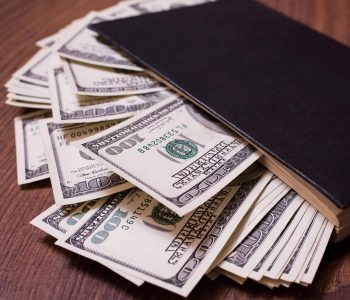 iStock.com/iiievgeniy
Top Dividend Stock You Likely Haven't Considered
Legendary investor Warren Buffett is known for generating astronomical returns for his company Berkshire Hathaway Inc. (NYSE:BRK.B) and its shareholders. From 1964 to 2017, the per-share market value of Berkshire stock increased by a staggering 2,404,748%.
That's no misprint.
What's much lesser known, however, is that Buffett also likes dividends. As a matter of fact, all of the top 10 holdings in Berkshire Hathaway's portfolio have regular dividend policies. (Source: "Form 13F Information Table," U.S. Securities and Exchange Commission, last accessed May 15, 2018.)
With Berkshire's total portfolio valued at over $180.0 billion, I wouldn't be surprised if the company earns hundreds of millions of dollars every year just in dividend income.
However, most of Warren Buffett's dividend stocks are already well known in the investment world. And as their popularity grew, their share prices became expensive—and the yields have been suppressed.
That's why today I want to talk to you about a Warren Buffett dividend stock that most people have never heard of: STORE Capital Corp (NYSE:STOR).
STORE Capital Corp is a real estate investment trust (REIT) headquartered in Scottsdale, Arizona. The internally managed company focuses on single-tenant operational real estate (STORE), which happens to be the inspiration for its name.
High-Quality Real Estate Portfolio
Over the years, STORE Capital Corp has built a large real estate portfolio. As of March 31, the portfolio consisted of 2,000 property locations spread across 49 states. (Source: "Values Added by Design," STORE Capital Corp, last accessed May 15, 2018.)
Other than diversifying geographically, STORE Capital's portfolio also boasts a diverse customer base. The company's properties are leased to 404 customers operating across over 100 different industries. Moreover, approximately 75% of STORE Capital's lease contracts are of investment-grade quality.
With a well-diversified portfolio, STORE Capital makes sure that if one region or one industry enters a downturn, the impact on company-level financials will likely be limited.
One of the most important qualities of a top dividend stock is the ability to generate a recurring business. And that's exactly where STORE Capital stands out. By the end of March 2018, the company's portfolio properties were 99.6% leased, with a weighted average remaining lease contract term of approximately 14 years. (Source: "STORE Capital Announces First Quarter 2018 Operating Results," STORE Capital Corp, May 3, 2018.)
Therefore, the company is well positioned to generate a steady stream of rental income.
The best part is, STORE Capital's lease contracts often come with rent escalators. Right now, the average annual lease escalation in the company's portfolio is 1.8%. This allows STORE Capital to earn not just a steady income, but an increasing one.
Rising Distributions from STOR Stock
To shareholders, STORE Capital's rising rental income stream has translated to steadily increasing dividends.
The company completed its initial public offering (IPO) in November 2014, meaning it's a relatively new name for investors. However, in just a few years, its dividend growth has been nothing short of impressive.
When STORE Capital first went public, it had a quarterly dividend rate of $0.25 per share. Its first distribution of $0.11 per share was a pro rata payment corresponding to that quarterly rate. (Source: "STORE Capital Declares Pro Rata Fourth Quarter 2014 Dividend," STORE Capital Corp, December 15, 2014.)
Since then, the company has raised its distribution every single year. With its latest payment of $0.31 per share, STORE Capital's quarterly dividend rate has grown by 24% in less than four years.
Trading at around $25.50 apiece, STOR stock offers an annual dividend yield of almost 4.9%.
Rock-Solid Financials
Despite those sizable dividend increases, STORE Capital still has more than enough resources to cover its payout.
In 2017, the company generated adjusted funds from operations (AFFO) of $306.1 million, or $1.71 per diluted share. Considering that STORE Capital declared total dividends of $1.20 per share for the year, it had a payout ratio of 70.2%. (Source: "STORE Capital Announces Fourth Quarter and Full Year 2017 Operating Results," STORE Capital Corp, February 22, 2018.)
In the first quarter of 2018, things were equally impressive. The REIT generated AFFO of $0.43 per share while declaring a quarterly cash dividend of $0.31 per share. That translated to a payout ratio of 72.1%, also leaving a margin of safety.
A Warren Buffett Dividend Stock for 2018 and Beyond
According to Warren Buffett's latest 13F filing to the U.S. Securities and Exchange Commission, his company owned $18.6 million shares of STORE Capital Corp, which has a market value of around $484.9 million. (Source: U.S. Securities and Exchange Commission, op. cit.)
With a stable business model, rising distributions, and a conservative payout ratio, STORE Capital Corp is a top Warren Buffett dividend stock for 2018 and beyond.