The Most Exciting High-Yield Stock for the Next 20 Years?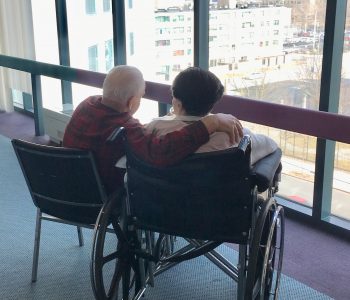 This High-Yield Stock Could Be Special
For the most part, high-yield stocks come from relatively boring industries. And this shouldn't come as a surprise. If a company operates in an industry that's firing on all cylinders, it will likely put all its financial resources toward growing its business rather than returning cash to investors.
And that's why Omega Healthcare Investors Inc (NYSE:OHI) could be special.
OHI is a high-yield stock. The company has a quarterly dividend rate of $0.67 per share, which at the current share price, translates to an annual yield of 6.2%. Going forward, there is a major catalyst ready to take the company's business to a whole new level.
Let me explain.
Omega Healthcare Investors Inc is a real estate investment trust (REIT) headquartered in Hunt Valley, Maryland.
Now, I know what you may be thinking. REITs have been around for decades. Why would this one deserve special attention? Well, the answer lies in the type of properties OHI specializes in.
You see, REITs can own many different types of real estate, such as office buildings, shopping centers, and apartment complexes. And yes, for the most part, that business is relatively boring.
But as its name suggests, Omega Healthcare Inc specializes in healthcare real estate. In particular, the company focuses on skilled nursing facilities.
As of September 30, 2019, OHI's portfolio consisted of 910 operating healthcare facilities in 40 U.S. states and the U.K.  (Source: "Investor Presentation November 2019," Omega Healthcare Investors Inc, last accessed January 27, 2020.)
Skilled nursing/transitional care facilities accounted for 83.3% of the company's total investments, while the remaining 16.7% of its portfolio was in senior housing properties.
What this means is that the company should be ready to capitalize on a major demographic trend: population aging.
You see, people's utilization of skilled nursing facilities increases substantially from the age of 75. Meanwhile, baby boomers started turning 75 in 2016. And over the next two decades, the 75+ cohort is expected to grow on both an absolute and relative basis.
Researchers suggest that, in 2020, there will be 22.7 million Americans aged 75 and over, which would account for around 6.8% of the nation's population. By 2040, the 75+ cohort is projected to be 40.2 million, around 10.5% of the total U.S. population. (Source: Ibid.)
Over the next two decades, on an absolute basis, the number of Americans aged 75 and over is expected to increase by 17.5 million, or 77%. And since the percentage of hospital discharges to skilled nursing facilities has remained relatively steady, this demographic wave could result in a huge increase in demand for skilled nursing facilities.
With a portfolio consisting largely of such facilities, Omega Healthcare Investors Inc is well positioned to benefit from this demographic tailwind.
OHI Stock Already Pays Generous Dividends
Unlike with stocks in some other growth industries, owners of Omega Healthcare Investors stock don't have to wait to earn a return. As it stands, the company's business model is already solid enough to support a generous dividend policy.
Right now, Omega Healthcare Investors' portfolio is diversified across 73 different operators. These operators are responsible for covering all of the property-level expenses, such as labor, insurance, property taxes, and capital expenditures. What Omega does is simply collect the rent payments from tenants, with annual rent escalators.
As a result, this REIT can generate a predictable stream of rental income, which it can then pass on to shareholders in the form of dividends. That's why, even though OHI stock offers an oversized yield, the company has no problem supporting that payout.
In the third quarter of 2019, Omega Healthcare generated adjusted funds from operations of $172.5 million, or $0.76 per common share. Considering that the company paid a cash dividend of $0.67 per share for the quarter, it had a payout ratio of around 88%. (Source: "Omega Announces Third Quarter 2019 Financial Results," Omega Healthcare Investors Inc, November 5, 2019.)
In the first nine months of 2019, the REIT's adjusted funds from operations came in at $503.0 million, or $2.28 per common share. For this period, Omega paid three quarterly dividends totaling $1.99 per share. Therefore, its payout ratio came out to 87.3%.
However you look at it, Omega Healthcare has left a margin of safety in its dividend policy.
Better yet, OHI hasn't just paid a steady dividend, but an increasing one. Looking back, we see that the company has paid higher dividends every year for 17 consecutive years. (Source: "Dividends," Omega Healthcare Investors Inc, last accessed January 27, 2020.)
Bottom Line on Omega Healthcare Investors Inc
At the end of the day, REITs are largely considered to be income investments. However, over the years, Omega Healthcare Investors Inc has delivered more than just dividend payments. From January 1, 2004 to October 31, 2019, Omega Healthcare Investors stock surged 372%, substantially outperforming the MSCI U.S. REIT Index's 125.3% return during the same period.
Given Omega's rock-solid business and the strong demographic tailwind, I wouldn't be surprised to see OHI stock deliver outsized returns to investors in the years ahead.