Monthly Dividends: AGNC Investment Yielding 10.7% Starting June 9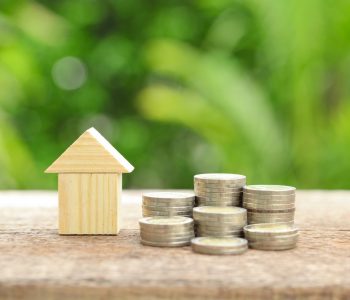 This Monthly Dividend Stock Yields 10.7%
Today's chart highlights some of the best monthly dividend stocks around: mortgage real estate investment trusts (mortgage REITs).
Mortgage REITs work like a virtual bank. They borrow money at a low rate and lend it out at a higher one. And because they have little in the way of overhead, some of these names pay out yields from 10% to 12%, up to as high as even 15%.
One of my favorites? AGNC Investment Corp (NASDAQ:AGNC). This monthly dividend stock doesn't get a lot of coverage in the press. But what it lacks in excitement, this firm more than makes up for in oversized income. I love the name for a couple of reasons.
It's a lucrative business, for starters. AGNC works in the same way as a regular bank, but it doesn't have to maintain any brick-and-mortar branches. This lack of overhead means that a lot more of the partnership's profits flow to the bottom line.
Since the firm has structured itself as a REIT, it technicality allows management to avoid paying any income taxes on profits. To take advantage of this loophole, however, executives must pay out most of their earnings to owners.
Even better, it's safe. AGNC buys mostly residential mortgages backed by the U.S. government. Even in the unlikely event a homeowner can't make their payments, "Uncle Sam" will step in to compensate investors.
You can see this stability in the trust's financial results. AGNC saw profits soar during the 2008 housing crisis. While many lenders shut their doors, this firm managed to increase its distribution.
For investors, this has created a tidy income stream. Today, AGNC pays a monthly distribution of $0.18 per unit. That comes out to an annual yield of 10.7%.
As you can see in the chart below, the value of the units has soared over the past year, thanks to higher mortgage rates. The trust has also performed well since going public in 2008.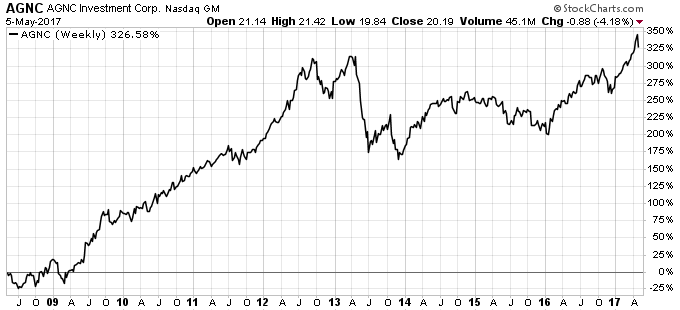 Chart courtesy of StockCharts.com
Of course, AGNC is no sure thing. The partnership earns such big returns through a large use of leverage. And, given that management pays out most of their profits to unitholders, this dividend gets a cut from time to time during a normal business cycle.
That said, I expect these returns to keep rolling in. Executives have done a good job hedging their interest rate risk. Higher yields on mortgage loans should also boost profits (and hopefully distributions) in the years to come.
Management will mail out the next round of checks in a few weeks. To be eligible, you need to become a partner by May 26. After that, the first dividend should arrive in your brokerage account on June 9.
10 Best Real Estate Stocks to Own in 2017
REIT ETF List: Earn Regular Income from These Real Estate ETFs