Mondelez International Inc: "Oreo" Maker Delivers Healthy Dividends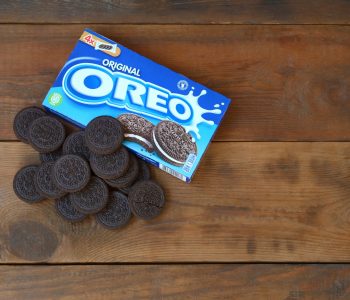 Looking for Growing Dividends? Read This
If you want to get on a healthy diet, "Oreo" cookies and "Cadbury Dairy Milk" chocolates are probably not the best choices. However, if you want to earn a healthy stream of dividends, the company that makes those snacks deserves to be on your short list.
I'm talking about Mondelez International Inc (NASDAQ:MDLZ), a leader in the global snack food industry. This company holds the No. 1 biscuit market share globally, and the No. 2 chocolate, gum, and candy market share. Other than Oreo and Cadbury Dairy Milk, a few of the well-known brands that Mondelez also owns are "Trident," "Toblerone," "Tang,"and "Triscuit." (Source: "Leading the Future of Snacking," Mondelez International Inc, July 10, 2020.)
Now, unless you've been living under a rock, you've probably seen the economic impact of the COVID-19 pandemic. With social distancing rules and government-ordered business closures being implemented around the world, a lot of companies have been struggling. And while the economy has begun opening up again, investors are still feeling the pain. For instance, over the past few weeks, we've seen plenty of companies—large and small—cut their dividends.
And that, my dear reader, is why MDLZ stock stands out.
On July 28, the board of directors of Mondelez declared a quarterly cash dividend of $0.315 per share, representing a 10.5% increase from the company's previous quarterly payout of $0.285 per share. The new dividend will be paid on October 14, 2020 to shareholders of record as of September 30. (Source: "Mondelez International Reports Q2 2020 Results," Mondelez International Inc, July 28, 2020.)
That is, in a time when dividend cuts are common, Mondelez is giving investors a double-digit-percentage dividend hike.
Looking back, we see that, over the last five years, the company's quarterly dividend rate went from $0.17 per share to $0.315 per share, marking a total increase of 85.3%. (Source: "Historical Dividends," Mondelez International Inc, last accessed August 6, 2020.)
The reality is that, despite the impact of COVID-19, this snack food giant's business has remained solid. In the second quarter of 2020, a period when numerous businesses reported substantial sales declines, Mondelez International Inc managed to grow its organic net revenue by 0.7% year-over-year.
At the same time, the company earned an adjusted profit of $0.63 per share for the quarter, which marked a 16.1% increase from a year ago on a constant-currency basis.
And if you are wondering whether Mondelez stock could afford such a sizable increase in its dividend, don't worry. In the first six months of this year, the company generated $1.1 billion in free cash flow. Considering that Mondelez paid total dividends of $819.0 million for this period, the payout was well covered.
Looking ahead, because visibility is limited in a number of Mondelez International Inc 's markets due to the COVID-19 pandemic, the company is not issuing a full-year outlook.
However, in the Mondelez's latest earnings conference call, Chief Financial Officer Luca Zaramella said that management expects "improving conditions in many markets that experienced significant store closures in late Q1 and Q2." (Source: "Mondelez International, Inc. (MDLZ) CEO Dirk Van de Put on Q2 2020 Results – Earnings Call Transcript," Seeking Alpha, July 29, 2020.)
In particular, management expects in-home consumption to remain strong, which would help in its developed markets like North America. Meanwhile, the pandemic's negative impact will likely continue in certain emerging markets, and world travel retail is projected to remain at a subdued level.
"And although there is no way to know exactly how the pandemic will evolve, there will always be a potential for a second wave of shutdowns. In aggregate, we expect positive revenue and the sequential improvement in the third quarter based on what we see through month one of Q3," concluded Zaramella. (Source: Ibid.)
Bottom Line on Mondelez International Inc
Trading at $55.42 per share, Mondelez stock offers an annual dividend yield of 2.3%.
Obviously, you can find plenty of stocks with higher yields. But the snack food company still stands out due to the durability of its business and payout. In a time when numerous industries are still facing a lot of uncertainty, a steadily increasing stream of dividends is good enough to make MDLZ stock worth considering for income investors.