Mobil'nye Telesistemy PAO: 8.5%-Yielding Telecom Stock to Pay Next Dividend in July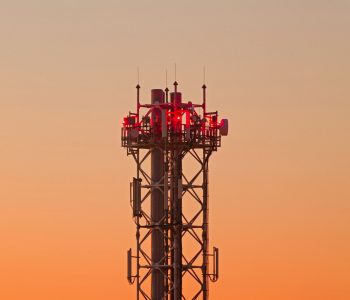 Mobil'nye Telesistemy Holds Leading Positions in All of Its Markets
To find frothy dividends, sometimes investors have to look outside their own borders. For example, there are many great Canadian oil and gas companies that provide reliable, high dividend yields. Investors can also find great Australian mining stocks that provide high dividends.
One country that North American investors typically overlook is Russia. But that country is home to one of the better high-yielding dividend stocks, Mobil'nye Telesistemy PAO (NYSE:MBT), also known as Mobile TeleSystems.
With nearly 80 million subscribers, the Moscow-based company is Russia's largest mobile communications operator and a leading provider of media and digital services.
The company's core business is mobile communications, where it holds the No. 1 position in its key Russian market in terms of revenue and subscribers, maintaining a market share of more than 30%. (Source: "Reasons to Invest in MTS," Mobil'nye Telesistemy PAO," last accessed June 21, 2021.)
Mobil'nye Telesistemy is also either the No. 1 or No. 2 mobile operator in all of the other countries it operates: Ukraine, Armenia, and Belarus, with total coverage of more than 200 million people.
Its fixed-line services include home telephony, broadband Internet, and pay-TV services in Moscow and other regions throughout Russia. The company ranks among the top three broadband access providers and top five pay-TV operators in Russia. (Source: "What We Do," Mobil'nye Telesistemy PAO," last accessed June 21, 2021.)
The company's digital services include cloud, cybersecurity, and Internet of Things (IoT). Its menu of services includes mobile music, mobile TV, and video-on-demand (VoD).
Since 2011, Mobil'nye Telesistemy PAO has also offered financial services (through MTS Bank) to both individual and corporate clients. The company is also a leading provider of handsets and accessories. In addition to having agreements with leading global vendors, it sells its own "MTS"-branded products.
Consistent History of Solid Financial Results
Thanks to the company's foothold in the rural and urban Russian market, Mobil'nye Telesistemy has a consistent history of reporting wonderful financial results. According to the company's web site, it "generates the highest levels of profitability and the most consistent CAPEX profile in the sector." (Source: "Reasons to invest in MTS," Mobil'nye Telesistemy PAO," op. cit.)
In the first quarter of 2021, the company's total revenue increased by 5.5% year-over-year to $1.7 billion. It reported first-quarter net income of $217.3 million, or $0.25 per share. (Source: "MTS Q1 2021 Results," Mobil'nye Telesistemy PAO, May 18, 2021.)
Its mobile services revenue increased by 2.3%, its cloud and digital revenue increased by 28%, and its fixed-line revenue increased by 4.4%. The company's financial technology (fintech) retail loan portfolio grew by approximately 35%.
Moreover, the company's retail sales have been robust, with its e-commerce sales up by 100% year-over-year and its handset and accessories sales advancing 16.4%.
"Today, I'm happy to report that MTS is off to a strong start in 2021 having delivered a solid set of results in Q1. We achieved robust top-line performance across all of our four verticals – Telecom, Fintech, Media, and Cloud & Digital Solutions," said Vyacheslav Nikolaev, president and CEO. (Source: "Mobile TeleSystems PJSC: MTS Reports Q1 2021 Results," Accesswire, May 18, 2021.)
Looking ahead, we see promising trends in 2021 – including rapid uptake in digital services as well as the easing of pandemic-related roaming headwinds – and we reaffirm our full-year guidance…"
For 2021, Mobil'nye Telesistemy PAO expects to report full-year revenue growth and operating income before depreciation and amortization (OIBDA) of at least four percent. OIBDA shows a company's profitability in its core businesses.
Stable, Strong Dividends
Because of its strong footprint, growing portfolio, excellent balance sheet, and financial flexibility, Mobil'nye Telesistemy is able to provide investors with frothy dividends. U.S. stocks tend to pay their dividends on a quarterly or even monthly basis, but Mobil'nye Telesistemy stock pays its dividends on a semi-annual basis: every July and October. (Source: "Dividends," Mobil'nye Telesistemy PAO, last accessed June 21, 2021.)
MBT stock currently pays an annual dividend of $0.81 per share, which, as of this writing, translates to a yield of 8.5%. That juicy dividend could help offset Mobil'nye Telesistemy stock's recent gains.
Shares of Mobil'nye Telesistemy PAO are up:
Eight percent over the last six months
Five percent year-over-year
Two percent year-to-date
Those aren't exactly market-trumping numbers, but MBT stock has solid momentum and recently inched above its two previous resistance levels. Mobil'nye Telesistemy stock is also up 68% since bottoming in March 2020.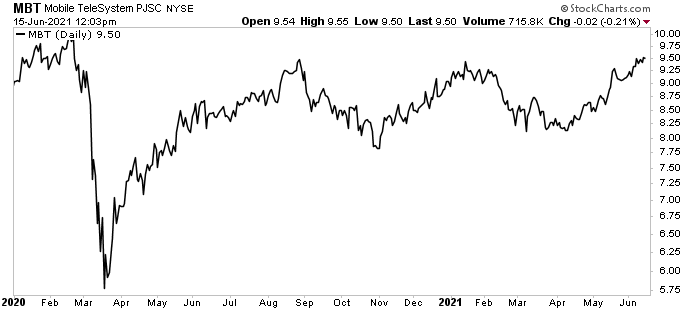 Chart courtesy of StockCharts.com
Past performance is certainly not indicative of future performance, but MBT stock does have room to run. It needs to climb by an additional 115% to reach its December 2007 highs of about $19.50.
Wall Street is bullish on this dividend stock. Of the analysts providing a 12-month price forecast for Mobil'nye Telesistemy stock, their average share-price target is $11.20, with a high estimate of $11.40. That points to near-term upside of 17.9% and 20.0%, respectively.
The Lowdown on Mobil'nye Telesistemy PAO
As Russia's largest mobile communications operator, Mobil'nye Telesistemy PAO is a leader in one of the top emerging global markets. Russia is a large market with great long-term growth potential.
Mobil'nye Telesistemy is benefiting from improving economic conditions, changing demographics, stable demand, new technologies, the expansion of its services, and the monetization of its digital services. Furthermore, the company is protected by a supportive regulatory framework and high barriers to entry.
Through it all, investors can sit back and take advantage of MBT stock's generous 8.5% annual dividend.