MO Stock: Altria Group Inc is 1 Dividend Stock to Own Forever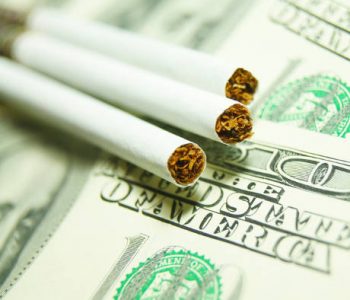 Altria Group Inc (NYSE:MO) stock is the ultimate "cash cow".
This company gushes income. Long-time shareholders are collecting yields on cost of 20%… 52%… even 109%.
Better yet, these payouts are stable like regular bond coupons. My philosophy? Hold it, stick the certificates in a drawer, and collect the dividends decade after decade after decade.
Let me explain.
This "Cash Cow" Gushes Income
"Cash cows" are my favorite income investments.

They tend to be mature, profitable businesses. Because their industries are no longer growing, there's little need for new investment. As a result, these firms just pay out most of their profits to shareholders.
Like the name implies, these are firms that can be "milked" for ongoing profits. Most of the work to get the company up and running has already been done. While younger firms have to plough their profits back into operations for expansion, cash cows have room to pay out oversized dividends to investors.

And these investments are shockingly lucrative. Because most investors prefer exciting growth "stories", cash cows don't get much coverage in the media. For this reason, they often spot the biggest yields around.
Cigarette giant Altria is a classic example. 
Moral qualms aside, tobacco stocks have been some of the most lucrative investments around. As a group, the industry has crushed the S&P 500 over the past few decades. To say "Big MO Stock" has all the signs of a cash cow would be the understatement of the year.
The first sign of a cash cow is wide margins. This is the amount of profit a business makes for every dollar generated in sales. We want businesses that make so much money, they don't know what to do with it.
Few businesses are as profitable as tobacco. A cigarette costs a few pennies to make. You sell it for a dollar or so. And it's addictive.

This has allowed MO stock to crank out oversized profits for decades. The company's gross margins (profit earned before subtracting the basic costs of doing business) are around 60%. Net margins (the margin earned after subtracting all costs) are consistently around 25%. I can only think of a handful of other businesses in the world this profitable.
The second sign of a cash cow is a mature industry. A growing business requires expensive investments in factories, employees, and machinery. This leaves less money for lucrative dividends and share buybacks.
Also Read:
5 Dividend Stocks to Hold Forever
Top 10 Buy-and-Hold Dividend Stocks
Cigarette sales, though, have mostly flat lined. More than 264 billion cigarettes were sold in the United States in 2015, according to the Center of Disease Control and Prevention. This is about the same number as were sold in 2014. (Source: Economic Facts About U.S. Tobacco Production and Use, Center of Disease Control and Prevention, July 18, 2016.)
Good news, as odd as it might sound, for Altria shareholders. Last year, the company only spent $229.0 million in capital expenditures. As a result, most of the firm's profits can be paid out to investors.
The third sign of a cash cow is a timeless product or service. The last thing we want to buy is a piece of a business that will disappear in a few years. We need to be confident this business will exist 20… 50… even 100 years from now.

Cigarettes are simple to understand. A small cylinder of finely cut tobacco leaves rolled in thin paper (well, that and all the other gunk they put in). People buy them no matter how the economy is doing or what Janet Yellen says about interest rates.
Although cigarette volumes in the U.S. will likely decline over the long term, Altria can offset this drop by raising prices. With a great portfolio of brands like Marlboro, the company is well positioned.

Finally, cash cows have a history of paying dividends. As business owners, we don't want to hear about managers expanding their corporate empires. Instead, we want executives who choose to return most of their profits back to shareholders through dividends and buybacks.
Once again, Altria stands out. Managers have no interest in getting into "sexier" businesses. They're content to stick to their knitting and make consistent profits.

Good news for owners of MO stock. Altria has been in business since 1902 and delivered 60 consecutive years of distribution hikes. This year the company will pay out $5.2 billion in dividends and share buybacks, resulting in a total shareholder yield of 4.2%.

MO stock, of course, is no slam dunk.

Higher interest rates would hammer shares. Other risks – including litigation, smoking bans, and increases in excise taxes – are ongoing head wins.

I not too worried about these problems, though. Altria is likely to benefit from several factors, including growth in higher-margin smokeless tobacco products and various restructuring actions. While I hope my grandchildren and great grandchildren never smoke, it seems people will be lighting up for decades to come.
The Last Word on MO Stock
Bottom line, "cash cows" like Altria are wonderful investments. Their leadership position translates into growing revenues, thick profit margins, and robust cash flows. And because the business is mature, most of those profits are dished right out to investors. If you can get over the yuck factor, MO stock is one name to milk for decades to come.