MMP Stock: The Best Energy Play That You've Never Heard of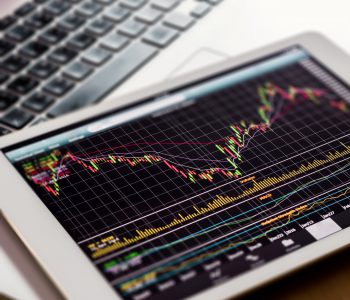 iStock.com/PhonlamaiPhoto
Earn a 5.1% Yield from This Top Dividend Stock
Today's column highlights a top dividend stock from the energy sector.
While headlines in the oil and gas industry are yet to become cheerful, this company has been churning out returns left, right and center. The stock climbed nearly 60% over the last five years and pays generous dividends with a 5.1% yield.
I'm talking about Magellan Midstream Partners, L.P. (NYSE:MMP), a master limited partnership (MLP) based in Tulsa, Oklahoma.
You rarely see its name mentioned on MarketWatch or Yahoo! Finance, but Magellan is one of the best energy plays available for income investors right now. Let me explain.
Anyone investing in the energy sector today would likely have noticed the huge downturn in commodity prices over the last several years. For many energy stocks, their future would depend critically on whether oil and gas prices can climb out of the doldrums.
There are, however, energy companies that don't need rising commodity prices to make a profit. They are responsible for the transportation and storage of energy products. As long as there are energy products for them to move and store, they will earn a fee for providing these services. Furthermore, they are usually structured as MLPs, meaning they are required by law to distribute almost all their available cash to investors in the form of dividends.
Magellan is one of the most solid MLPs. To see why it deserves income investors' attention, all you need to do is take a look at its distribution history.
MMP Stock Distribution History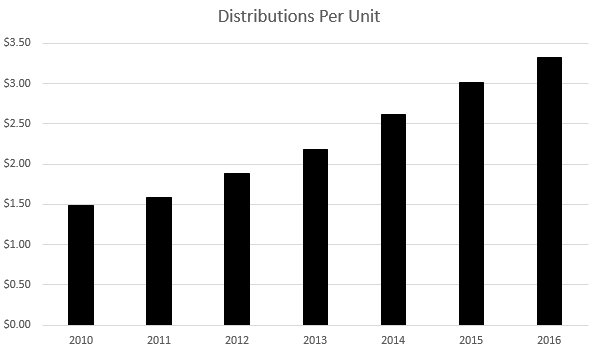 Source: "Cash Distribution," Magellan Midstream Partners LP, last accessed September 12, 2017.
In 2010, Magellan paid $1.48 of distributions per unit. In 2016, the amount was 3.32 per unit. That's an increase of 124%.
As a matter of fact, the partnership has been paying steadily increasing distributions since it went public in 2001. The latest dividend hike, which arrived in July, marked Magellan's 61st distribution increase since its initial public offering.
The reason why Magellan was able to build such an impressive track record despite the volatile commodity price environment lies in the nature of its business.
Magellan is a pipeline giant. It owns and operates the longest refined products pipeline system in the U.S. The 9,700-mile refined products pipeline system has access to nearly 50% of the country's refining capacity. The partnership also has 2,200 miles of crude oil pipelines, and a large terminal network capable of storing 100-million barrels of petroleum products such as crude oil, gasoline, and diesel fuel.
The key to note here is that Magellan is running a business that's primarily fee-based. While past performance does not guarantee future results, the partnership expects fee-based, low-risk activities to contribute at least 85% of its operating margin going forward. By focusing on fee-based activities, the partnership is well positioned to continue its excellent track record.
Rock-Solid Financials
Magellan's most recent earnings report shows why it is still a top dividend stock. In the second quarter of 2017, the partnership earned a net income of $210.4 million, representing a 12% increase year-over-year. Distributable cash flow (DCF), a critical measure of an MLP's performance, came in at $250.4 million, up 13.3% from a year ago. (Source: "Magellan Midstream Reports 12% Higher Second-Quarter Net Income," Magellan Midstream Partners LP, August 2, 2017.)
All of Magellan's operating segments—Refined Products, Crude Oil, Marine Products, and Other Items—posted year-over-year increases. This is particularly impressive when you consider that commodity prices are still deep in the doldrums.
Here's the best part: thanks to its strong year-to-date performance, Magellan's management increased its distributable cash flow guidance to $1.02 billion for full-year 2017. Based on its projected cash distributions for 2017, the partnership's expected DCF would provide a distribution coverage of 1.2 times. This would leave a sizable margin of safety and the potential for future dividend hikes.
At the end of the day, there are plenty of stocks with yields higher than Magellan's 5.1%. But when you consider the stability of its business and the safety of its distributions, this top dividend stock is definitely one of the best energy plays for today's income investors.
Also Read:
7 Energy Stocks That Pay Healthy Dividends