Mind C.T.I. Ltd.: Time Is of the Essence for This 9.1% Dividend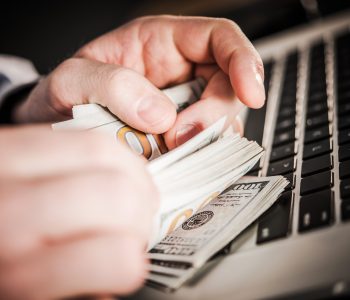 MNDO Stock Set to Pay Annual Dividend This Spring
Mind C.T.I. Ltd. (NASDAQ:MNDO) is a great, overlooked, small tech stock that has been providing investors with strong capital appreciation and a frothy dividend.
Over the last five years, Mind C.T.I stock has steadily climbed higher, advancing approximately 90%, at a compound annual growth rate (CAGR) of 13.6%.
Moreover, MNDO stock is up 5.6% year-over-year and 107% since bottoming in March 2020. Take a look at the following five-year stock chart for more perspective: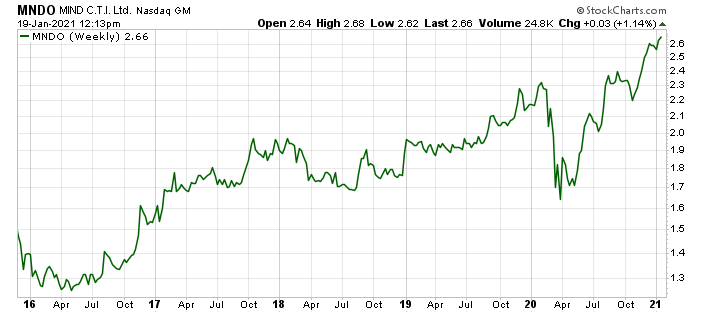 Chart courtesy of StockCharts.com
Mind C.T.I Stock Provides a Frothy Annual Dividend
Many investors are interested in MNDO stock because of its high-yield annual dividend. As of this writing, Mind C.T.I stock provides an eye-watering yield of 9.1%.
The company only dishes out the payments once a year—and it has done so for the last 17 years. For investors who are considering this stock, time is of the essence, because its next dividend could be declared soon.
Mind C.T.I. Ltd.'s last annual dividend, $0.24 per share, was declared in March 2020 and paid out in April. The company has a payout ratio of 89.2%, which is just on the cusp of my comfort zone of 90%. Meaning, it has enough liquidity to pay another juicy annual dividend in 2021.
The big question is, when will it do so?
As you can see in the following table, Mind C.T.I has a history of declaring dividends in February or March and paying them out in March or April.
MNDO Stock Dividend History

Cash Amount
Declaration Date
Record Date
Payment Date
$0.24
03/11/2020
03/25/2020
04/16/2020
$0.26
03/01/2019
03/18/2019
03/28/2019
$0.30
02/22/2018
03/08/2018
03/22/2018
$0.32
02/23/2017
03/09/2017
03/23/2017
$0.27
02/24/2016
03/10/2016
03/24/2016
$0.30
02/26/2015
03/12/2015
03/26/2015
$0.24
02/25/2014
03/12/2014
03/26/2014
$0.24
03/06/2013
03/20/2013
04/03/2013
$0.24
02/29/2012
03/14/2012
03/28/2012
$0.32
02/16/2011
02/28/2011
03/21/2011
$0.20
03/15/2010
03/25/2010
03/25/2010
$0.80
09/09/2009
12/07/2009
12/21/2009
$0.20
02/26/2008
03/18/2008
04/02/2008
$0.20
02/20/2007
03/14/2007
03/14/2007
$0.14
02/20/2006
03/14/2006
03/14/2006
$0.24
02/05/2005
03/01/2005
03/01/2005
$0.13
02/10/2004
02/24/2004
02/24/2004
$0.14
N/A
11/12/2003
11/24/2003
(Source: "MNDO Dividend History," Nasdaq, last accessed January 20, 2021.)
About Mind C.T.I. Ltd
MIND C.T.I is a global provider of real-time, end-to-end billing and customer care solutions for voice, data, video, and content services. Its headquarters are in Israel, but it also has offices in Silver Spring, MD, as well as in Romania and Germany. (Source: "About," Mind C.T.I. Ltd., last accessed January 20, 2021.)
"MINDBill Essentials" is the company's billing and customer care solution for mobile telecommunication service providers. The system supports prepaid and postpaid payment methods and targets residential and business customers.
You may not be all that familiar with MIND C.T.I, but this penny stock has an enviable list of customers, including Eastlink, Vodafone Group plc (NASDAQ:VOD), and Iskon Internet d.d. (Source: "MIND Financial Presentation Q3/2020," Mind C.T.I. Ltd., last accessed January 20, 2021.)
"MessageMobile" allows businesses to communicate directly with their customers via instant messaging services, including "WhatsApp."
"PhonEX ONE" is the company's leading communication analyst and call accounting tool. It provides in-depth analysis, reporting, traffic analysis, and fraud detection. PhonEX ONE customers include Walt Disney Co (NYSE:DIS), McDonald's Corp (NYSE:MCD), Coca-Cola Co (NYSE:KO), FedEx Corporation (NYSE:FDX), and Unilever N.V. (NYSE:UL).
Last November, MIND C.T.I. Ltd. announced that its third-quarter revenue inched up to $5.9 million from $5.8 million in the same period of the previous year.
Some 51% of the company's total revenues were generated from Europe, 43% were generated from the Americas, and six percent were generated from the rest of the world. Maintenance and additional services accounted for $5.6 million, or 94% of the company's total revenues, and licenses accounted for $300,000, or six percent of the total revenues. (Source: "MIND CTI Reports Third Quarter 2020 Results," MIND C.T.I. LTD., November 10, 2020.)
MIND C.T.I.'s net income in the third quarter was $1.4 million, or $0.07 per share, compared to $1.2 million, or $0.06 per share, in the third quarter of 2019. The company ended the third quarter with a cash position of $14.7 million.
The Lowdown on MIND C.T.I Stock
Despite the tough economic environment, MIND C.T.I. Ltd. was able to report encouraging third-quarter results. Management says the company has been able to successfully shift its focus toward new opportunities.
MIND C.T.I. has a strong balance sheet, consistent positive cash flows from operations, an enviable client roster, and a strong business model with recurring revenues. And, as mentioned earlier, MNDO stock pays out a cash dividend once a year, typically in the spring.