Microsoft Corporation: One More Reason to Check Out This Soaring Stock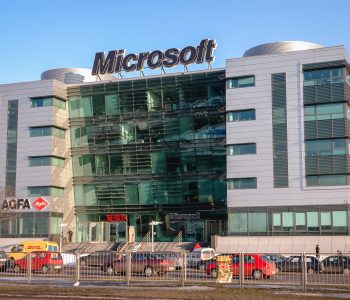 iStock.com/fotokon
Microsoft Stock Delivering Huge Returns
If you've been following financial news lately, you'll likely have come across Microsoft Corporation (NASDAQ:MSFT) stock in the headlines. MSFT stock has been trending up for nearly a decade, and thanks to the latest earnings report, the company's market capitalization once again eclipsed the $1.0-trillion mark.
Microsoft Corporation operates around a fiscal year that ends on June 30. And on Thursday July 18, the company reported financial results for the fourth quarter of its fiscal 2019.
In the quarter, Microsoft's revenue grew 12% year-over-year to $33.7 billion, with growth was across the board. In Productivity and Business Processes, revenue increased 14% from a year ago; revenue from Intelligent Cloud grew 19%; and in More Personal Computing, revenue edged up four percent. (Source: "Microsoft Cloud Powers Record Fourth Quarter Results," Microsoft Corporation, July 18, 2019.)
Note that the company achieved these growth rates despite foreign exchange headwinds during the quarter. On a constant currency basis, year-over-year revenue growth in Productivity and Business Processes, Intelligent Cloud, and More Personal Computing would have been 17%, 21%, and six percent, respectively.
Booming sales have translated into higher profits. In the fourth fiscal quarter, Microsoft's adjusted earnings came in at $1.37 per diluted share, marking a 21% increase from the $1.13 per share earned in the year-ago period.
Both top- and bottom-line numbers beat Wall Street's expectations. On average, analysts expected Microsoft Corporation to report $1.21 of earnings per share on $32.77 billion revenue for the June quarter.
The earnings beat helped fuel the latest rally in MSFT stock. Looking back, we see that over the past five years, Microsoft shares have skyrocketed well over 200%:
Microsoft Corporation (NASDAQ:MSFT) Stock Chart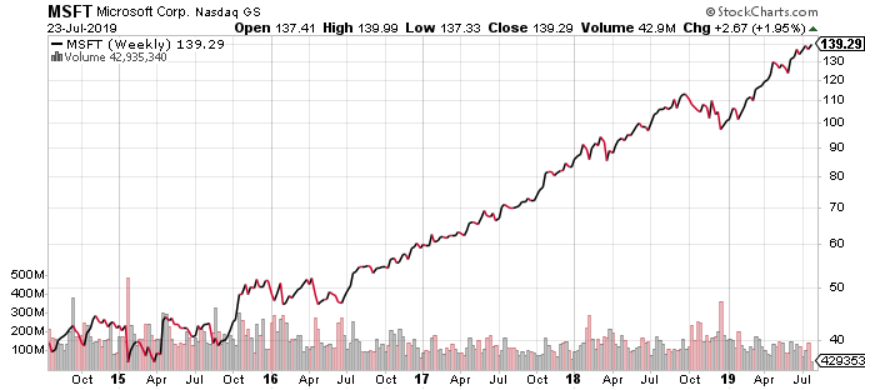 Chart courtesy of StockCharts.com
And we are not talking about some startup business; Microsoft has been around for over four decades. The fact that it can still deliver double-digit revenue and earnings growth is a testament to its durable competitive advantage.
In fact, priced at $139.29 per share at the time of this writing, Microsoft is currently the largest company trading on U.S. stock exchanges in terms of market capitalization.
Keep in mind that only three companies have ever crossed the $1.0-trillion mark in market capitalization: Microsoft, Amazon.com, Inc. (NASDAQ:AMZN), and Apple Inc. (NASDAQ:AAPL). And since both Amazon stock and Apple stock have pared some gains since their highs, Microsoft happens to be the only company with a market cap of over $1.0 trillion at the moment.
Still, a soaring stock price and a huge market cap aren't the only reasons to check out this Redmond, Washington-based tech giant. Microsoft stock also deserves attention because it returns an increasing amount of cash to investors.
Actually, the company has been doing that for quite some time. Microsoft Corporation started paying regular quarterly dividends in 2004 with an initial quarterly dividend rate of $0.08 per share. Since then, management has raised the payout every single year. With the company's quarterly dividend rate currently standing at $0.46 per share, MSFT stock's payout has grown by a staggering 475%. (Source: "Dividend and Stock History," Microsoft Corporation, last accessed July 23, 2019.)
Of course, $0.46 may not seem like much, so here's another number: $3.5 billion. That's the amount of dividends Microsoft paid in the June quarter. In full-year fiscal 2019, the company returned a staggering $14.1 billion to shareholders through its regular dividend payments.
And that's not even the biggest part of Microsoft's cash return program; the company also buys back its shares. In its fiscal 2019, Microsoft spent a whopping $16.8 billion repurchasing its own stock. (Source: "Cash Returned to Shareholders," Microsoft Corporation, last accessed July 23, 2019.)
Buybacks work in a different way than dividends. When Microsoft repurchases its shares, MSFT stock investors don't get a check in the mail directly. Instead, the act reduces the number of shares outstanding, so over time, each existing investor gets to own a slightly larger portion of the company.
Add up, and you'll see that the company's total cash return to shareholders in fiscal year 2019 was $30.9 billion.
And based on what Microsoft is doing, management will likely have some good news for income investors soon.
Get Ready for a Dividend Hike
At the time of this writing, Microsoft Corporation has already declared four quarterly dividends of the same amount, meaning another review of its dividend policy will likely be underway. In fiscal 2019, the company declared $1.84 per share in total dividends while earning an adjusted net income of $4.75 per share, achieving a low payout ratio of 38.8%.
Such a conservative payout ratio leaves plenty of room for future dividend hikes. If management follows past years' patterns, their next dividend announcement—which usually arrives in mid-September—will likely be another sizable increase. And that's one more reason for income investors to check out this soaring ticker.