Microsoft Corporation: MSFT Stock Primed for Double-Digit Dividend Growth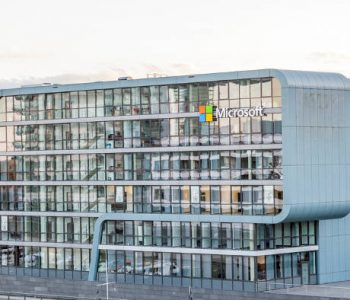 MSFT Stock: Above-Average Current Yield and High Dividend Growth
Microsoft Corporation (NASDAQ:MSFT) stock is a rare example of an investment that has an above-average current dividend yield and also exhibits high dividend growth each year. Microsoft stock has undergone a transformation from a high-growth technology company to a blue-chip dividend stock.
It was not that long ago that hardly any technology stocks paid a dividend at all. Back in the 1990s, most technology companies outright refused to make dividend payments to shareholders. The rationale was that, since the technology industry changed so rapidly, companies needed to reinvest all cash flow back into the business to stay on top of the curve.
But investors learned the value of steady dividends the hard way during the bursting of the tech bubble in 2000. Today, many U.S. technology firms like Microsoft have grown so large, with such reliable cash flow, that their shareholders are demanding dividend payments as part of their capital allocation programs. In turn, Microsoft has responded by not only offering solid payouts, but raising those dividends at high rates each year.
MSFT Stock is a Cash Machine
Microsoft stock generates most of its earnings from its flagship "Office" software and "Windows" operating system. The company dominates the personal computer business, but in recent years, the PC has begun to deteriorate. Consumers are increasingly using smartphones and mobile devices, which threatens Microsoft's core PC business. This is why Microsoft's total revenue, as adjusted for one-time items, decreased two percent in the last full fiscal year. Still, Microsoft stock continued to generate high profitability and a huge amount of free cash flow, even though revenue declined. Free cash flow rose five percent last fiscal year and totaled $25.0 billion in fiscal 2016. (Source: "Earnings Release FY16 Q4," Microsoft Corporation, July 19, 2016.)
Focus on Cloud Software Fuels Growth for MSFT Stock
Microsoft stock has turned to a new business focus in order to grow revenue once again. The company has gone on a long turnaround, which was no easy task for a company as large as Microsoft. In light of the declining PC market, the company has focused on aggressive investment in cloud software and services at both the commercial and consumer levels. Its primary cloud-based offerings are "Office 365," "Dynamics 365," and "Azure." This has worked out very well in recent periods.
For example, MSFT stock's commercial cloud business recently eclipsed $12.0 billion in annualized revenue. In the fiscal 2016 fourth quarter, Office 365 revenue from commercial customers increased 59% from the same quarter in fiscal 2015. Meanwhile, Azure revenue increased more than 100% last fiscal quarter.
But these are not Microsoft stock's only businesses that are performing well. The company has seen a great deal of success in tablets and video game consoles. Its "Surface" tablet revenue increased nine percent last quarter, and the company has sold millions of the "Xbox One" console, with a new version of the console set for release this year.
Going forward, there will be additional opportunities for growth in the cloud, particularly in new markets. MSFT stock recently announced it would increase its investments in cloud infrastructure in Europe to $3.0 billion. (Source: "Microsoft increases European cloud investment to $3 billion, unveils cloud policy recommendations," Microsoft Corporation, October 3, 2016.)
Microsoft Stock: Balance Sheet Strength
MSFT stock has a very strong balance sheet, its financial position being augmented by its highly profitable business model. The company generates a lot of free cash flow, which gets piled up on the balance sheet year after year. For example, the company held $113.0 billion in cash and short-term investments at the end of the most recent quarter; this compares with $41.0 billion of long-term debt. Such a huge amount of cash on the balance sheet has allowed Microsoft to earn a "AAA" credit rating.
Compelling Cash Returns for MSFT Stock
Because Microsoft stock generates so much cash flow and has enjoyed renewed growth from its cloud products, it can continue to raise its dividend each year. In September, Microsoft increased its dividend by eight percent to $1.56 per share on an annualized basis. The current dividend yield is now 2.7%, which is above the average dividend yield on the S&P 500. Not only that, but Microsoft also approved a new $40.0 billion share repurchase program, which will replace the current buyback upon its completion later this year. (Source: "Microsoft announces quarterly dividend increase and share repurchase program," Microsoft Corporation, September 20, 2016.)