Medical Properties Trust Stock: 11%-Yielder Poised to Hike Payout for 9th Straight Year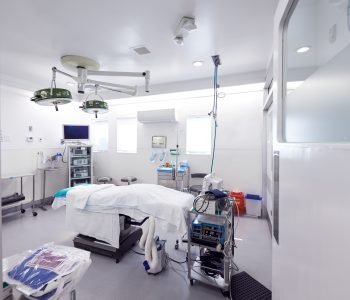 Here's Why MPW Stock Is Compelling
Real estate investment trusts (REITs) have been taking a hit lately. That's despite the fact that REITs are one type of investment that should perform well during periods of inflationary pressure, like the one we're in now. One reason that's the case is that REITs can pass on their additional expenses (such as the increasing cost of borrowing capital) to their tenants through rent increases—whether based on the consumer price index (CPI) or fixed rent escalators.
Unfortunately, REIT stocks, like the broader market, have been falling lately. On the other hand, the sell-off means many REIT stocks have more attractive valuations than they did a year ago.
One great REIT with a growing property portfolio, high cash generation, and ultra-high-yield dividends is Medical Properties Trust Inc (NYSE:MPW).
The global health-care real estate firm has total assets of approximately $19.7 billion, including $13.4 billion worth of general acute care hospitals, $2.7 billion worth of behavioral health facilities, $1.4 billion worth of inpatient rehabilitation facilities, $300.0 million worth of long-term acute care hospitals, and $200.0 million worth of freestanding emergency room and urgent care properties.
Medical Properties Trust Inc's real estate portfolio includes 444 properties and approximately 45,000 licensed beds across the U.S., as well as in the U.K., Switzerland, Germany, Australia, Spain, Finland, Colombia, Italy, and Portugal. The properties are leased to—or mortgaged by—55 hospital operating companies.
The REIT's property portfolio is always changing.
In December 2022, the company acquired six Priory behavioral health facilities in the U.K. for £233.0 million (roughly $281.0 million). Medical Properties Trust assumed the in-place lease at an attractive cash yield, with inflation-based rent escalators and a remaining lease term of more than 20 years. (Source: "Medical Properties Trust, Inc. Reports Fourth Quarter and Full-year Results," Medical Properties Trust Inc, February 23, 2023.)
On February 15, 2023, the company announced that it had agreed to lease its entire $1.2-billion Utah hospital portfolio to Catholic Health Initiatives Colorado. This transaction will further Medical Properties Trust's long-term efforts to improve its real estate portfolio diversification by property type, geography, and operator. (Source: "Medical Properties Trust Announces Agreements for CommonSpirit Health to Acquire Steward's Utah Operations and Lease MPT's $1.2 Billion Utah Portfolio," Medical Properties Trust Inc," February 15, 2023.)
The cash rental payments during the 15-year initial lease term will begin at roughly 7.8% of Medical Properties Trust's gross investment and increase by three percent annually. Catholic Health Initiatives Colorado will have the option to purchase the facilities at the higher of the fair market value or Medical Properties Trust's gross investment at five, 10, and 15 years.
Another Year of High AFFO Growth
For the fourth quarter of 2022, Medical Properties Trust Inc reported revenues of $380.5 million, down from $409.3 million in the fourth quarter of 2021 but higher than the analyst projections of $372.9 million. The REIT reported a fourth-quarter net loss of $140.0 million, or $0.24 per share, versus net income of $207.0 million, or $0.34 per share, in the same prior-year period. (Source: Medical Properties Trust Inc, February 23, 2023, op. cit.)
The fourth-quarter net loss and full-year net income include a real estate impairment of approximately $171.0 million related to four properties leased to Prospect Medical Holdings in Pennsylvania, as well as a write-off of roughly $112.0 million in unbilled Prospect Medical Holdings rent.
Medical Properties Trust Inc's fourth-quarter 2022 normalized funds from operations (NFFO) were in line with Wall Street analysts' projections at $0.43 per diluted share, compared to $0.47 per diluted share in the fourth quarter of 2021. NFFO is a REIT's net income excluding gains or losses from the sale of property and adding back real estate depreciation.
For full-year 2022, Medical Properties Trust reported revenues of $1.542 billion, down slightly from the $1.544 billion it recorded for 2021. The company's 2022 net income rose by 37% year-over-year to $903.0 million, or $1.50 per share. Its full-year NFFO climbed to $1.1 billion, or $1.82 per share, from $1.0 billion, or $1.75 per share, in 2021.
Commenting on the results, Edward K. Aldag, Jr, Medical Properties Trust Inc's chairman, president, and CEO, noted, "The vast majority of our portfolio is positioned to support a significant inflation-based increase in cash rents for 2023." (Source: Ibid.)
He added, "On the other hand, our initial outlook for this year contemplates a conservative scenario due to the underperformance of Prospect's Pennsylvania hospitals that we first communicated over a year ago, as well as the process by which we expect to recover our full investment in Prospect's Pennsylvania and Connecticut hospitals."
For 2023, the company expects to report net income in the range of $0.83 to $0.98 and NFFO in the range of $1.50 to $1.65.
Medical Properties Trust Inc Poised to Increase Dividend for 9th Straight Year
At a time when inflation, rising interest rates, and a looming recession are forcing some companies to cut or suspend their dividends, Medical Properties Trust has been raising its payout. Since the onset of COVID-19 in the first quarter of 2020, six health-care REITS reduced their dividends by a weighted average of 31%. (Source: "Investor Relations," Medical Properties Trust Inc, last accessed February 28, 2023.)
Because Medical Properties Trust is focused on essential hospital infrastructure, it was able to increase its quarterly dividend by 12% on a cumulative basis.
On February 16, the REIT declared a cash dividend of $0.29 per share, for a current yield of 11%. Medical Properties Trust stock's payout ratio is just 77.3%, which means the company has more than enough financial wiggle room to increase its dividend for a ninth consecutive year sometime in 2023.
Medical Properties will also return value to MPW stockholders in the form of a big share repurchase program. In October 2022, the trust's board authorized the repurchase of up to $500.0 million worth of shares before October 2023. (Source: "Medical Properties Trust Announces Authorization of Stock Repurchase Program," Medical Properties Trust Inc, October 10, 2022.)
Medical Properties Trust Stock Has 70% Upside
Although Medical Properties Trust Inc has been rewarding buy-and-hold investors with ultra-high-yield dividends—and will be rewarding them via share repurchases—it hasn't been rewarding them with price appreciation lately.
As of this writing, MPW stock is down by six percent year-to-date and 46% year-over-year. Some of those losses can be attributed to broad-based negative investor sentiment tied to rising interest rates, inflation, and a possible upcoming recession.
Investors were also not entirely pleased with Medical Properties Trust Inc's 2023 guidance, which includes lower estimated net income and NFFO. That lower guidance, however, has more to do with positive business moves by the company, not worsening economic conditions. Case in point: as noted above, last December, the REIT acquired six health-care facilities for about $280.0 million.
Thanks to CPI-based rent adjustments and fixed rent escalators, Medical Properties Trust Inc should add $50.0 million to its top line in 2023. Moreover, as mentioned earlier, the company recently improved its portfolio diversification by leasing its entire Utah hospital property to Catholic Health Initiatives Colorado.
Over the last number of years, Medical Properties Trust Inc has improved its diversification and cash flow visibility. The company has increased the number of its tenants from 30 in 2018 to 54 (accounting for 92% of its assets) now. As such, the REIT decreased its exposure to its largest tenant by 32% from year-end 2018 to September 30, 2022. The REIT's single-largest property currently accounts for less than three percent of its total real estate portfolio.
Medical Properties Trust's real estate portfolio has a weighted average lease and loan maturity of 17.6 years. Furthermore, the company's forward price-to-earnings (P/E) ratio is now just 6.6.
Even though investors might not like Medical Properties Trust Inc's guidance for 2023, it hasn't scared Wall Street analysts. They've projected that Medical Properties Trust stock could rally to as high as $18.00 per share, or by about 70% from its current level. That's a far cry from some analysts' projections for the S&P 500; they see it cratering by about 30% from its current level.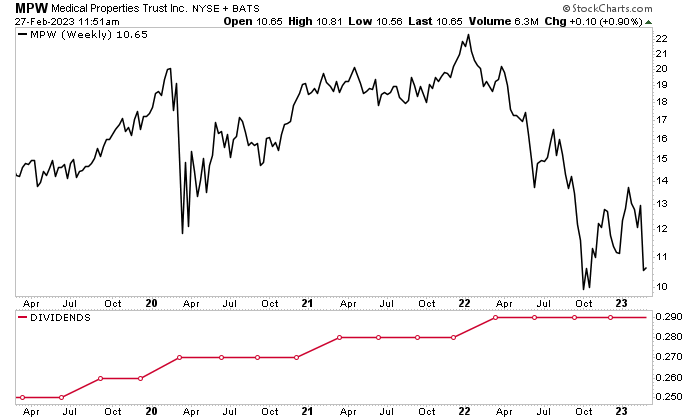 Chart courtesy of StockCharts.com

The Lowdown on Medical Properties Trust Inc
Medical Properties Trust is a great REIT with a solid balance sheet and growing international portfolio. Thanks to its improved real estate diversification and unmatched hospital underwriting, the company continues to report high cash flow. This allows it to reward MPW stockholders with annual pay raises, even during the worst economic conditions.
Medical Properties Trust Inc's history of reliable dividend growth is propelled by accretive acquisitions, as well as uninterrupted and compounding annual rent increases that are embedded in virtually 100% of its leases.
This bodes well for the possibility of another pay raise from Medical Properties Trust stock in 2023. It could also help enhance investor optimism and juice its share price considerably.