Medical Properties Trust Inc.: Growing Business Yields 7.8%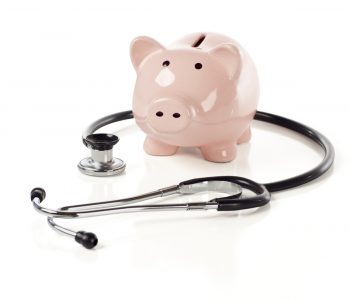 The Biggest Dividend Story in America
Today's chart shows a booming industry from an aging America.
Regular readers know we are always looking for big secular trends to invest in. As more baby boomers hit retirement age, analysts project demand for healthcare treatment will grow multifold.
For investors, this could represent the greatest dividend story in the country. Names like HCP, Inc. (NYSE:HCP), Welltower Inc (NYSE:HCN), and Omega Healthcare Investors Inc (NYSE:OHI) have surged on higher spending. And for those who know where to look, you can often scoop up tidy income streams.
One high yielder in the space is Medical Properties Trust, Inc. (NYSE:MPW). This company owns medical properties across the country, with a focus on hospitals, medical offices, and surgery centers. But can you call this eight percent yield safe? Let's take a look.
Also Read:
7 Best Buy and Hold Retirement Stocks
MPW's distribution looks reasonably secure. Through the first nine months of 2017, the firm paid out $0.74 per share in dividends while generating $0.85 per share in fund flows from operations. This comes out to a payout ratio of 87%.
That figure looks a smidgen high. However, MPW operates a cash-cow business, with a reasonable debt load and ample access to liquidity. I'd prefer to see a bit more wiggle room, but the stable nature of the firm's assets counters those concerns.
The payout will likely keep growing too. Healthcare spending will grow slowly, but relentlessly over the next few decades. Medical Properties Trust should be able to raise rents at or above the rate of inflation.
Since 2013, Medical Properties Trust has raised its distribution at a five percent compounded annual clip. You can expect this pace to continue, given the demographic tailwind behind this firm. With the occasional acquisition, management may boost this growth rate further.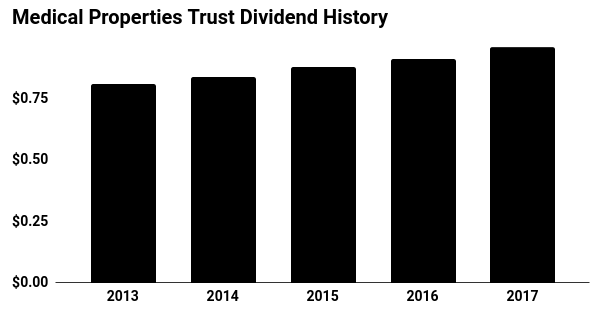 Source: "Medical Properties Trust, Inc. (MPW)," Yahoo! Finance, last accessed February 7, 2018.

Higher interest rates could change that rosy outlook. If yields rise, MPW will have to spend more on interest when it comes time to refinance its debt. Higher borrowing costs could also slow down the company's growth plans, as new projects will look less profitable.
But MPW's 7.8% yield looks safe for now, given the company's recession-proof business, growing cash flows, and respectable payment history.