Medical Properties Trust, Inc.: Finally, a Safe High-Yield Stock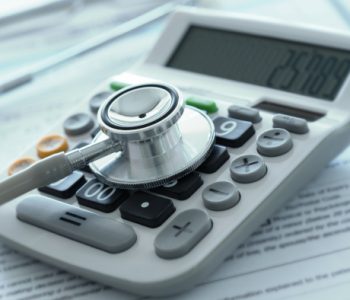 iStock.com/utah778
You Can Trust This 6% Yield
I reject most of the high-yield stocks that cross my desk.
Readers love big payouts. Most companies, however, can't deliver both safety and a high yield.
But once in a while, I get a surprise. And today's company, which pays an attractive six-percent payout, looks like an exception.
Medical Properties Trust, Inc. (NYSE:MPW), like the name implies, owns hundreds of healthcare-related real estate across the country. Management rents out these properties to tenants in exchange for steady rental income.
But can you trust such a high yield? Smart readers will do a double take any time a big payout crops up. Let's take a deep dive into the numbers.
A Growing Distribution From MPW Stock?
Medical Properties Trust, Inc. stands in fine financial health, with plenty of liquidity and a manageable debt load.
By my measure, the partnership has $4.50 in debt for every dollar generated in adjusted earnings before interest, taxes, depreciation, and amortization (EBITDA). That figure compares well to its peers, leaving management with plenty of financial wiggle room.
More importantly, executives have locked in most of that debt at low interest rates. Management opted for fixed payments on almost 95% of outstanding loans. This means the company's interest costs will remain mostly the same, even in the event the Federal Reserve keeps raising rates.
Medical Properties Trust's conservatism extends to its income statement, too.
In the real estate business, profits are measured through a metric called funds from operations (FFO). This metric provides a better sense of profitability than traditional earnings, giving us the best picture of business performance.
For 2018, analysts projected that MPW stock would generate $1.36 per unit in FFO. Over the same period, management paid out $1.00 per unit in distributions. That comes out to a payout ratio of 74%, which is well within my comfort zone. In fact, I wouldn't be shocked to see Medical Properties Trust boost its distribution further.
Historically, management has also maintained a payout ratio around 85%. So, executives have a lot of room to boost the distribution just to get that figure back into its normal range.
Of course, I can't call a dividend hike a sure thing. Management, though, tends to boost the payout each January. That would be a great way to kick off the new year for investors.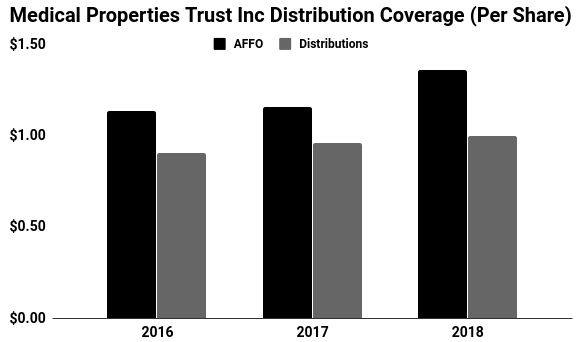 (Source: "Dividend History," Medical Properties Trust, Inc., last accessed January 2, 2019.)

The Bottom Line on MPW Stock
The biggest risk here? Tenants. Only a handful of renters account for much of MPW's income. If any of these tenants go bust, it would result in big losses for holders of MPW stock.
Right now, none of the trust's largest tenants have any financial problems. In fact, an aging population means soaring profits for most healthcare operators.
Still, it's something investors should keep an eye on. Regardless, Medical Properties Trust's conservative financial position should result in steady distributions.
Finally, a high-yield dividend stock you can trust.