Medical Properties Trust Inc.: Can You Count On This 7.1% Yield?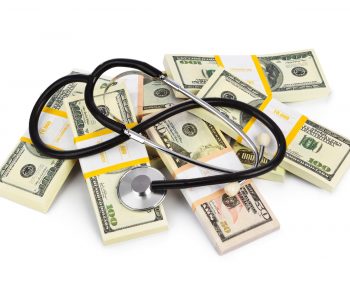 Medical Properties Trust Inc. Yields 7.1%
Over the next few decades, few businesses will mint more money than healthcare.
Each year, more than 3.7-million baby boomers turn 65. That means more tests, more prescriptions, and more doctor visits.
Medical Properties Trust Inc. (NYSE:MPW) has positioned itself right smack dab in the middle of this boom.
The partnership owns hundreds of healthcare facilities across the country. Management rents these properties out to operators under long-term leases.
And as Americans have gotten older, MPW's dividend has ballooned. Executives have raised the payout four times over the past few years, bringing the current yield up to 7.1%.
Will these distributions keep rolling in?
The prognosis looks good. Let's take a deep dive into the numbers.
Because Medical Properties Trust is a real estate investment trust (REIT), we look at funds from operations (FFO) instead of profits or free cash flow.
REITs report FFO to measure the cash flow generated from their business, taking into account any property sales. This gives us the best picture of management's ability to pay and grow the dividend.
Through the first six months of the year, MPW generated $191.9 million, compared with $133.5 million a year ago.
The company paid $161.2 million in distributions for a distribution pay ratio of 84%. In other words, management has a little wiggle room to maintain the dividend even if business sours.
Moreover, FFO continues to grow. In 2016, the partnership brought in $541.1 million in rental income. That's 123% higher than $242.5 million in revenue three years before.
Wall Street forecasts rental income to grow at a double-digit clip over the next five years. Much of that revenue should flow down to the bottom line, giving management plenty of cushion should anything go wrong.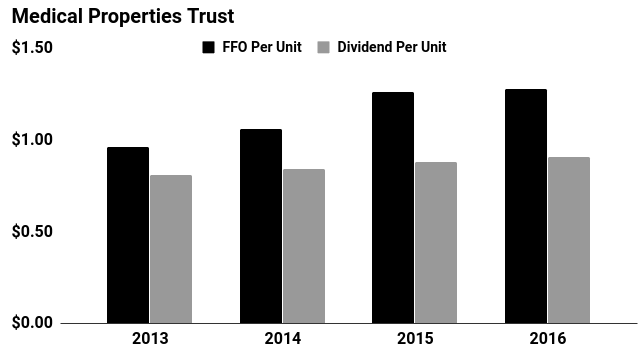 Source: Various Corporate Filings
Of course, you don't have a sure thing here.
Higher interest rates will increase borrowing costs. This can hit REITs especially hard, as they rely on debt to buy new properties.
That said, MPW's management has already prepared for this scenario. Executives have done a good job locking in low interest rates through long-term bond issues.
Furthermore, the trust's enjoys a relatively light debt load. That means lower returns in the short term, but more wiggle room in the event of a downturn.
MPW has a big demographic tailwind over the next few decades. That should result in growing profits and plenty of dividends for owners.
This 7.1% yield looks safe.