McDonald's Stock: Time to Bet on the "Steve Jobs of Fast Food"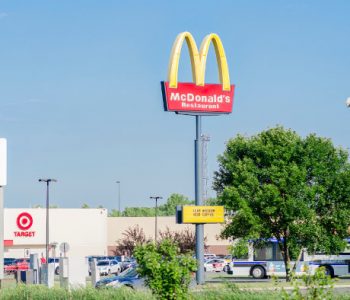 iStock.com/Sakkawokkie
"Steve Jobs of Fast Food" Sends McDonald's Stock Soaring
When investors think of innovative CEOs, they probably mention tech titans like Elon Musk, Steve Jobs, and Jeff Bezos. Maybe they need to think of burgers and fries.
Last month, McDonald's Corp (NYSE:MCD) posted jaw-dropping second-quarter results. System-wide sales jumped eight percent year-over-year, blowing analysts' expectations out of the water. The report sent McDonald's stock to a record high, adding to the company's 110% price rally over the past four years. (Source: "McDonald's Reports Second Quarter 2019 Results," Cision July 26, 2019.)
Investors can credit those gains to new head honcho Steve Easterbrook. Since the CEO—who I've dubbed the "Steve Jobs of fast food"—took the top job in 2015, the company's innovation push has reignited sales and earnings. Yet this could just be the beginning.
Admittedly, the 2.2% yield on McDonald's stock won't impress most income investors. Shares also aren't cheap, given the company's 27 trailing earnings multiple. But McDonald's performance justifies that premium, at least for now. And you would be mistaken to underestimate the company's potential.
Easterbrook's investments in digital sales and technology have earned solid returns. The company spent billions modernizing stores with self-order kiosks, automated kitchen equipment, and voice-activated ordering at drive-thrus. That spending seems to have paid off, given average franchisee cash flow posted its eighth consecutive monthly increase through June.
As part of its innovation push, Easterbrook bought tech startup Dynamic Yield. The company's software, which McDonald's has installed in 700 U.S. drive-thrus, exploits machine learning to recommend menu items. Easterbrook said the system has already boosted the average check size where McDonald's has tested the technology. Management now wants to roll the software out nationwide this summer. (Source: "McDonald's is acquiring Dynamic Yield to create a more customized drive-thru," Tech Crunch, February 25, 2019.)
Furthermore, Easterbrook has also tried drumming up sales by expanding delivery options. In July, McDonald's Corp struck a deal with DoorDash as a delivery partner for its Houston restaurants in July. If the deal works out, executives could expand the service to roughly 8,000 restaurants over the next year. (Source: "McDonald's Deal With DoorDash Delivers Blow to Uber Eats," The Wall Street Journal, July 16, 2019.)
You can see the impact of such innovation in McDonald's Corp's financial results. Last quarter, the company posted a 5.7% year-over-year increase in U.S. same-store sales growth, well above analysts' expectations of 4.5%. In international markets, same-store-sales jumped 7.9% from the same period last year. (Source: Ibid.)
I expect those kinds of growth numbers from small, emerging restaurant chains. You don't anticipate that kind of performance from the largest paddy pedlar on the planet. McDonald's growth number should take your breath away and Wall Street, it seems, has finally started to pay attention.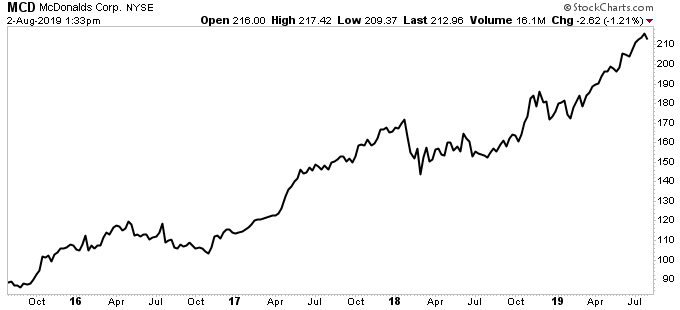 Chart courtesy of StockCharts.com
Most important of all, better top-line revenue generates more cash that can be returned to investors. McDonald's bought back $1.1 billion of stock in the quarter and cut its number of outstanding shares by two percent from a year earlier. Analysts expect Easterbrook will bump the dividend this fall in line with earnings growth. (Source: "Form 8K," U.S. Securities and Exchange Commission, July 26, 2019.)
Forget Silicon Valley. The biggest tech visionary works in fast food, and his name is Steve Easterbrook.