McDonald's Corporation: This Could Be Big For MCD Stock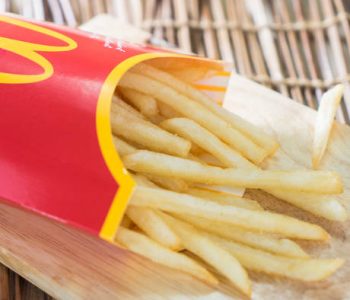 MCD Stock: Earn 3% Dividend Yield on This Solid Investment
If you enjoy a Big Mac, then there is another reason to be excited about the company which produces them. McDonald's Corporation (NYSE:MCD) each quarter rewards investors in its stock with a hefty dividend payment. And this quarter is no different.
Last week, McDonald's announced a six-percent increase in its quarterly cash dividend to $0.94 per share. On an annualized basis, this hike in dividend comes to $3.76 a share, yielding an approximate 3.3% dividend payout—a decent return on your investment when you compare it with deposits sitting in saving accounts or the yield on government bonds. (Source: "McDonald's Raises Quarterly Cash Dividend By 6%," McDonald's Corporation, September 29, 2016.)
What's was more impressive about McDonald's latest announcement that the company is on track to return $30.0 billion to investors in MCD stock as part of its three-year capital return program. After returning $26.0 billion through August, the company plans to finish this payback by the end of 2016.
There is no doubt that the company is operating in a very competitive restaurant business, where smaller rivals boasting healthy food options are snatching some of its market share. But McDonald's has a brand recognition which is so global that it's very tough to match. There are over 36,000 McDonald's restaurants located in over 100 countries, a sheer size that competitors like Wendys Co (NASDAQ:WEN) and Restaurant Brands International Inc (NYSE:QSR) will find it hard to reach.
Despite this positive outlook, McDonald's stock seems stuck in range trading so far this year, as some investors doubt the company will continue to show the level of growth it produced during the past six decades. At the heart of these concerns is the changing diet preferences of consumers, who are getting more health-conscious when it comes to what they consume each day.
After hitting an all-time high of $131.00 in May, MCD stock has dropped 13% since, reacting to a slow growth in sales in recent quarters, which dropped from above six percent in the first quarter of this financial year to under four percent in the second quarter.
I think this selling has gone a little far. Investors are ignoring the fact that McDonald's has a solid plan to boost its sales in this challenging environment, which is affecting many big names in the retail food industry. There are signs that McDonald's is making meaningful progress on its turnaround plan, which has aimed at slimming down the "Golden Arches'" direct ownership in mature markets and creating cash machines for its shareholders in the years to come.
McDonald's Stock: Turnaround Plan Working
For example, McDonald's may soon close a deal to sell its 2,200 stores in China to investors to fetch between $1.5 billion and $2.0 billion. A group of at least six bidders has shown interest in a McDonald's China franchising deal, including U.S. private-equity giants Carlyle Group LP (NASDAQ:CG), TPG and Bain Capital LLC. (Source: "McDonald's China Franchise Deal Could Fetch Up to $2 Billion Up Front," The Wall Street Journal, October 4, 2016.)
The Chinese franchise deal is a part of a broader strategy that Chief Executive Officer Steve Easterbrook announced last spring that includes closing down 3,500 restaurants by the end of 2018 and accelerating the pace of refranchising and increasing the global franchised percentage from the current 81% to approximately 90%. (Source: "McDonald's Announces Initial Steps In Turnaround Plan Including Worldwide Business Restructuring And Financial Updates," McDonald's Corporation, May 4, 2015.)
On the product offering side, McDonald's is constantly testing consumer preferences through rebranding and creating a new buzz each quarter. Its all-day breakfast menu and new coffee offerings have been very successful at attracting more traffic to its stores each day.
McDonald's is scheduled to announce its third-quarter earnings on October 20, and the next big announcement I'm expecting is a new share buyback plan. If that happens, it will provide another good reason to remain invested in MCD stock while the company's management brought about positive changes in its business model.