McDonald's Corporation Earnings: Will MCD Stock Increase Its Dividend?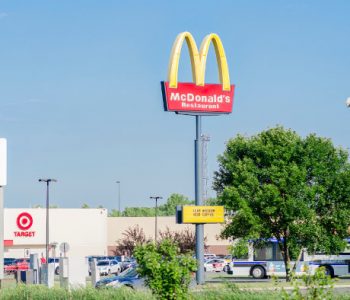 iStock.com/Sakkawokkie
MCD Stock Is a Dividend Aristocrat
Restaurant stocks haven't really been a market favorite in recent years, but McDonald's Corporation (NYSE:MCD) stock has been an exception. In just the last 12 months, McDonald's shares have surged over 45%. Now the company is reporting earnings again, let's take a look at what income investors can expect from the latest MCD stock news.
On average, Wall Street is pretty upbeat about the company's bottom line. The consensus estate is that McDonald's Corporation would generate $1.59 of earnings per share in the fourth quarter of 2017, which would represent an 11.2% increase from the $1.43 per share earned in the year-ago period. Expectations for the top line, however, are not as rosy. Analysts are projecting a $13.3% year-over-year decline in McDonald's revenue to $5.23 billion for the quarter. (Source: "McDonald's Corporation (MCD)," Yahoo! Finance, last accessed January 26, 2018.)
Stats on MCD Stock
| | |
| --- | --- |
| Analyst EPS Estimate | $1.59 |
| Change from Year-Ago EPS | 11.2% |
| Revenue Estimate | $5.23 Billion |
| Change from Year-Ago Revenue | -13.3% |
| Earnings Beats in Past 4 Quarters | 3 |
(Source: Ibid.)
When analysts are expecting a double-digit drop in sales, it usually means the business is slowing down. But at McDonald's Corporation, that might not actually be the case.
Also Read:
MCD Stock: The No.1 Reason Why McDonald's Corporation is a Top Dividend Stock  
You see, the main reason behind the expected revenue drop is the fact that the company is refranchising. McDonald's has announced previously that it wants to increase the share of restaurants owned and operated by franchisees from 80% to 90% of its total portfolio. This way, it would save a substantial amount of money in general and administrative expenses, and also lower its capital expenditures.
If you take a look at the company's previous earnings report, you'll see exactly what I mean. In the third quarter of 2017, McDonald's consolidated revenue came in at $5.7 billion, representing a 12% decline excluding the effects of currency translation. However, MCD's comparable sales—one of the most critical measures of a restaurant chain's performance—actually rose six percent year-over-year globally during this period. (Source: "McDonald's Reports Third Quarter 2017 Results," McDonald's Corporation, October 24, 2017.)
So, we know that McDonald's still runs a solid business. Now, it's time to take a look at a question that many income investors have during earnings season: Will MCD stock increase its dividend?
Will McDonald's Corporation Increase Its Dividend?
The first thing to know is that McDonald has an excellent track record of paying dividends. The company started paying a dividend in 1976. Since then, it has raised its payout every single year. (Source: "Dividends, Splits & Share Repurchases," McDonald's Corporation, last accessed January 26, 2018.)
That makes MCD stock a Dividend Aristocrat, which is a title reserved for S&P 500 companies with at least 25 consecutive years of annual dividend increases.
Past performance does not guarantee future results, but MCD stock's impressive dividend growth history shows that the company is willing to return cash to shareholders. And if business goes well, the company will likely continue that track record. Think about it, if a company has been raising its payout for decades and suddenly stops increasing its dividend, management would have some serious explaining to do.
So, how's MCD's business going?
Well, from the financial results that are available so far, the company is firing on all cylinders. Even though the top line number doesn't look that impressive, profits have been shooting through the roof. In the first nine months of 2017, McDonald's generated $7.4 billion in operating income, representing a 29% increase year-over-year on a constant currency basis. Earnings came in at $5.48 per diluted share, up to a whopping 38% from the year-ago period.
On the distribution side, McDonald's Corporation declared and paid total dividends of $2.82 per share in the first nine months of 2017. Given its earnings of $5.48 per share, the company had a payout ratio of 51.4%.
Regular readers of Income Investors would know that we prefer companies that pay out less than 75% of their profits. At just 51.4%, McDonald's has a very conservative payout ratio, leaving a wide margin of safety.
The business is also quite stable. McDonald's currently has more than 36,000 locations spread across over 100 countries around the world. This means if one region enters a downturn and business slows down, the impact on company-level financials would be limited. (Source: "Company Profile," McDonald's Corporation, last accessed January 26, 2018.)
With a solid business and a conservative payout ratio, McDonald's Corporation is well-positioned to continue its excellent track record of dividend increases. However, note that the company raised its payout not that long ago.
On September 21, 2017, McDonald's announced its 41st consecutive annual dividend hike. The company raised its quarterly dividend rate by seven percent from $0.94 per share to $1.01 per share. (Source: "McDonald's Raises Quarterly Cash Dividend By 7%," McDonald's Corporation, September 21, 2017.)
McDonald's Corporation is scheduled to report fourth-quarter earnings on Tuesday, January 30 before market open. If the company can meet Wall Street's expectation of delivering a double-digit increase in its earning per share, it would certainly be good news for dividend investors. However, given the fact that McDonalds Corporation usually reviews its dividend policy once a year and just raised its payout a few months ago, investors will likely have to wait till September 2018 for the next dividend increase announcement.