McDonald's Corp: A Top Dividend Stock for 2021?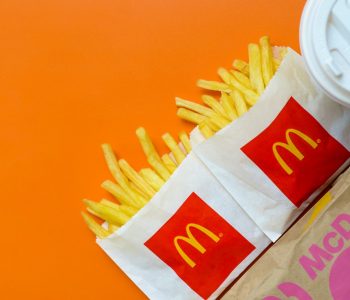 Don't Ignore MCD Stock
Among the numerous industries impacted by the COVID-19 pandemic, few took as big a hit as restaurants. In some regions, indoor dining was flat-out banned for a substantial period last year. And because many restaurants could not survive on takeout alone, some owners had no choice but to shut down for good.
Yet one restaurant chain has turned out to be extremely resilient: McDonald's Corp (NYSE:MCD).
McDonald's is one of the largest restaurant chains in the world. It has more than 39,000 locations across 100 countries worldwide. So given that the pandemic has sent shock waves through the restaurant industry around the globe, one might think that the business must be struggling.
Well, McDonald's Corp's business was impacted earlier on, but now, things are more than fine.
According to its latest earnings report, the company's global comparable sales declined by just 1.3% in the fourth quarter of 2020, meaning McDonald's has recovered nearly 99% of its fourth-quarter 2019 global comparable sales. The amount also represented a sequential improvement. (Source: "McDonald's Reports Fourth Quarter and Full Year 2020 Results," McDonald's Corporation, January 28, 2021.)
Notably, the company's U.S. comparable sales increased 5.5% in the fourth quarter.
That's right, when many restaurants were struggling—some regions in the U.S. imposed tighter restrictions during the holiday season—McDonald's Corp's U.S. locations were doing better than before the pandemic.
In full-year 2020, the company's U.S. comparable sales rose 0.4%, which was quite an achievement, considering that 2020 was arguably the worst year for the restaurant industry in decades—if not ever.
And that means, for dividend investors, there's little to worry about when it comes to McDonald's stock.
In fact, in the fourth quarter of 2020, the company increased its quarterly cash dividend from $1.25 to $1.29 per share. (Source: "McDonald's Reports Third Quarter 2020 Comparable Sales, Raises Quarterly Cash Dividend and Announces November Investor Update," McDonald's Corp, October 8, 2020.)
That 3.2% increase in per-share payout may not seem like much, but in a year when companies in numerous industries were cutting dividends left, right, and center, giving shareholders a pay raise was a genuine sign of strength for MCD stock.
And if you look further back, you'll see that McDonald's has paid a higher dividend every year since establishing its dividend policy in 1976. (Source: "Dividend History," McDonald's Corp, last accessed March 30, 2021.)
That's more than four decades of consecutive annual dividend hikes!
The dividend remains safe, too—even after all those increases. In the fourth quarter of 2020, McDonald's generated adjusted earnings of $1.70 per share, which was well above its quarterly dividend payment of $1.29 per share.
In full-year 2020, the company generated adjusted earnings of $6.05 per share. Its dividend payments for the year, on the other hand, totaled $5.04 per share. So again, the payout was well covered.
Regarding capital allocation for the current year, here's what McDonald's Corp's chief financial officer, Kevin M. Ozan, said in the company's latest earnings conference call: "Our capital allocation priorities remain the same. First, investing in the business to drive growth. This includes both capital expenditures as well as investments in technology and digital. Second, prioritizing dividends to our shareholders. After that, most of our remaining free cash flow for 2021 will go towards paying down debt to get back to pre-COVID leverage ratios by the end of the year." (Source: "Q4 2020 Earnings Call," McDonald's Corp, January 28, 2021.)
That is, dividends remain one of the company's priorities.
Bottom Line on McDonald's Corp
At its current share price, McDonald's stock offers an annual dividend yield of 2.3%.
McDonald's Corp isn't a particularly high yielder, but as we defeat the pandemic, the outlook for the restaurant chain is as bright as ever. And with a dividend stream that seems to be rising forever, MCD stock could be both an income opportunity and a pandemic recovery play in 2021.