McDonald's Corp: A Tasty Treat for Dividend Lovers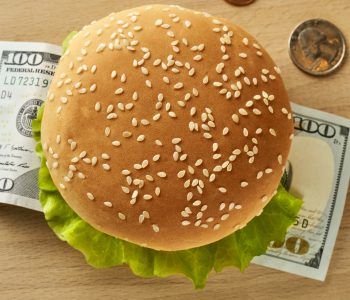 iStock.com/Dzurag
New Menu Items Prove to Be a Boon for McDonald's Corp
Most of us know that, for decades, McDonald's Corp (NYSE:MCD) has given every kid a toy in their "Happy Meal." What's less well known is that the fast-food chain has served up plenty of smiles for income investors over the years, too.
Buoyed by rising sales and profits, McDonald's Corp has boosted its dividend at a 7.8% compounded annual clip over the past decade. And lately, those hikes have gotten even bigger.
In September, the burger giant hiked its quarterly payout another eight percent—a sign that management sees more good times ahead. (Source: "Dividend History," McDonald's Corp, last accessed October 2, 2019.)
Admittedly, McDonald's 2.4% payout won't whet the appetite of some yield hogs. But given the company's prospects, this distribution will likely continue to grow. And for long-term investors who aren't spooked by market volatility or recession fears, McDonald's stock could produce some tasty returns.
In fairness, no self-respecting analysts could call this business cheap. After the stock's recent run, shares now trade at 21-times next year's earnings. That puts the company's valuation in the same league of some fast-growing tech stocks; not usually appropriate for a burger joint.
McDonald's, however, likely deserves this premium price tag.
Since taking the helm in 2015, CEO Steve Easterbrook has commanded a three-part corporate overhaul. This plan has included slashing overhead costs, refranchising company-owned restaurants, and improving customer experience.
These efforts have shown up in the company's financial results.
Last quarter, same-store sales jumped almost seven percent. Gross margins hit a record 53%. And today, McDonald's now generates returns on invested capital in the mid- to high-teens—a substantial improvement from the low-double-digit returns the business earned in previous years. (Source: "McDonald's Reports Second Quarter 2019 Results," McDonald's Corp, July 26, 2019.)
This could be just the beginning.
Management has invested millions in new technologies, looking for ways to troll through store data to boost store sales. McDonald's has emerged as a trendsetter in mobile-ordering and delivery, which gives the company an edge over rivals. Executives also plan to begin testing faux meat, rolling out Beyond Meat veggie patties at select restaurants soon.
Investors seem to have taken notice. Over the past five years, McDonald's stock has almost tripled in value. Even amid the triple-digit stock market selloff this week, shares haven't given much ground.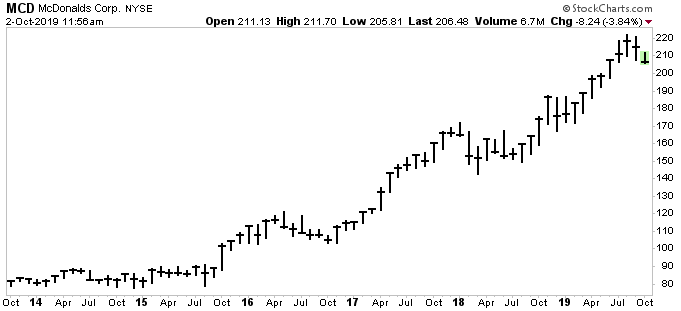 Chart courtesy of StockCharts.com
That should turn into growing dividends over time. Over the next five years, Wall Street projects that earnings per share will grow at a low-teen annual clip—reasonable given McDonald's tendency to beat expectations. Given the company's modest 65% payout ratio, executives should have no issue boosting the distribution in line with profits.
Bottom line: McDonald's stock can satisfy any investor's craving for rising dividends. And given the company's growth prospects, shares could emerge as a robust income stream in the coming years.