McCormick & Company, Incorporated: This "Boring" Stock Has Soared 1,110%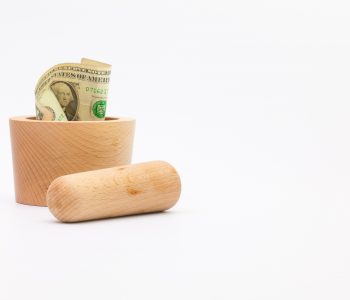 iStock.com/CaptureLight
Today's post drives home a theme we repeat over and over on Income Investors: You can make exciting returns in boring stocks.
Longtime readers know we love simple businesses. Companies that "sell the basics" often make great long-term investments, given the demand for their product stays stable from year to year.
Case in point: McCormick & Company, Incorporated (NYSE:MKC). Most people recognize the company's namesake line of spices, but over the years, management has assembled a sprawling empire of cooking brands. These include "Billy Bee" honey, "Frank's RedHot," "Club House" seasoning, and "French's" mustard.
Selling the basics has turned McCormick into a cash cow. The company has mailed a check to shareholders for almost a century. And with the stock trading sideways over the past two years, we think this "boring" business represents the best place to put money to work right now.
The Business
McCormick represents the biggest player in spices and seasonings. With its portfolio of leading brands like "Lawry's," "Old Bay," and "Thai Kitchen," the firm controls around half of the North American market. It total, McCormick earns four times more revenue than its next-largest competitor.
Also Read:
Dividend Investing: 3 Boring Dividend Stocks Yielding Up to 10.61%
This core spice and seasoning business have held up well, with sales growing faster than the overall food business. Modern farming strives to get more food from less land, but they've sacrificed quality in the process. To make up for lost flavor (cardboard tomatoes, anyone?), we throw more seasoning on our foods than ever. Americans now eat 3.7 pounds of spices per year, a threefold increase from 1966. (Source: "Americans Love Spices. So Why Don't We Grow Them?," National Public Radio, December 26, 2017.
In August, management padded their portfolio with the purchase of Reckitt Benckiser Group plc's (LSE:RB.L) food business for $4.2 billion. The acquisition includes a number of properties, such as Frank's RedHot, French's mustard, and "Cattlemen's" barbecue sauce. These operations complement McCormick's existing business nicely and add exposure to faster-growing categories. (Source: "McCormick Completes Acquisition of Reckitt Benckiser's Food Division," McCormick & Company, Incorporated, August 17, 2017.)
For owners, a collection of recognizable brands provides a competitive advantage. McCormick's advertising distinguishes its products on store shelves. Moreover, people tend to be cautious about what they put in their mouths or feed to their kids. Thanks to this trusted reputation, consumers will pay more for McCormick spices than for a package of generic seasoning.
Furthermore, trusted manufacturers like McCormick tend to embed themselves in supply chains. Grocery stores hate costly out-of-stocks with small-time suppliers. They also don't want to risk prime shelf space on unproven brands. For this reason, McCormick usually commands the best real estate in supermarket aisles.
And as the dominant player in spices, the company's raw size provides it with a cost advantage. Management can spread overhead expenses over a greater number of sales. The scale also allows McCormick tremendous bargaining power with its suppliers. As a result, McCormick can earn higher returns while charging the same prices as competitors.
For proof, you only need to take a quick glance at the financials. Last year, McCormick generated an industry-leading gross margin (profit earned after deducting the cost of producing spices) of 42%. The company has consistently posted returns on invested capital in the low double digits.
Firms might earn profits like these once in a while. Competition, though, tends to erode those margins over time. So when you see an operation do so well a decade after decade, you know you're looking at a wonderful business.
A profitable formula for shareholders. McCormick has boosted its distribution in each of the past 31 years, earning the company a spot on the elite list of "dividend aristocrats." And since 1994, shares have delivered a total return of 1,110% (including distributions).
The Dividend
McCormick stands in fine financial health, with plenty of liquidity and a manageable debt load. The company has borrowed $7.10 in debt for every dollar generated in earnings before interest, taxes, depreciation and amortization–high by some standards, but reasonable for a consumer staple business. Management pays out about 60% of profits as dividends, leaving executives ample wiggle room to survive a bad year or two.
McCormick's core spice and seasoning business have grown at a mid-single-digit clip over the past 20 years. With the recent acquisition of RB's brands, we anticipate the growth rate to accelerate. Investors should also expect margin expansion, driven by operating leverage, cost-cutting measures, and a transition to premium products.
Overall, our financial analysts project earnings per share to grow at a low-teen clip over the next five years. With one of the longest track records of dividend growth in the stock market, we have little doubt that McCormick will continue to pay shareholders more each year. We anticipate per-share dividend growth averaging 10% to 12% annually.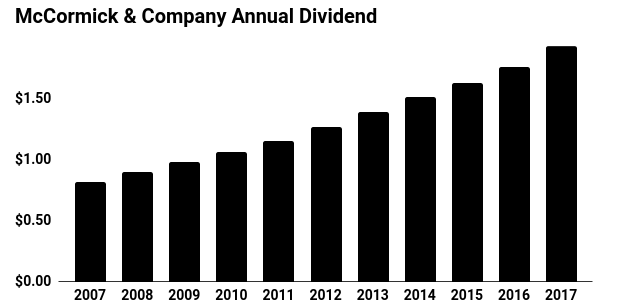 Source: StockCharts.com
At today's price, McCormick pays a dividend yield of 2.1%. Add our growth forecast of 10% or more and shares should provide a total return in the low teens. For such a wonderful business, this represents an attractive place to put fresh money to work.
The Risks
While I'm optimistic about McCormick's future, I see three big risks here: inflation, slowing sales, and new competition.
Higher costs could eat into margins. Spice production requires a lot of raw commodities like vanilla, garlic, and capsicums, which have become quite expensive. Pepper prices alone have shot up threefold over the past few years. (Source: "Your pepper's getting pricier: Soaring demand and production problems mean price of condiment is up 310% in five years," The Daily Mail, last accessed February 18, 2018.)
That said, management has offset these expenses through higher prices, smaller packages, and other cost cuts. Better still, customers seem willing to spend an extra nickel or two for their favorite brands.
Investors shouldn't lose too much sleep on the other risks. The packaged food industry has struggled with lackluster growth. Competition remains intense, both from small niche peers and lower-priced private-label brands. McCormick, though, has bucked these trends by staying on the leading edge of consumer tastes. The company has also weathered these challenges better than peers through heavy spending on research, development, and marketing. Still, it doesn't hurt to keep an eye on potential problems.
The Bottom Line
We repeat this idea over and over at Income Investors: you can make exciting returns in boring stocks.
Companies that "sell the basics" don't make for the best conversation at cocktail parties. But the demand for their product stays stable from year to year, which creates a reliable stream of income.
McCormick & Company represents a textbook example. I don't know what social network tweens will "dig" in five years, but I suspect people will still be cooking with spices and seasonings five decades from now. That should result in steady profits for McCormick–and steady dividends for shareholders.