MCC Stock: This 11.3% Yielder Trades at a Significant Discount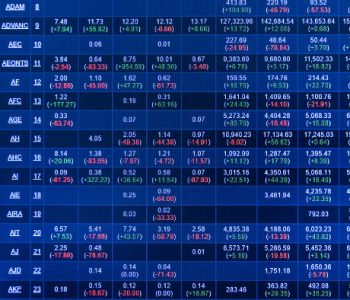 iStock/Kanoke_46
Earn a Double-Digit Yield from MCC Stock
There's no other way to put it: the U.S. stock market is bloated. Over the past 12 months, all three major indices have soared past their all-time highs. Consider this: the S&P 500 Index now carries a price-to-earnings multiple of 25.84 times, significantly higher than its historical average of 15.68 times.
While the latest round of rally has certainly brought many profit-taking opportunities, it also created a challenging environment for yield-seeking investors. Because a company's dividend yield moves inversely to its share price, the surging stock market means yields are getting suppressed.
And that's why Medley Capital Corp (NYSE:MCC) is special. The company not only offers a jaw-dropping yield of 11.32%, but also trades at a significant discount.
Headquartered in New York City, Medley Capital Corp is a closed-end investment firm that specializes in lending to privately held middle-market companies in North America.
Middle-market companies may not be household names, but they represent a huge income opportunity. You see, previously, banks dominated the lending space. But due to consolidation in the banking industry and tighter regulations, banks' participation in middle-market lending has declined significantly in recent years. This allowed investment firms like Medley Capital Corp to take the main stage in the business.
Also Read:
The Top 10 High-Dividend Stocks with Growing Payouts
With a focus on middle-market lending, Medley Capital Corp has built an extremely lucrative business. By the end of June 2017, the company's investment portfolio had a weighted average yield of 11%. (Source: "Investor Presentation," Medley Capital Corp, last accessed November 7, 2017.)
High-yield loans are not known to be the safest bets. The good news is that Medley Capital has put in a lot of effort managing its risk. The company focuses on secured lending, with 85% of its portfolio made up of first- and second-lien loans. The investments are also diversified across 60 companies, coming from more than 20 different industries.
Furthermore, as of June 30, 2017, approximately 83% of Medley Capital's portfolio is invested in floating-rate loans. Under the current rising interest rate environment, the large floating rate exposure would allow the company to earn higher interest income.
Best of all, Medley Capital Corp is structured as a business development company. Therefore, it is required by law to distribute at least 90% of its profits to shareholders every year in the form of dividends. The company currently pays quarterly distributions of $0.16 per share, translating to an annual yield of 11.32%.
The company makes enough money to cover its generous payouts. According to the most recent earnings report, Medley Capital generated net investment income of $0.18 per share in the June quarter. Since it declared a quarterly dividend of $0.16 per share, the company had a dividend coverage ratio of 1.13 times, leaving a margin of safety. (Source: "Medley Capital Corporation Announces June 30, 2017 Financial Results," Medley Capital Corp, August 9, 2017.)
High-Yield Stock Trading at a 36% Discount
Quality items seldom go on sale, but this high-yield stock is an exception. Medley Capital has a net asset value of $8.84 per share, yet MCC stock trades at just $5.68 apiece. In other words, investors purchasing MCC shares today are essentially getting a 36% discount. Adding to its double-digit payout, Medley Capital Corp could represent an opportunity.