Home Depot Inc Is Now a Top Pick for Dividend Investors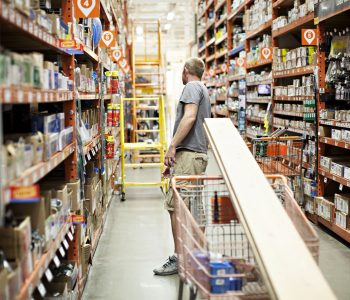 HD Stock Could Be an Opportunity
Today's chart highlights a top dividend stock that just raised its payout again: Home Depot Inc (NYSE:HD).
Home Depot is one of the largest home improvement retailers in the world. Known for its big-box format stores, the company has 2,291 retail locations in all 50 U.S. states, D.C, Puerto Rico, U.S. Virgin Islands, Guam, Canada, and Mexico. (Source: "The Home Depot Announces Fourth Quarter and Fiscal 2019 Results; Reiterates Fiscal 2020 Business Outlook; Increases Quarterly Dividend by 10 Percent," Home Depot Inc, February 25, 2020.)
With such a big presence in the home improvement industry, where many people spend a lot of money, it shouldn't come as a surprise that Home Depot is a blue-chip stock. The company currently commands over $250.0 billion of market capitalization and is a member of the Dow Jones Industrial Average and the S&P 100.
What makes Home Depot stock particularly worth considering now is that, in recent years, it has been delivering some very impressive dividend growth.
In 2009, Home Depot paid total dividends of $0.90 per share. In 2019, the company paid investors $5.44 per share. That's a 504% dividend increase in just a decade! (Source: "Dividend History," Home Depot Inc, last accessed March 4, 2020.)
The company doesn't plan to stop that streak anytime soon. In February, Home Depot's board of directors approved another 10% increase to the company's quarterly dividend rate to $1.50 per share, marking its 11th consecutive annual dividend hike. The increased dividend will be paid on March 26 to shareholders of record as of March 12.
Trading at $235.14 per share, HD stock offers an annual dividend yield of 2.6%.
And if you look further back, you'll see that Home Depot has been paying uninterrupted cash dividends to its investors for more than 130 consecutive quarters.
Home Depot Inc (NYSE:HD) Dividend History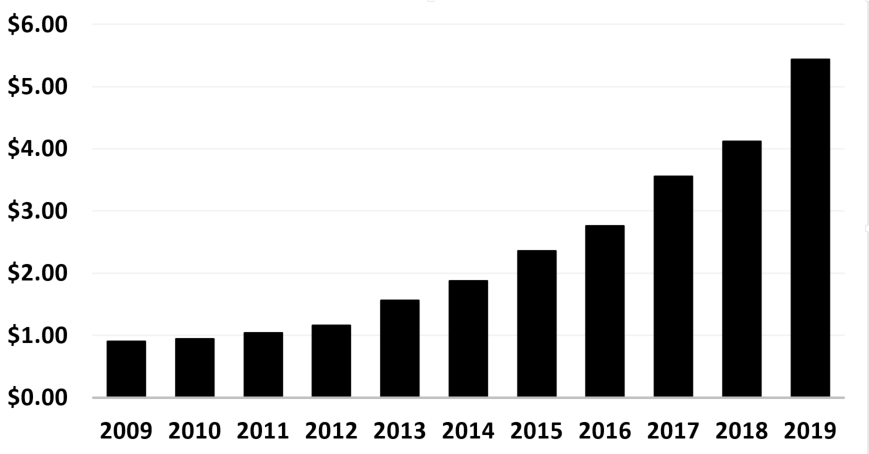 (Source: Ibid.)
To income investors, few things are better than a reliable dividend stream that keeps on growing.
Home Depot Inc: Dividends Backed by Solid Financials
The best part is, Home Depot has a growing business to back those rising payouts.
On the same day that the company announced its latest dividend increase, it also released financial results for the fourth quarter of its fiscal-year 2019, which ended February 2, 2020. For the reporting quarter, the company's comparable sales increased by 5.2%, which topped Wall Street's expectation of a 4.8% increase. (Source: Home Depot Inc, February 25, 2020, op. cit.)
In 2019's fourth fiscal quarter, Home Depot generated $25.8 billion of sales, compared to $26.5 billion earned in the fourth quarter of fiscal 2018. However, the higher sales figure in 2018 was due to the fact that fiscal 2018 included an extra week of operations compared to fiscal 2019. That extra week added about $1.7 billion of sales to 2018's fiscal fourth quarter. If you exclude that impact, you'll see that the company's top-line number actually improved year-over-year.
The bottom-line result was even better. Net income for the 2019 fourth fiscal quarter came in at $2.5 billion ($2.28 per diluted share), up from $2.3 billion ($2.09 per diluted share) earned in the year-ago quarter. Note that Home Depot achieved this bottom-line growth in 2019 despite the extra week of operations in 2018 adding around $0.21 per share of net income to the year-ago quarter.
In full-year fiscal 2019, Home Depot's comparable sales increased by 3.5%. The company's total revenue grew almost 1.9% from 2018 to $110.2 billion, while its earnings per share increased 5.3% year-over-year to $10.25.
Considering that Home Depot paid total dividends of $5.44 per share during its fiscal 2019, its payout ratio came out to 53.1%.
In other words, despite its massive dividend hikes over the past decade, Home Depot Inc was paying out just over half of its profits. A low payout ratio like this not only leaves a margin of safety, but also gives management plenty of room for future dividend increases.
If you add in what the company plans to do going forward, its dividend growth potential looks even stronger. For full-year fiscal 2020, management expects Home Depot to open six new stores. Both total sales and comparable sales are projected to increase 3.5% to 4.0%, while diluted earnings per share are expected to improve by approximately two percent to $10.45.
Defying Retail Headwinds
At this point, some investors might be wondering how the company managed to achieve this kind of growth when the retail industry is experiencing a downturn.
Well, Home Depot has established itself as the go-to choice for home improvement customers. And even though e-commerce has caused a lot of big box retailers' sales to decline, the nature of Home Depot's business means it's not quite feasible for an online vendor to replace it entirely. For instance, a lot of the products sold by Home Depot are simply too large to be shipped for free by "Amazon Prime."
And Home Depot Inc is not standing still; it also offers a digital shopping platform.
In the company's latest earnings conference call, Chairman, President, and Chief Executive Officer Craig Menear said, "Additionally, homedepot.com continues to be an engine for growth for our overall business, driving increased traffic online and additional footsteps to our stores[.] [B]ecause of this, we continue to invest in search functionality, category presentations, product content and enhance[d] fulfillment options to remove friction from the online shopping experience." (Source: "The Home Depot, Inc.'s (HD) CEO Craig Menear on Q4 2019 Results – Earnings Call Transcript," Seeking Alpha, February 25, 2020.)
"Excluding the extra week last year, online sales grew 20.8% in the quarter and 21.4% for the year," added Menear. "[A]nd over 50% of the time, our customers choose to pick up their order in a store. This is the power of the interconnected retail strategy."
And there you have it. Home Depot's business is firing on all cylinders. The company has a solid dividend growth history and maintains a conservative payout ratio. Put it all together and it's easy to see that Home Depot stock could be a solid income opportunity.